Join HONOLULU Family's Virtual Easter Egg Hunt
Play and win prizes this week with our Instagram Easter Egg Hunt.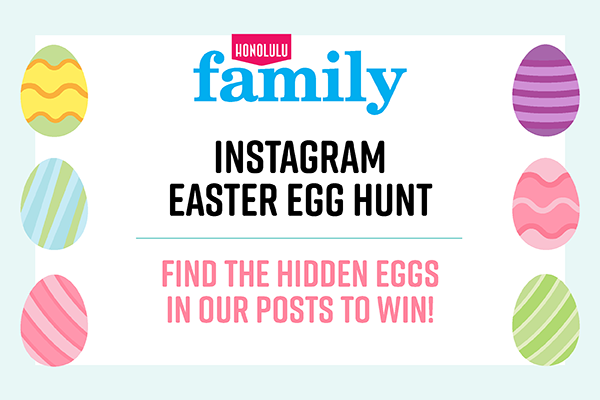 Springtime parties and bunny sightings may have been canceled due to the lockdown, but that shouldn't stop your keiki from having fun this Easter.
Join HONOLULU Family as we roll out a Virtual Easter Egg Hunt! Every day this week, at least one post on HONOLULU Family's Instagram page will have a photo with hidden Easter eggs. The more you play, the more chance you have of winning.
Your keiki can experience the thrill of finding hidden eggs, while you, their parents, enjoy no mess and less stress this year. This is an Easter egg hunt that makes entire families hoppy!
How the Virtual Easter Egg Hunt Works: 
Follow HONOLULU Family's Instagram page.
Count the eggs on posts you see between Monday, April 6 and Thursday, April 9.
Come to this page on Friday, April 10 and fill out our form (below) with the number of eggs your little one found! We will award one winner each in three age categories: 2-3 years, 4-5 years and 6-8 years. Each winner will receive two children's books and five passes to Wet'n'Wild Hawai'i so your family can be one of the first to visit the park when it reopens!
Want to enter for a secret bonus prize? After you fill out our form, share five of our posts with hidden eggs to your Instagram stories and tag @honolulufamily. Instagram profiles must be public and all stories must be posted by 11:59 p.m.,  Saturday, April 11.