Japengo's secret menu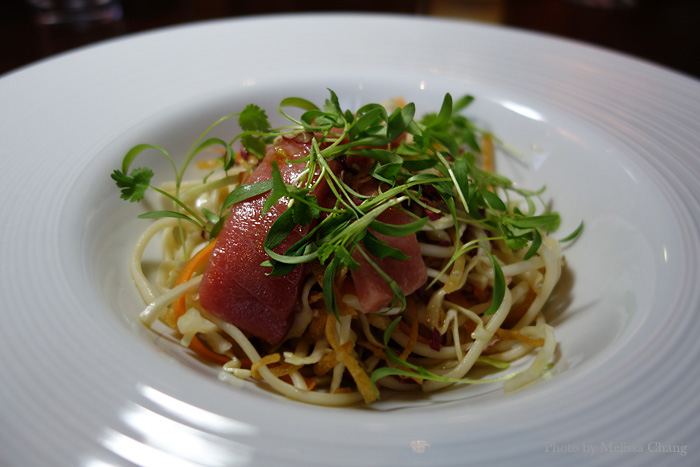 Every restaurant has some form of off-menu items, and Japengo is no exception. Chef Jon Matsubara — who has been invited to cook at the prestigious James Beard House this June — said he has a long list of secret dishes that he creates, depending on availability and if he knows the diners' preferences.
I went to Japengo at the Hyatt Regency Waikiki Beach Resort & Spa recently, and he busted out a few dishes off his hidden menu to not just demonstrate what he does, but to show off the ingredients he uses. Did you know that 80 percent of Japengo's menu is comprised of local ingredients? That's pretty high for a restaurant in Waikiki, in a chain hotel, no less. But both Jon and the Hyatt are committed to supporting local farmers, and have on-site experiences with local products (like the farmer's market) on a regular basis.
To start: A Kauai amaebi shooter. Did you know Kauai shrimp was so huge? The head is fried to the crunchiness of a potato chip, and the shooter includes the raw meat, toasted bonito ponzu, sesame chili oil, ikura and a quail egg. I could eat this all night! All the flavors are delicate, but the tartness of the ponzu and the richness of the egg make a great contrast.
Forget somen salad. Jon makes a toro (fatty tuna) udon salad tossed with local micro greens. The udon is not too fat, so it's easy to grab and easier to eat. Although the toro is fatty, the dish overall is very light; you know it's a good salad as it can stand on its own without the fish. This was probably one of my favorite dishes of the night, as it's something I would want to grab for (decadent) take out.
Another light dish worth trying: Compressed watermelon and beet salad with goat cheese and pepitas. I love how all the flavors and textures are always present, but in a most delicate way.
This isn't off the menu and just an intermezzo, but I wanted to show you Jon's special egg: yuzu sorbet with pop rocks. Wake up!
My foodie friend Sean Morris worked with Jon to create a foie gras loco moco, which is great, but he took it a step further for us with an "ultimate loco moco," with quail egg, foie gras, a gorgeous little filet, rice, and Kona lobster. Thank goodness it's a half size, because this thing is rich! And most of the items you see here aren't actually that heavy, but the beef adds a lot of heft to this plate. It's decadent. But so good.
The desserts we had aren't secret menu items, but I wanted to show you anyway: This is their popular coconut creme brûlée, a lovely custard in half a coconut. They have shreds of coconut meat at the bottom, which really makes this amazing.
For something different, try the matcha-black sesame-azuki gelato cake with furikake. What? Yes, that salty seaweed condiment actually goes well with this and is surprisingly not overpowering.
Also, I didn't plan it this way, but apparently today is Jon's birthday. So, happy birthday, chef, and mahalo for a wonderful secret menu dinner!
Japengo in the Hyatt Regency Waikiki Beach Resort & Spa
2424 Kalakaua Ave.
808-237-6180