Japanese konbini foods ranked: Lawson and 7-Eleven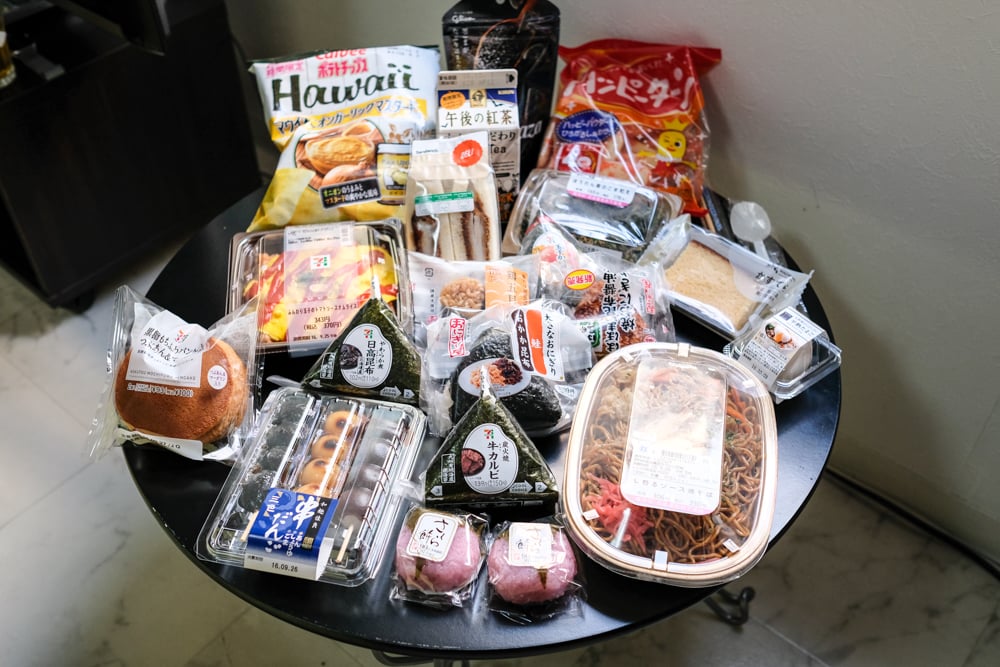 A few weeks ago, James Charisma reviewed the noms at the King of Convenience (stores), 7-Eleven. His trove of discoveries and the passion with which he dug in inspired me to do the same on my recent first visit to Japan. If there was anything I looked forward to most besides the Sapporo Beer Museum and the Nikka Whisky Yoichi Distillery, it was to visit konbini each morning for oishii eats.
If you're wondering what the heck a "konbini" is, they are convenience stores, and no other country in the world has more than Japan. In fact, there are well over 18,000 7-Eleven locations alone, not to mention other chains like Lawson, Sunkus, Family Mart and more. What's more convenient than a konbini on nearly every block?
My friend and I had 36 hours in Hokkaido. We were stuck on Hawaii time, which is 19 hours behind Japan or a five-hour difference — a lot if you're traveling for just a weekend. We were up at 5 a.m. and found the best way to kill time and cure our morning hunger was to zombie walk to the two 24-hour fluorescent beacons near our Airbnb rental. We also stopped off at konbini throughout our day to get water and snacks or stock up on Mintia mints.
I'll rate the konbini offerings on a 5-point scale of awesomeness, ranging from 1 point for yabai (OMG! NO!) to 5 points for sugoi (awesome), then tally up the score.
Musubi
A staple of konbini in Hawaii and Japan is the almost exhaustive selection of onigiri and musubi. You'll find classics like ume shiso and tuna mayo as well as seasonal and premium combinations like Koshihikari rice with ikura salmon roe. I was hard-pressed to find Spam musubi and understand why tourists flock to them at our convenience stores.
Fried rice is one of my comfort foods. My grandpa would make it for family gatherings and it was always my favorite thing to eat as dinner or leftovers. This 7-Eleven fried rice onigiri is about five bites of perfectly cooked rice flavored with oyster sauce and shoyu. The chopped up omelette is also a nice touch and adds some protein to this carb bomb.
Verdict: Maa maa (average) – 3 points
Tally: 7-Eleven 3 / Lawson 0
If you can sense a trend, then good on you. I'll always reach for flavored rice musubi over traditional white rice varieties. I can't read Japanese characters, so I bought this bespeckled disc on a whim. Turns out it's an oishii ball of umami, reminiscent of the homely kamameshi rice dish. Although I inhaled it cold, I'm sure it tastes a million times better reheated.
Verdict: Ii (good) – 4 points
Tally: 7-Eleven 7 / Lawson 0
In any other country, I probably would not buy a musubi made with raw egg yolk. However, Japan has some of the highest standards for food handling and cleanliness, so I looked forward to having this musubi because of a video I saw on YouTube remarking that it's rare to find them outside of Nihon. The rice, cooked perfectly, contains bits of egg yolk and a dash of shoyu throughout. The fresh nori wrapper, kept crisp in that ingenious wrapper, added the right amount of salty umami, making this a simple and satisfying breakfast.
Verdict: Maa maa (average) – 3 points
Tally: 7-Eleven 7 / Lawson 3
Hot food
In my 36-hour exploration into the sugoiness of konbini food, a ¥330 ($3.30) platter of sosu yakisoba emerged as the pinnacle of my taste-testing. Following the heating instructions on the label, I was able to get it up to temp with the microwave at my Airbnb and immediately into my mouth. The strong flavor of worcestershire sauce floods your mouth along with bits of smoky pork and crunchy cabbage. I appreciate that they also include slivers of ginger to cut the saltiness.
Verdict: Sugoi (awesome) – 5 points
Tally: 7-Eleven 7 / Lawson 8
When I saw this omurice, I knew I had to have it. If you couldn't tell, I'm completely obsessed with tamago (hence my infatuation with Gudetama). Unfortunately, as much as I hoped this would be oishii, it just tasted like ketchup. I'm guessing the rice is fried in a whole bunch of it and then topped with an egg omelette finished with yet more ketchup. I'm sure my six-year-old self would have been all over this, but my developed taste buds have me longing for something else.
Verdict: Yabai (OMG! NO!) – 1 point
Tally: 7-Eleven 1 / Lawson 8
Technically, the tonkatsu sando can be eaten hot or cold; I chose to eat it cold. When you first bite into its cloud-like white bread outer layer, warm fuzzies run through your body like a shock of nostalgia. In hanabata times, I was anti-crust. None of my home lunch bologna sandwiches had a hint of the rough stuff … that is until my mom insisted I pack my own lunch. Here, the tangy-sweet katsu sauce was nice, but the porky center was just not doing it for me. I'll blame it on being spoiled by too many of these little sandos from Kimukatsu.
Verdict: Yokunai (not good) – 2 points
Tally: 7-Eleven 11 / Lawson 8
Dessert
The ultimate accompaniment to any hearty breakfast is surely a stack of warm pancakes, right? Well, this is the konbini world of Japan, so the fat stack of flapjacks you're envisioning will probably translate to a couple of silver dollars. However, with these ¥100/$1 kokutou mochifuwa pancake sandwiches, 7-Eleven manages to stuff a lot of sweetness into tiny packages. Best of all, they're made for eating on the go — butter and maple syrup are already in the middle!
Verdict: Ii (good) – 4 points
Tally: 7-Eleven 15 / Lawson 8
When it comes to cake, I feel there are only two extremes. Cake can only be mind-blowingly delicious or incredibly bad. Sadly, this castella (kasutera) cake is the latter, lacking both moisture and flavor. This is more apparent because it doesn't have toppings or frosting to mask these shortcomings. Save your yen for something else.
Verdict: Yabai (OMG! NO!) 1 point
Tally: 7-Eleven 15 / Lawson 9
I think it's safe to assume that konbini mochi is not the best quality mochi you'll find, but for less than a dollar, you can't go wrong with one of these bundles of joy. The sweet anko filling is surrounded by colored mochi rice that has a faint hint of grain to it and wrapped with a pickled cherry blossom leaf. It's sweet, chewy and slightly acidic on the finish from the pickled leaf, making it the perfect pairing with my cup of jasmine tea.
Verdict: Maa maa (average) 3 points
Tally: 7-Eleven 14 / Lawson 12
Snacks
What would it take to get these chips in Hawaii? Introduced at the Aloha Yokohama festival in August, Calbee collaborated with two Hawaii-based companies to produce a limited run of flavored chips. I saw Kilauea Fire BBQ chips at a Family Mart when we first arrived. These Maui Upcountry Jam Maui onion garlic mustard chips were the last bag at my local Lawson. Now they are my new favorite chips. If you like Maui-Style Maui onion chips, you'll like the flavor of these. Their crunchiness lies somewhere between kettle chips and original Lay's and are just so satisfying. I wish found more bags!
Verdict: Sugoi (awesome) 5 points
Tally: 7-Eleven 14 / Lawson 17
Winner: Lawson Station