Janet Jackson @ Blaisdell Arena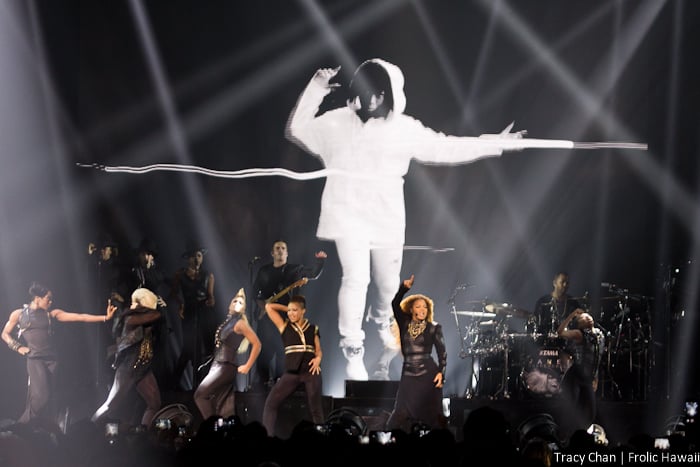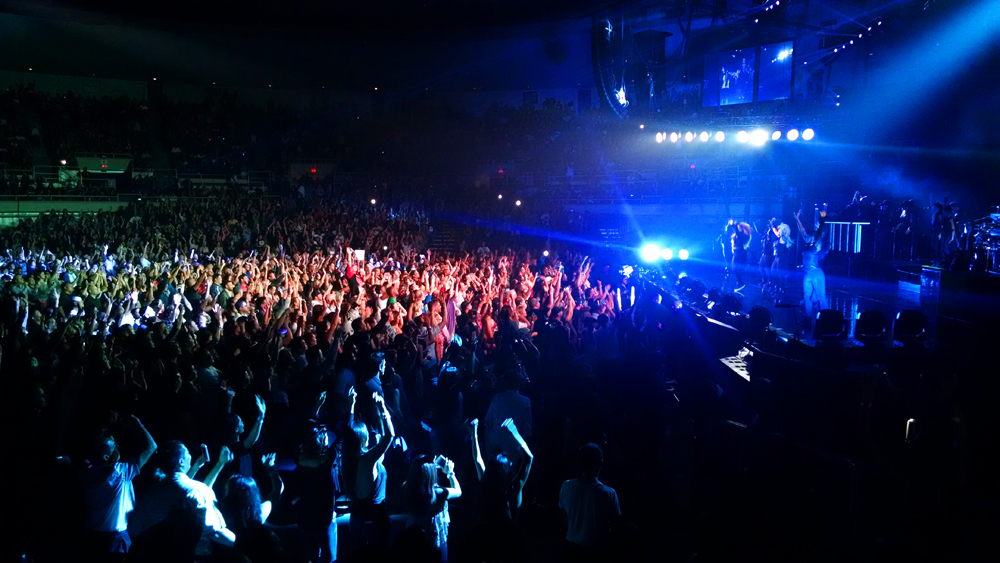 When I was in high school in 1998, there were basically four songs on the Top 40 radio: Santana's "Smooth," Savage Garden's "Truly Madly Deeply," Brandy and Monica's "The Boy Is Mine" and Janet Jackson's "Together Again." (Side fact: I actually choreographed a dance number to "Together Again" in a high school dance class.) Now, 17 years later, is the talented youngest member of the Jackson family still relevant? Hawaii says definitely yes. On Thursday night, Blaisdell Arena was packed to the brim with Jackson fans for the first of three shows, and the pop diva didn't disappoint, with a lavish performance that ranged from state-of-the-art audiovisual glitz to intimate R&B ballad sing-alongs to energetic dance numbers.
Jackson, back in the news earlier this year for releasing "Unbreakable," her first new album since 2008's "Discipline," is no stranger to headlines. Besides being a member of a globally famous family, she's one of the bestselling artists in the history of contemporary music with multiple awards. She's also inspired generations of artists since early in her career. Now, at 49, she might be taking it easier on the dance numbers, supported by recorded vocal accompaniment tracks and live backup singers, but the show – and Jackson herself, with her flying hair – is still a spectacle.
Although it's been 13 years since she last performed in Honolulu, her crew has some local ties. A few members either own homes here or call Hawaii home when they're not touring with her, and word is her team loves to eat at Rainbow Drive-In.
If you get a chance before the show, check out the Janet Jackson Museum, across the concourse from the Arena entrance. Buy one of her new CDs at any merch booth and show it at the door to enter.
One refreshing thing about a Janet Jackson show is that she's good at sharing the stage, incorporating breakdown numbers that really show off the talents of the dancers, who she affectionately calls "her kids" and introduces by name at the end of the show. Her DJ and emcee, DJ Aktive, gets an interlude as well, which gives him a chance to play a mashup of her iconic hits through the decades that remind us of just how many generations she's connected with.
Although Jackson did play several songs off her newest album, she didn't neglect the crowd favorites either, and people responded favorably, from the heartfelt sing-along moments during "Again" to dancing in place during the refreshingly edgy, remixed versions of "That's the Way Love Goes" and "Together Again."
She doesn't shy away from the sexy numbers, but her choreography and attitude seem to suggest that's not what she's here for anymore. In fact, her first hana hou song, "Shoulda Known Better," accompanied by a montage of images of poverty, hunger and other civil rights issues, is a sobering reminder that it's not all about romance and relationships, although as she says, "It's all about love."
Janet Jackson
Friday, Nov. 13 and Sunday, Nov. 15 at 8 p.m.
Blaisdell Arena
Tickets still available on Ticketmaster (Not many left for Friday.)
Here are some pics from the show: