Jade Dynasty's grand opening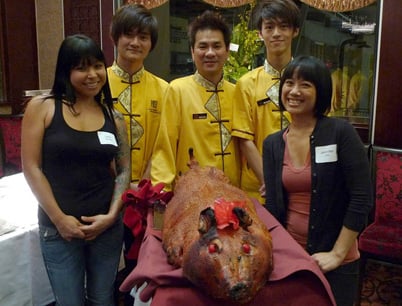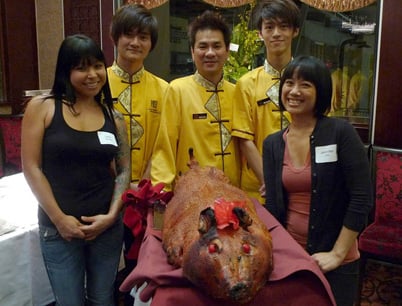 I've been waiting to try Jade Dynasty in Ala Moana Center's Ho'okipa Terrace. I know they opened after Christmas, but I had been hearing that they were still tweaking the menu to adjust to local tastes. Word on the street is that their Hong Kong dim sum is really good, with lyrical names like snow mountain siu mai and crystal taro buns, as are some of the off-the-menu items that only Chinee people can order.
From what I understand, the China-based restaurant group Paramount Banquet Halls has 28 locations throughout Hong Kong, and this is their first U.S restaurant. I'm not sure if the restaurants are all called Jade Dynasty or if they serve the same food, so I can't be sure if it's a true chain. But their chefs have been formally trained in Hong Kong, so you can expect to have food that's different from Chinese food that you normally eat here.
I was excited to get an invitation to their grand opening party last night, so I could get a sampling of some of their menu offerings. I was even more excited to see a lot of people I knew there! Here's how it went:
Jade Dynasty's grand opening
========
You can read all of Melissa's blogs at www.nonstophonolulu.com/urbanmixplate. Follow Melissa on Twitter @Melissa808, on Foursquare as Melissa808, or email at Melissa@nonstophonolulu.com.
My recent blog posts:
Hawaii: In Real Life ~ the Hawaii Bartending Academy
HURT so good
Hawaii: In Real Life ~ Sake 101
Top things to do in Vegas
One last look at Vegas food
Hawaii: In Real Life ~ the Fremont St. zipline
Hawaii: In Real Life ~ Caked Las Vegas
A taste of Hawaii in Vegas
Dinner and dessert at Caesars Palace
New Year's Eve at Serendipity 3 in Las Vegas
Vegas: The day of the food coma
Vegas: Visiting the M Resort
Breakfast of champions: The Cracked Egg in Vegas
Vegas: A fun day on the Strip
Welcome to Vegas, baby
Where I'd tell the Obamas to eat
Hawaii: In Real Life ~ Midori-dori
Vegas lucky charms