It's tomorrow: Aloha, Byron's Drive-In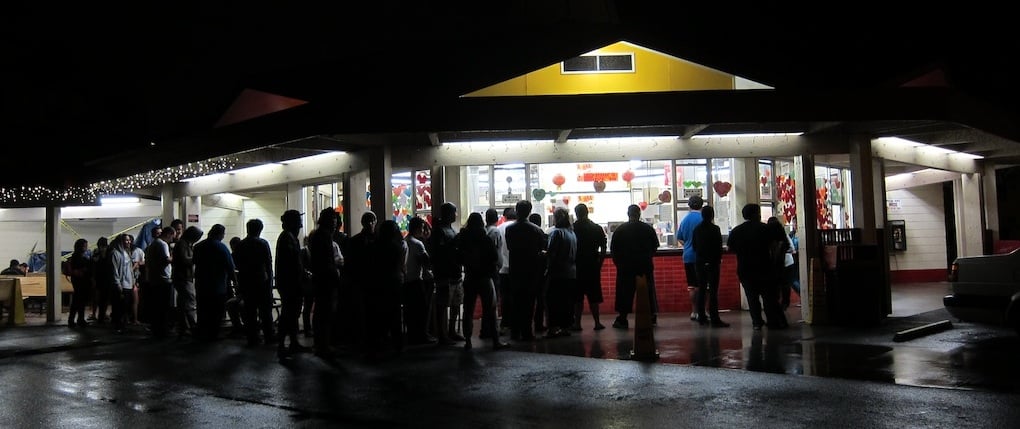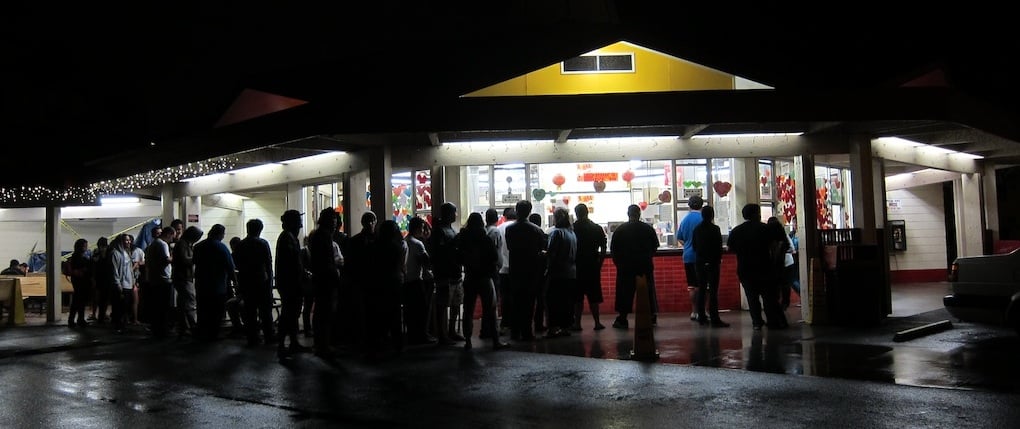 Whoosh, what a ride. Forty-eight years, countless shrimp burgers and deep-fried Oreos, Saturday lunches and late-night runs later, Byron's Drive-In closes tomorrow night, and it's a sad good-bye.
Byron's opened by the airport May 10, 1965. It's the last restaurant of the Andy Wong family, starting with Leon's at Kailua in 1955 and running through Andy's Drive-In; Wong's Okazu-ya, Byron II Steak House and Fishmonger's Wife, all at Ala Moana Center; Chowder House and Orson's at Ward Warehouse, and a dozen more. Did you know all that?
Now it's lost its lease and will close forever at 10 p.m. Thursday, Feb. 28. The lines have been snaking into the tables and parking lot for days — people getting their last fixes from a weather-worn icon that, whether you were a regular or just passed it going to and from the airport, you pretty much grew up with.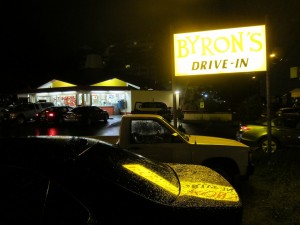 "It has been insane!" writes Lori Wong, Andy's daughter, in a 5 a.m. email. "Two hundred twenty-six shrimp burgers and 80 deep-fried Oreos just on Saturday, as many deep-fried Elvises as we can make (and I have been making them!), made with guava jelly and bananas, and deep-fried pickles — soon to disappear as we whittle down inventory.
"Our counter girls have a hard time not tearing up when customers tell them that they will miss us. Lots of memories. The TATUA bike club had a cruise nite last week. We're one of the few places left with a big enough parking lot."
Some other things you may not know about Byron's:
Byron's was named for one of Lori Wong's brothers. Andy Wong believed in strong names. Both Byron and Orson, the name he gave his other son, mean 'bear.'
Those signature fried things, the deep-fried Oreos and pickles and such — they include deep-fried Twinkies, too.
The ham hocks and collard greens were killer, a plate lunch that never left the menu because it was so popular with Byron's large military following.
Byron's went through 1,500 to 2,000 pounds a month of Kuahiwi ground beef — in the spaghetti (now 86'd), loco moco, chili and burgers.
The top-selling burger was mushroom.
This is your last chance to get the New England clam chowder from the former Chowder House. It's being served until closing.
They're giving away Byron's Drive-In POGS and wooden nickels until they run out.
Until recently, when it was forced to close for tsunami evacuations, Byron's was 24/7. For 48 years.
"It's been a good run," Lori Wong says. "Always with aloha."
True, that. We won't forget. Aloha, Byron's.
Your Instagram good-byes