It's Pig & the Lady's little brother: Piggy Smalls opening Friday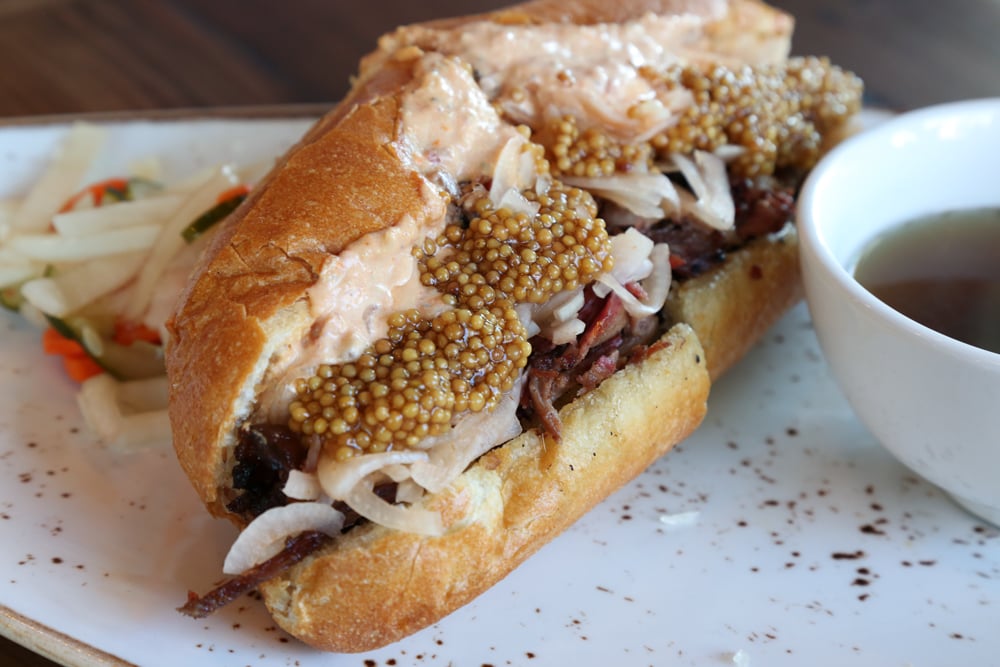 If you've driven past the old Kua Aina spot at Ward Centre and wondered what was behind the papered windows, your wait is almost over: Piggy Smalls, little brother restaurant of the Pig and the Lady, is opening this Friday, Oct. 14.
How is Piggy Smalls different from Chinatown's three-year-old Pig? That's what we wanted to know. Here's an early look.
At first glance the menu is reminiscent of the Pig and the Lady with sections of appetizers, pastas, noodles, banh mi, family-style plates and desserts, but there's a different lineup of flavors. The kitchen is headed by Brandon Lee, former sous chef at Pig and the Lady, and our sneak peek lunch was filled with the bold spices and flavor combinations of Spanish and north African cuisine.
If you love sharing plates, order one of each appetizer. Fluffy beignets, tasty fried arepas and Laotian fried chicken are tried and true creations from Lee and Pig and the Lady's James Beard-nominated founding chef, Andrew Le.
Other standout dishes are the pho-strami with an intense smokiness in the brisket, and the farmer's goulash.
The desserts are to die for. We tried the milk and honey and sweet avocado doufu, both excellent.
Piggy Smalls adds an exciting, accessible dimension to the Kakaako food scene. First-timers will find nods to familiar dishes and comforting flavors, while Pig and the Lady fans will find new twists on favorites and new directions on an evolving menu.
The new spot will open to the public this Friday for lunch and dinner seven days a week from 11 a.m. to 10 p.m., at least for the first month. As they ramp up, they plan to add breakfast and Sunday brunch. Follow Piggy Smalls on Facebook for updates.
Piggy Smalls
Ward Centre
Daily 11 a.m.-10 p.m.
777-3588