It's Law Week!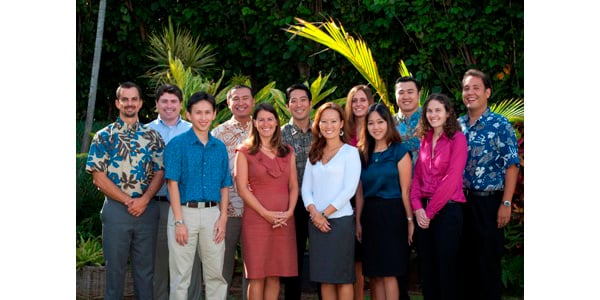 (Note: This blog was delayed from Monday as I needed to get legal clearance to use photos from the HSBA in my blog. No kidding!)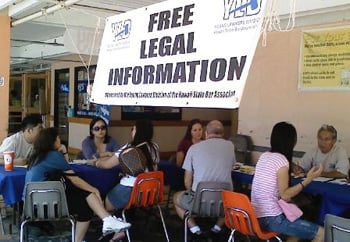 Did you know that it's Law Week in Hawaii? That's right, once a year, the Hawaii State Bar Association – Young Lawyers Division provides a weeklong service project to dispense free legal information. Now, this shouldn't be confused with providing legal advice: the HSBA volunteers will provide guidance designed to assist people in resolving complaints and provide basic legal information — details that are available to the public, but not always readily known. For more complicated situations or to get actual legal advice, you need to consult an attorney on a professional basis.
It's now Wednesday, but young lawyers have been on KHON every day since Monday talking about different legal topics. If you miss the broadcast, you can also call the Action Line between 11 a.m. and 1 p.m. at 591-0222 to ask about these specific topics, or email actionline@khon2.com. The topic for Thursday is Elder Care/Elder Law, and Friday will cover Landlord & Tenant Law.
The weeklong service project finishes on Saturday, May 7, with various legal clinics available across the state to assist the public with legal information and referrals. The clinics will be open from 10 a.m. to 2 p.m. and are provided on a first-come, first-served basis.
Oahu clinics:
• Don Quijote – Kaheka
• Don Quijote – Pearl City
• Don Quijote – Waipahu
• Haleiwa Historical Gym (Haleiwa)
• Sack N Save (Nanakuli)
• Waianae Coast Comprehensive Health Center (Waianae)
• Windward Mall Shopping Center (Windward)
• Filipino Festival (Kapiolani Park)
• Kapolei Marketplace (Kapolei)
Neighbor Island clinics:
• Kona Coast Shopping Center (Kona)
• Puainako Shopping Center (Hilo)
• Kukui Grove Shopping Center (Kauai)
• Lahaina Cannery Mall (Maui)
• Maui Mall (Maui)
Also, this isn't part of Law Week, but next week on May 11, the Public Relations Society of America – Hawaii Chapter will be holding a lunch workshop called "Social Media and the Law: Know Your Limits." I am a volunteer moderator for this program. Many of us are active in blogs, Twitter, and Facebook, but don't know that there are some consequences to the things we do and say. Seth M. Reiss and Evan R. Shirley, attorneys at law, will speak to us about copyright law, publicity rights and libel as it relates to PR professionals using social media. Dan Zelikman, marketing and community host for Civil Beat, will also share insights on using social media personally and professionally. (I'd also like to know a little more about plagiarism, since I see some of my stuff appearing in other people's blogs.)
The PRSA lunch isn't free, but if you would like to know more, register here.