It's here: Peter Merriman's Moku Kitchen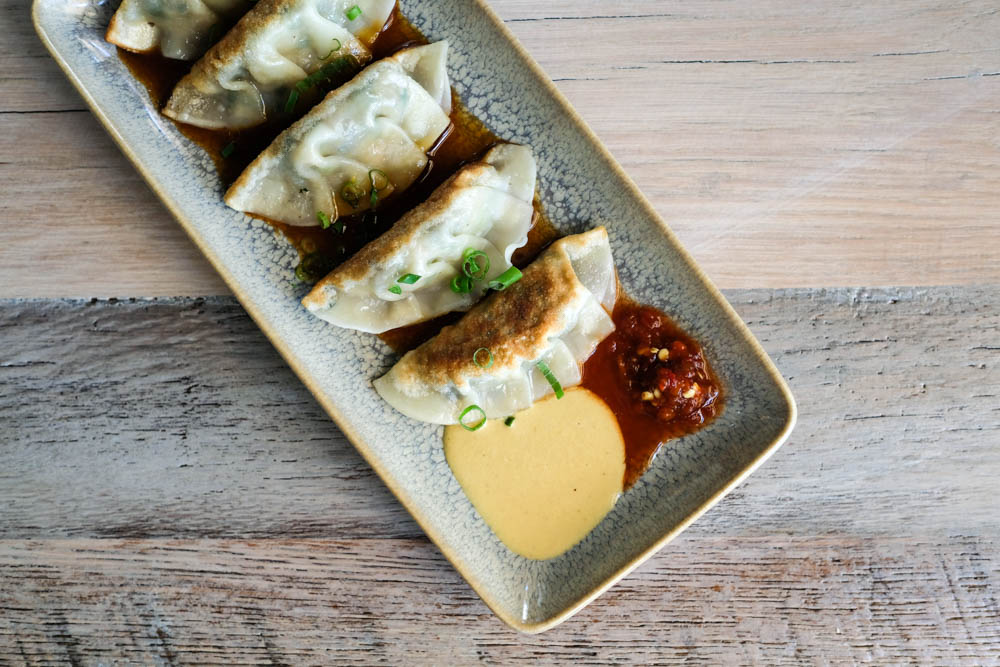 Back in January, we announced Moku Kitchen was coming to SALT at Our Kakaako. In February we threw our epic Something New SALT party with a taste of what was coming to the complex between Keawe and Coral streets. Finally, Moku Kitchen opens today with a full menu of Peter Merriman's signature mauka-to-makai dishes.
If you've been to Monkeypod Kitchen in Ko Olina, which I'm a huge fan of, then you'll find Moku Kitchen to be very familiar. The menu is almost identical with many of my favorite dishes like the roasted chicken wings, wood-fired pizzas and squash ravioli – except at Moku Kitchen they cost about 15 to 20 percent less. That's because at this 7,000-sf space, Merriman has to target not the resort crowd, but a local, urban demographic.
Oh, and yes, there will be happy hour specials from 3 to 5:30 p.m. daily. Squeee!
Happy hour drink specials
$3 off all beers $9 and over, all other draft beers $4.75
$7 house white and house red wines by the glass
$5.50 classic well cocktails
$8.50 Moku Libations craft cocktails
Happy hour food specials
50 percent off all appetizers (with the exception of raw bar mixed plate and poke tacos)
$9 wood-fired pizzas
What also sets Moku Kitchen apart from its Monkeypod brother is that it has a rotisserie oven. Expect juicy rotisserie jidori chickens, slabs of Big Island prime rib, unctuous roast duck tacos and more.
Like its sibling, Moku will also have over 30 craft beers on tap (drafted at no more than 29 degrees F). In addition to 50 or so bottled wines, the bar will also offer 12 biodynamic kegged wines on tap. "Biodynamic" wine is just fancy terminology for organic grapes that have been grown without pesticides or chemicals and harvested in sync with lunar calendars.
At our Something New SALT event, executive chef Todd Constantino served up some bomb bulgogi tacos with a kick. It looks like they've made it onto Moku's regular menu alongside the previously stated roast duck (Constantino's favorite item), potato and fresh fish tacos. Wood-fired pizzas, a staple at Monkeypod, are also at Moku, but here they're trying out a new technique – they're letting the dough rise for three days before turning it into pizza crusts.
If you've followed my recommendations closely, you just might be bursting at the seams but I must plead with you: Don't overlook dessert because enormous slices of pie are almost mandatory here.
Moku Kitchen
SALT at Our Kakaako
691 Auahi Street
Validated parking
Lunch 11 a.m. – 4:30 p.m.
Dinner Sunday – Thursday 4:30 – 11:00 p.m.; Friday & Saturday; 4:30 p.m. – 12:00 a.m.
www.mokukitchen.com