Island Family Holidays
Wherever the holidays are celebrated, they are meant to be a joyous time of sharing with family and friends.
Whether bundled in a furry coat against the cold or slicing through a wave in board shorts, 'tis the season to be merry and bright. Our Island palms and sandy shores are transformed with twinkling lights, Yuletide sounds, sweet treats to eat and gifts galore. When King Kamehameha IV and his wife, Queen Emma, established the Anglican Church of Hawaii in 1862, Christmas was declared a national holiday and Hawaii's celebration of this hallowed season officially began.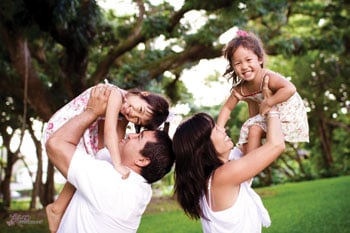 Island Family Holidays
Hawaii Christmas Sounds and Sights
Nothing sets a holiday mood like Christmas music while we shop, wrap and deck the halls of our homes, schools and offices. Hawaii has its own collection of Christmas sounds that make sweet listening for us here, as well as wonderful gifts for Islanders away from home, and visitors back on the Mainland who are nostalgic for the Islands' warmth and beauty. Special among Island musical offerings are those of the Na Hoku Hanohano Christmas Music album award winners since the category was added in 1996, including Teresa Bright, Na Leo Pilimehana, Amy Hanaialii, the Brothers Cazimero, Danny Couch, Kanilau, Willie K and other notable Hawaii artists. Traditional songs in English and Hawaiian, as well as modern Christmas tunes, bring Hawaii's special sounds to the holidays.
A tradition Hawaii shares with countries around the world is the Nutcracker Ballet, based on the story, The Nutcracker and the Mouse King, by E.T.A. Hoffman, with music by Tchaikovsky. First performed in Russia in 1892, it was brought to America in 1940, and has been a holiday tradition ever since. Start a new tradition for your family by attending at least one of the three Nutcracker performances.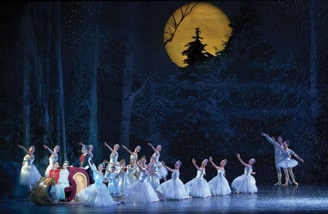 Ballet Hawaii's Nutcracker
Ballet Hawaii's Nutcracker will be shown at the Neal Blaisdell Concert Hall on Dec. 17, 18 and 19, with music by the Honolulu Symphony and singing by the Hawaii Youth Opera Chorus.
The Nutcracker, performed by the Hawaii State Ballet, will be held Dec. 10-12 and 17-19, at Saint Louis High School's Mamiya Theatre.
The Hawaii Ballet Theatre Nutcracker will be performed on Dec. 11, 12, 18 and 19, at Leeward Community College Theatre in Pearl City. The whole family will delight in the journey through a young girl's fantasyland, with a Nutcracker who comes to life and leads toy soldiers against a Mouse king's army, then turns into a prince and takes the girl to an enchanted forest in the Land of Snow and the Land of Sweets, where they are greeted by the Sugar Plum Fairy.
Hawaii Christmas Trees
Helemano Farms Xmas Tree.
It has long been a tradition in cold, snowy places to tramp into the woods to find and cut down a Christmas tree to haul home and decorate. We don't have a lot of ice and snow here, but for generations, Island families have decorated trees as part of the season's festivities. Our Christmas trees, however, are usually shipped in giant containers from the Mainland and sold beginning the day after Thanksgiving in shopping center parking lots.
Did you know that there is a place where you can wander through a forest of Norfolk pines and Leyland Cypress trees, find your own tree, and watch as it is felled and netted for you? Helemano Farms, located in Wahiawa, in Oahu's cool, central plain, has been growing trees since 2002, and offers the fun and excitement of a snow-country tradition. The farm was started by a retired local agriculture executive, so Island families could experience the tradition he remembered sharing with his family as a child. His wife and son keep the tradition alive, and invite you to experience it, too. Take a drive together and go tree-hunting through the rows of evergreens. Everyone can participate and feel good about supporting a local industry.
Hawaii Holidays Outdoors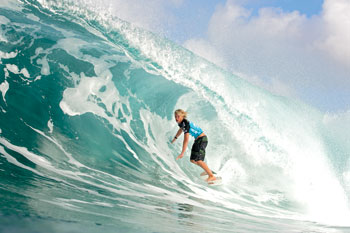 Van's Triple Crown
In many parts of the country, families gather for cozy holiday dinners, sing carols around the piano and exchange gifts in the warm glow of fireplaces, while temperatures drop and snow flies outside.
In Hawaii, with our year-round sunshine, we can create different traditions for generations to treasure. One of the best Christmases I've ever had was the first I shared with my future husband. We spent Christmas Day driving around the island with our dog, stopping at favorite beaches, shave-ice stands and plate-lunch wagons along the way. Beginning to end, we had a wonderful day that became a happy tradition for years. Traditions are about sharing what you love with those you love. Hawaii is rich in resources from which to build yours.
While some folks suit up to ski the slopes, we can pull on tank tops and shorts and run for fun together in the world-famous Honolulu Marathon, on Dec. 12. The course begins at Ala Moana Beach Park, travels through Chinatown and historic downtown Honolulu, along Kalanianaole Highway to Hawaii Kai, back around to Diamond Head, and finishes at Kapiolani Park Bandstand. Visit honolulumarathon.org for more information.
Surf's up in Hawaii at Christmastime, and families can make a tradition of picnics on the beach watching big-wave champions from the Islands and around the world at major surfing events on Oahu's North Shore: Vans Triple Crown of Surfing (Nov. 12-Dec. 20); Quiksilver in Memory of Eddie Aikau (Dec. 1, 2010-Feb. 28, 2011); Gidget Pro Women's Surfing Competition (Dec. 1-6); O'Neill World Cup of Men's Surfing Competition (Dec. 1-6); Billabong Pipe Masters Men's Surfing Competition (Dec. 8-20).
In addition to beach barbecues and around-the-island getaways, outdoor holiday adventures can include hikes on the many family-friendly trails (visit Hiking Trails Oahu), or bike rides along scenic coastal roadways (check out Bike Rides on Oahu). Whatever activities you choose, you'll be reminded of how fortunate we are to live in Hawaii and the many unique ways we celebrate the winter holidays.
Family Christmas Giving
There are many opportunities for giving as a family that will teach your children the true meaning of the holidays, as a time to give as well as receive. Families might consider some of the following activities to brighten the holidays for others.
• Homeless shelters: Families can make gift baskets of items such as shampoo, toothpaste, soap and other essentials, food, clothing, books and school supplies. Visit the Hawaii Public Housing Authority website for a list of shelters. Many local churches also accept donations to distribute, such as wrapped toys for the Giving Tree at Saint Andrew's Cathedral (524-2822), presents, food, gift certificates and trees for Sts. Peter and Paul Church in Honolulu (941-0675), food, cards and gifts for Our Lady of Keaau Retreat Center in Waianae (696-7255).
• Hospitals and senior homes: Distribute holiday cards and treats, sing Christmas carols or donate trees can create loving memories for everyone. Call places such as Kapiolani Medical Center for Women and Children (983-6000), Rehabilitation Hospital of the Pacific (531-3511), Shriners Hospital for Children (941-4466) and Arcadia (949-4965) for visiting and giving guidelines.
• Military families: Heightened security has made it difficult to send cards and packages to military personnel overseas, unless you know the person. A great way to show support for the troops is to lift the spirits of the families they've left behind. Share the Christmas aloha with deployed troops through donations to their families here on Oahu. Contact Terry Nelson at the Armed Forces YMCA at Kaneohe Marine Base Hawaii (254-7501) to learn about the Christmas gift basket drive; for Schofield Barracks, call the Armed Forces YMCA at Wheeler Army Airfield (624-5645).
Home for the holidays is a great place to be when home is Hawaii. Create Island traditions with your family for future generations. There are always new things to add, new activities to try; traditions should be dynamic. When my son was little, we'd do something once that we'd both enjoy and he'd say, "Let's do it again next year, Mom; it's a tradition." I loved that he made traditions so easily. Traditions are like friends of the family; providing continuity, anticipation and shared memories. They are the ways we experience special occasions, and remember the treasured times and people of our lives. Build them easily into your lives this holiday season and throughout the New Year.