Irish whiskey flights at 12th Avenue Grill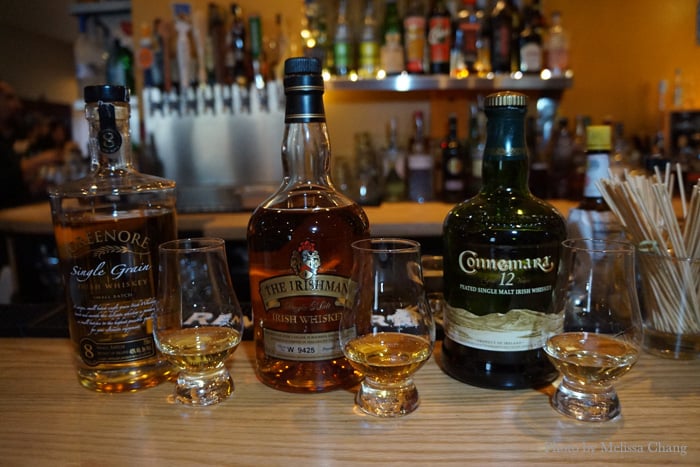 In case you didn't know, 12th Avenue Grill owner/chef Kevin Hanney is 100% Irish and takes his St. Patrick's Day celebration seriously. On March 15, 16, and 17, the restaurant will have Irish-themed specials to get everyone into the spirit. In addition to pouring black and tans, they have their annual tradition of housemade local grass fed corned beef and a new in local Ni'ihau elk shepherd's pie.
What? Sign me up! I busted in to their restaurant the other night to get a preview, but the dishes weren't ready yet (because it starts Sunday! Read the instructions). I did, however, get to preview their annual flight of Irish whiskeys ($20), specially selected by mixologist Mike Hall. And by the way, this St. Patrick's Day will be extra special because it will be Mike's last with us in Hawaii — he's moving back to Maryland in the second week of May. They'll continue to serve some of his signature drinks every Thursday as a throwback for his loyal regulars, though. Hint: order the Poopdeck.
Here's a look at the whiskeys they're featuring this year, and my personal take on them. Note that you will probably have a different experience, depending on how seasoned you are as a whiskey drinker, which I don't think I am.
Greenore eight-year Single Grain Irish Whiskey: I agree with Mike that this is a great whiskey for beginners, or just universal appeal. It's light, with a prominent honey and vanilla essence. You also get caramel, light banana notes, and some toasted oak. It's single grain, so it's cleaner and more like American whiskeys. This won Gold (Best in Class) at the International Wine and Spirits Competition from 2008 to 2010.
The Irishman Single Malt Irish Whiskey: I impressed myself by being able to detect the distinct difference in aroma when I smelled this one. It smells like green apple! It's got a little of that fruitiness in flavor, but I detected a little more licorice. The flavor lingered a little longer, too. The Irishman is a triple distilled expression, which is aged in both sherry and bourbon casks for more than 10 years before bottling.
Connemara 12-year Peated Single Malt Irish Whiskey: I think this one is for whiskey aficionados, but I like that Mike is having people try this to understand and appreciate Irish whiskey. The key word here is "peat," and that's the overall smell and taste you get when you sip it. It's an acquired taste, to be sure, and a big contrast to the other two. It's won various international awards, so true whiskey drinkers will probably comprehend the complexity. Interestingly enough, Mike had me take a small sip of a more heavily peated Irish whiskey, and that one was like fire water for me! It stayed in my throat for a long time, and when I went back to the Connemara, it was delicate by comparison.
Although I couldn't try the holiday specials, they did have a new salmon tartare dish, where Executive Chef Jason Schoonover smoked some and cured some salmon, then tossed them together with fennel, poblano, jicama, and sweet peppers. It's topped with habanero tobiko creme fraiche and Big Island watermelon radish and comes with slices of fried baguette. It's light and fresh, but full of flavor. I was surprised at how well the watermelon radish worked with this, too.
If you do go to the restaurant next week, the St. Patrick's Day specials are:
Ni'ihau elk shepherd's pie with Thai basil-Irish cheddar mash, celery root and roasted Ho farms tomatoes; house made, grass-fed corned beef with braised cabbage, Moloka'i sweet potato, roasted local root vegetables, toasted fennel seed and Manoa honey mustard; and Baileys-Naked Cow Dairy fromage blanc cheesecake with Guinness chocolate sauce.
From 5:30 to 6:30 p.m. in the bar only, you can get Scotch Ka lei egg, Irish cheddar fondue with soda bread, and Red Breast scotch-cured salmon with rye crisp.
Don't forget, they are also a Localicious restaurant, so you can get their special fixed menu to benefit the Hawaii Agriculture Foundation all month long.
12th Avenue Grill
1120 12th Avenue
808-732-9469