Inside Look: Best of Honolulu Festival 2019 presented by American Savings Bank
What you'll eat, enter to win and what activities you'll find for keiki at our annual family festival.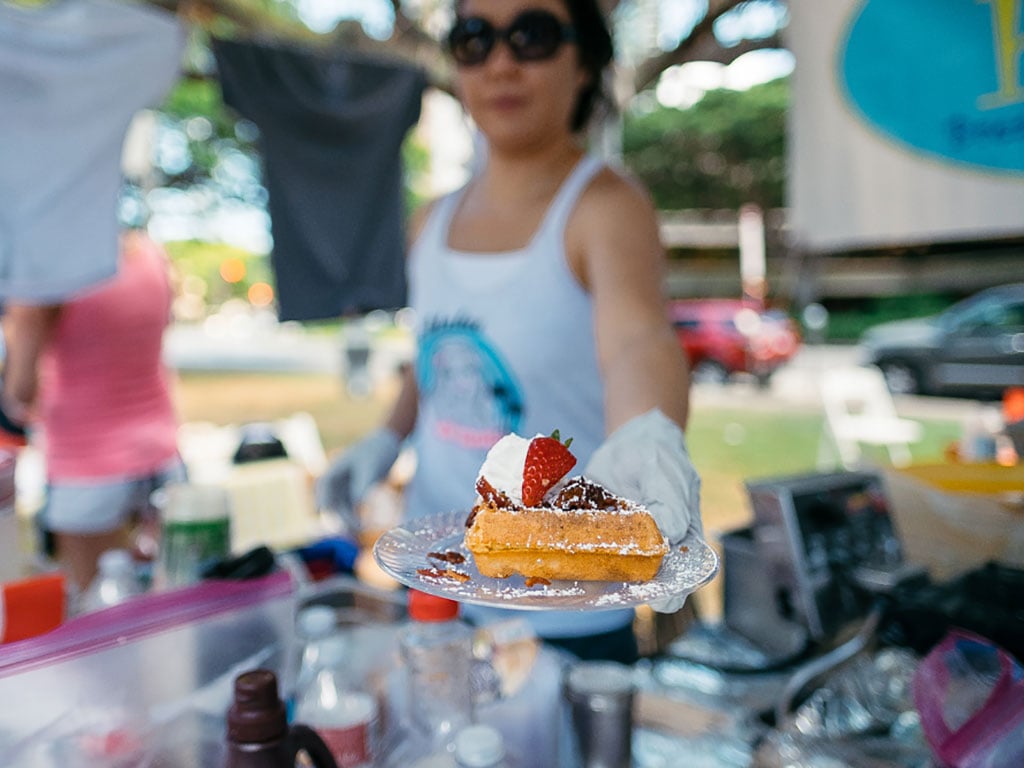 Photo: Tien Enga
My family has more fun at the Best of Honolulu Festival than I do. While I'm meeting hundreds of adorable kids at the HONOLULU Family booth (yes, we have free entry into our Cover Kids Search again this year) my husband and two girls love eating, shopping and running around the safe, grassy Honolulu Hale grounds.
So, we're all looking forward to this year's event set for Saturday, July 20 from 10 a.m. to 4 p.m. Hosted by HONOLULU and HONOLULU Family magazines, presented by American Savings Bank, we keep the free fest family friendly with free covered parking, big flat fields away from traffic and free keiki activities. Plus, it's an opportunity for busy parents to try more than a dozen different restaurants without reservations, searching for a kids' menu or hiring a babysitter. But, as with most festivals, it works best when you have a plan. Here are our tips for the big day.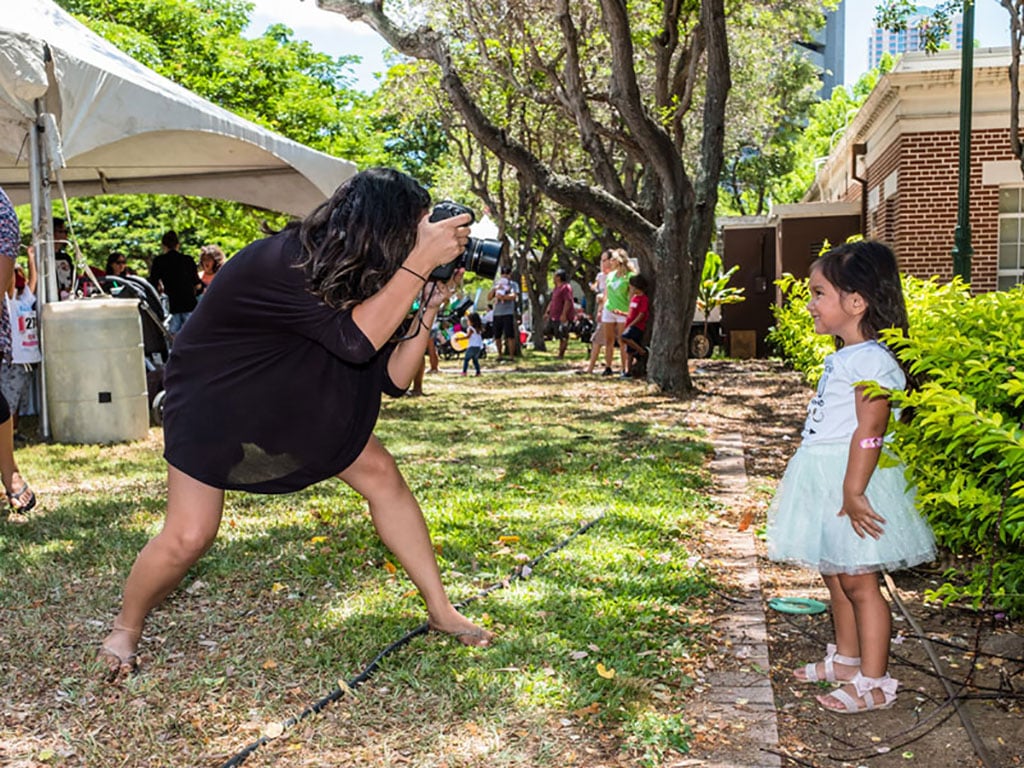 Photo: Tien Enga
Our 8 Tips
1. Start with a photo. If you are interested in entering our 2020 Cover Kids Search, which is how we find the keiki to feature on the covers of our magazines next year, go there first.
This year, the search stops at 2 p.m., two hours before the end of the festival. The line will be stopped at 1:45 p.m.
During the busiest time, at 11 a.m. or so, you may have to wait at long as 30 minutes.
We do let families leave and come back, but chances are the kids will return sweaty from running or hungry.
You can always enter online, but that costs $10. Read our tips for taking the best entry photo.
2. Find the activities and support local groups. Before or after your Cover Kids shoot, stop by the Hawai`i Dental Services photo booth for a family snapshot (it is in the same booth as HONOLULU Family). Dave & Buster's and Dunkin' Donuts will have spin wheels for prizes. Girl Scout Troupe 585 will have glitter tattoos and slime to sell as a fundraiser, so bring some cash to support them. The kids of Kahauiki Village's karate association will also be fundraising with children's books and Punalu`u cookies for sale. A portion of the proceeds from the entire event will benefit aio Foundation and Kahauiki Village.
3. Know where to go. Food booths will be focused along South King Street and . The HONOLULU Family booth will be between the auditorium and Honolulu Hale. Entertainment will be near the covered parking garage while shopping will line the pathway from the garage to the keiki rides. The Dave & Buster's Keiki Zone bordered by Punchbowl Street will also have five Xtreme Fun rides: Turbo Tubs ($3), Playzone ($2), Giant Slide ($1), bouncer ($2) and the Lil Swings ($2).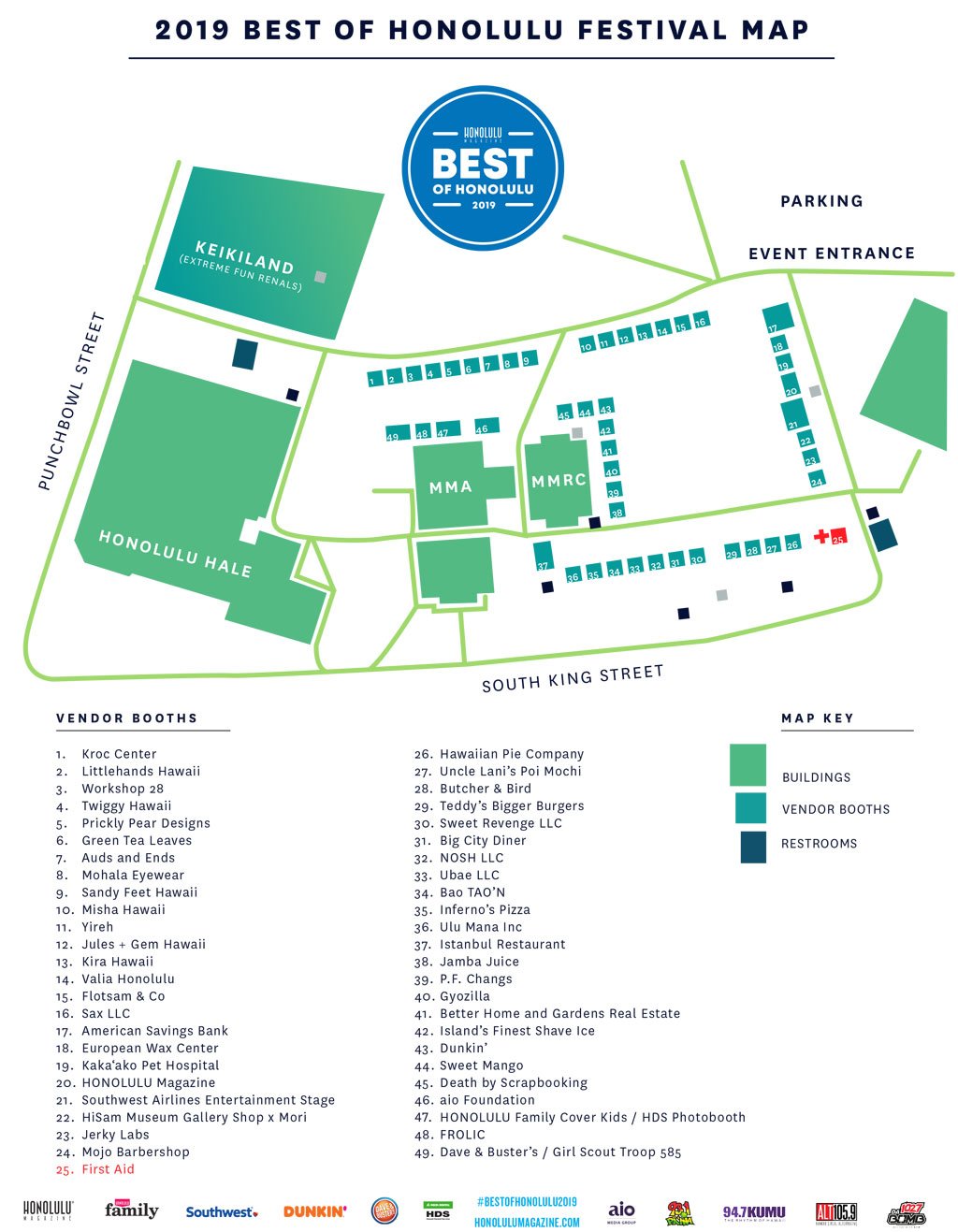 4. Bring a blanket and save a spot. The shady space around the Southwest Airlines stage can get crowded. That's a great place to eat and watch the live entertainment. Young 'ukulele stars Tegan and Kaylen, reggae artist Elijah Sky and local musicians Ka'imi Hanonao'eau, Keilana Mokulehua and Micah Ganiron will keep the music going. See the full schedule on honolulumagazine.com.
5. Plan your menu. Eighteen food vendors will offer everything from homemade sausages (Butcher & Bird) to bacon-wrapped mochi (Gyozilla). So, figure out what you want first before you're full: Hawaiian Pie Co.'s new peanut butter-chocolate mini pie, Big City Diner's guava barbecue pulled pork, Ramute-flavored Island's Finest Shave Ice or Nosh's filled Brazilian cheese bread. Don't forget to try Jerky Labs' hulihuli crispy beef jerky, a custom flavor just for HONOLULU Magazine debuting at the festival. See the complete list of food booths, including which will accept credit cards, on honolulumagazine.com.
7. Bring a recyclable tote for each kid. Instead of toting around multiple water bottles, free giveaways, their food and everything else yourself let them carry their items. That way you have space in your bag for local reef-safe sunscreen, jewelry, adorable magnets by a local artist, totes and other items being offered for special discounts in our shopping area. Make sure to stop by the HONOLULU Magazine booth to buy a subscription, you'll receive a special limited-edition HONOLULU and vh07v collab T-shirt as a gift.
8. Register for a prize. Yes, the event is free. But if you let HONOLULU know you are coming on its hnltix.com page, you could win a restaurant gift certificate or other prize from the magazine.
Bathroom note: Honolulu Haleʻs restrooms will not be open. There will be portable toilets set up near the Extreme Fun rides and on the opposite side along South King Street.
The fourth annual Best of Honolulu Festival, presented by American Savings Bank, is Saturday, July 20, 10 a.m. to 4 p.m. Honolulu Hale. honolulumagazine.com/bestofhonolulu