In the Kitchen with Ed Kenney: Upcoming TV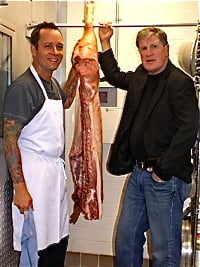 For the upcoming episode of Honolulu Magazine's Biting Commentary with John Heckathorn, we found ourselves first at the Honolulu Farmers Market with Denise Albano and Patti Chang, who head up Feed the Hunger, a nonprofit that helps small farmers, food producers, vendors at farmers markets with microloans to put them on the road to self-sufficiency.
We managed to get in some shopping: tomatoes, herbs, Waialua sweet onions.
Green papaya is suddenly in season, long ovoid papayas, much bigger than the breakfast variety. We loaded up on them and headed to Downtown, where chef Ed Kenney promised to make us some recipes from the Hawaii Farmers Market Cookbook.
Kenney found cooking on TV awkward. He tweeted later: "Cooking/talking/being on film is so odd to me. Only swore twice."
Actually, outside of a few Incredible Hulk noises whenever he got tongue-tied, Ed was great, easy to cook with. The food turned out remarkable.
Two dishes, both with the same basic ingredients, two entirely different flavor profiles. Green papaya, of course, since we had lots. And, of course, pork. What would you expect from a chef who breaks down and processes his own local pork, and in fact had half a pig hanging in the kitchen.
First, a dish that was out of Kenney's childhood—a pork and winter melon soup, substituting green papaya for winter melon. "I came up with this one night when I had all these green papayas to use up," he says. "I served it for staff meal and everyone demanded I make it again."
Since it started with Kenney's housemade pork stock, it was immensely flavorful. The only misstep is that we forgot to add the mushrooms early enough in the process.
The second dish had me shredding and lightly pickling green papaya for a banh mi, a Vietnamese-style sandwich. "I love Vietnamese food," said Kenney. "The Vietnamese adopted so much French cuisine and gave it their light touch."
Then he admonished me not to cut myself, as I did on the Alan Wong episode. "I'm easier to cook with than Alan, anyway," he said. I managed to finished unscathed.
The banh mi had both a rustic pork rillette and Kenney's housemade headcheese, plus cilantro. "I love cilantro," he says. "I'm putting lots, plus how about some slices of hot chili pepper."
Denise and Patty, hungry, would peek into the kitchen from time to time until it was finally the moment when we could sit down and eat. A pleasant meal. We talked about what we grew up eating. It was a reminder that what we eat, and especially who we eat it with, are a big part of who we are.
The episode airs Sunday, July 17, KGMB, at 2:30 p.m.