Wo Fat Building in Chinatown Is Becoming a Chic Boutique Hotel
The nearly 85-year-old building is being restored and the new hotel and restaurant is scheduled to open in late 2023.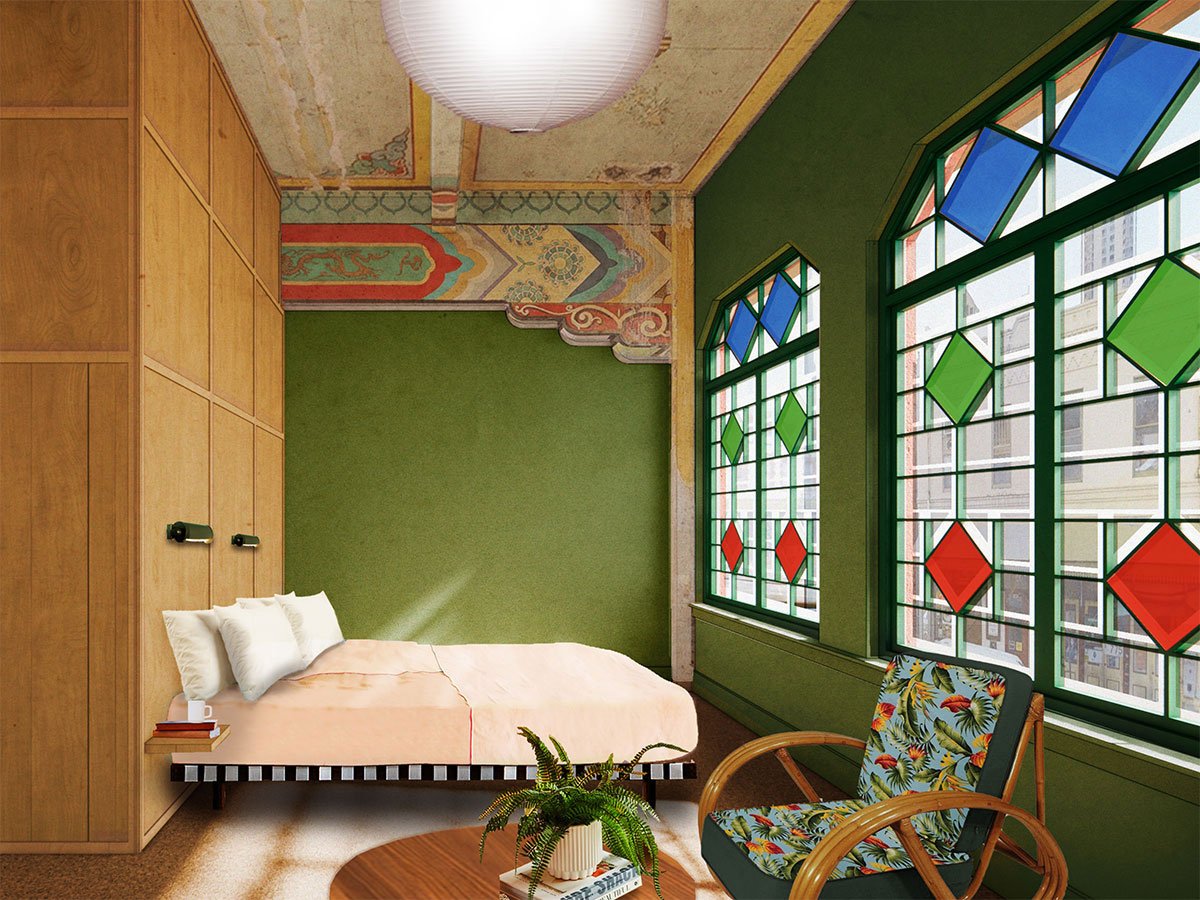 The Wo Fat Restaurant and Hotel, tentatively scheduled to open in late 2023, narrowly escaped being painted pigskin pink. Part of the challenge—one both invigorating and infuriating for its current developers—of restoring a building on the historic register is that the exterior must be returned to its original look and color. Which initially was presumed to be the hue of a pallid pig. But further research discovered the pink actually covered the original shade of white, saving the iconic building on the corner of Hotel and Maunakea streets from a less-than-royal shade.
"Our specialty is in the restoration of historic buildings, doing the hard stuff of not just knocking the building down," says Donald Kenney, partner in The Mighty Union, a group that's turning the Wo Fat building into a hotel. The people behind the Mighty Union had previously restored a historic building to open Portland's Ace Hotel and transformed a 1940s carpenters' union hall in Austin into a hotel.
"We were able to come up with a concept that we thought was compelling and could convince people that we were crazy, but also not crazy. You gotta be a little crazy."

— Donald Kenney
In 2015, "we were working on some projects that never came to fruition on Kaua'i," Kenney says. "We thought, well, if we're over here, let's see if there's some fun stuff that we can do." They spotted the Wo Fat building, built in 1938 as a restaurant and banquet hall, with its distinctive pagodalike tower crowning the top corner, aka the Dragon Room, where brides remember getting ready for their receptions. By the time The Mighty Union saw the Wo Fat, though, a Chinese grocery store occupied the ground floor, and on the upper floors, the interior walls and murals had been covered with black paint during its interlude as a nightclub.
"We were able to come up with a concept"—a restaurant and boutique hotel with 23 rooms starting around $300—"that we thought was compelling and could convince people that we were crazy, but also not crazy. You gotta be a little crazy," Kenney says.
Former University of Hawai'i football coach June Jones and Kaua'i TV host Dickie Chang joined as partners, and the Wo Fat building was purchased for $4 million in July 2017, with an expectation that the project would cost about $10 million and could open in early 2020. Delays, however, stalled the project, even prior to the pandemic. Only in 2022 did construction begin in earnest on the hotel rooms, one of which will include the turret with its dragon-adorned ceiling, and the serpentine bar, the showpiece of the ground-floor restaurant. This past fall, the restored Wo Fat Chop Sui neon sign went up, and windows, some sections colored red, blue and green to resemble stained glass, were fitted into their frames. Kenney has also commissioned jade green ceramic roof tiles and bamboo wallpaper duplicating the originals. The black latex paint from its nightclub days has been painstakingly peeled off the columns and walls, revealing the art deco-meets-Oriental murals, which will remain as features in the rooms.
"I see the promise of Chinatown," Kenney says. "It's just energizing to me. It's exciting to work on something like this where it takes a lot of vision. If you do it right, it's going to be something that's pretty iconic. And that's mostly just get out of the way and rebuild it the way it was."
As he stands where the bar will be, with roll-up doors opening the restaurant to the outside, he says, "With the music pouring out onto the streets, sign all lit up, the lights from the guest rooms casting out—it's gonna be a sight to see."