Iconic Hawaii eateries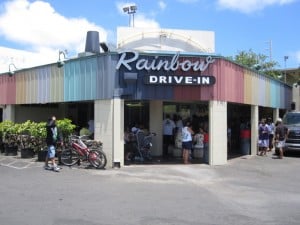 Well, who knew Monday's blog would be such a talker!
But then again, I shouldn't be surprised.
Hawaii has changed so much over the past few decades, it's easy to find something to miss.
Longs Drugs Stores are now owned by CVS. Star Markets no longer exist. And the only place you can get a fresh waffle dog regularly is at the Panini Press at Kahala Mall.
But I didn't want the blog to be a downer.
Though we don't have Da Rink or Castle Park anymore, though restaurants such as Wisteria and Coco's have long closed, though we're seeing more Mainland big-box retailers open and local stores closing — there are some great places still around.
And today's blog, I'm going to focus on those iconic restaurants, diners, drive-ins and take-out spots that make Hawaii, well, Hawaii.
Here's the start to the list I'm sure you'll finish: (Notice most of them don't have websites yet!)
• Rainbow Drive-In and its award-winning loco moco plate and slush float
• Like Like Drive Inn, one of the few local restaurants open 24 hours and serving breakfast all day
• Liliha Bakery with its famous cocoa puffs and that old-school radioactive-red jelly served at the counter
• Wailana Coffee Shop on the outskirts of Waikiki
• Zippy's — it's the closest thing to a locally owned chain restaurant and its chili cheese fries are a late-night nosh must
• Ono Hawaiian Foods on Kapahulu Avenue that's still so popular you have to wait in line to get a table
• Natsunoya Tea House on Alewa Heights
• W&M Bar-B-Q Burgers on Waialae Avenue — used to be on 9th Avenue — that still makes some of the best (and cheapest) burgers around
• Shige's Saimin Restaurant, an iconic saimin stand in Wahiawa
• Ted's Bakery, though a tourist haven, still got great cream pies
• Gulick Delicatessen, one of the best-known okazuya located in Kalihi and serves the best vegetable tempura I've ever had
OK, finish my list! And tell me what to order next time I'm there!