Take Your Keiki to This Maui Farm Filled With Tiny Animals
Lahaina Animal Farm and Petting Zoo introduces its miniature horses, cows, goats and more to keiki through its family-friendly farm tours.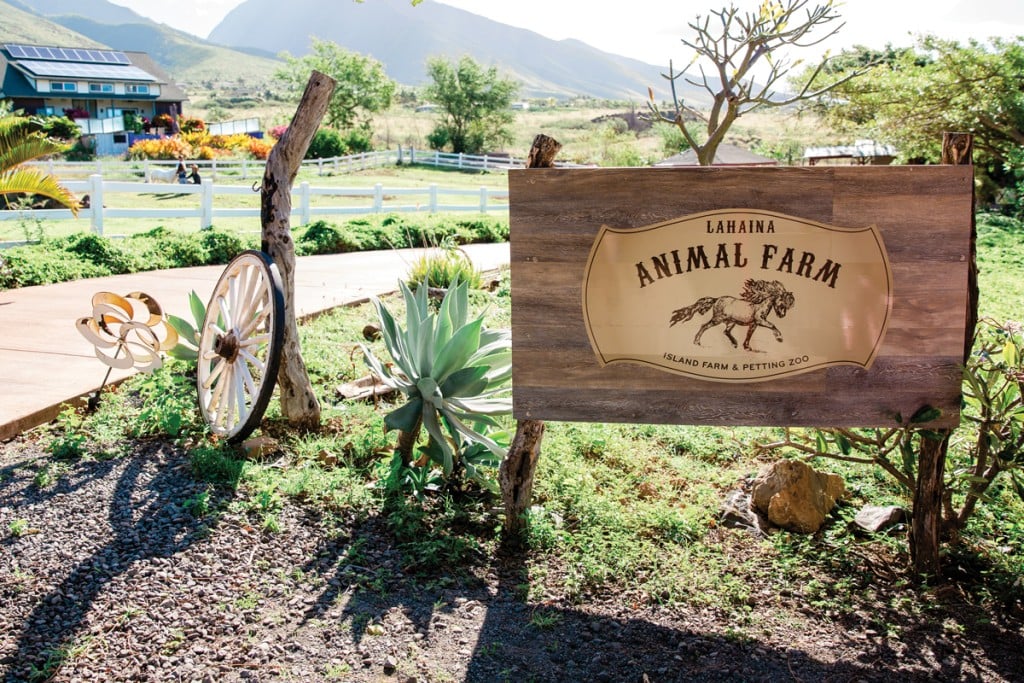 Stepping out of my rental car high in the hills of Lahaina on Maui, I find myself in a land of miniatures.
I raise my hands to protect my eyes from the unrelenting sun and focus on two pint-sized ponies. They give me an inquisitive stare. The rustling of a gate diverts my attention, and I'm met by my guide for the day, Yorlenis Udave, who, along with her husband, manages all aspects of Lahaina Animal Farm and Petting Zoo, a tiny farm filled with tiny animals.
Fifteen minutes away from Lahaina's busy Front Street, the 5-acre Lahaina Animal Farm and Petting Zoo operates farm tours every morning except Sundays. The 90-minute tours introduce keiki and adults, like me, to the farm's 'ohana: miniature horses, pint-sized cows and iki (small) goats. Even the pigs are minis! The farm and its owners have also partnered with local schools to offer monthly field trips.
Yorlenis, who everyone simply refers to as "Nis," pronounced like "niece," begins my private tour by telling me of the farm's history and how she and her husband became its caretakers. The land was originally owned by local animal lover Theresa Waters, who wanted to provide the community with a family-friendly petting zoo. However, Waters sold the farm in 2016, and many of its animals, as she entered her golden years. It was eventually purchased by two brothers from the Mainland, who, ironically, wanted to keep the farm and the land as a petting zoo, even though all of its animals had just been sold off. The new owners hired Nis, who was born in Mexico but went to school just down the road at Lahainaluna High School, as well as her husband, a charro, Mexico's version of a paniolo (Hawaiian cowboy).
"This is Makani," says Nis, who rubs the miniature horse with tender, gentle hands. "She's the only animal from the farm we were able to buy back." Makani is joined by two other equally tiny horses, Chippy and Ruby, and for a moment I revel in the fact that I'm literally surrounded by three tiny horses that stand at four or five feet, their heads barely reaching my chest. Nis gives me a few carrots and I feed them one by one, petting their soft manes with one hand as I attempt to snap pictures with the other. And while I could spend all day hanging with Makani, Chippy and Ruby, the tour has only just begun.
Walking deeper into the property, Nis introduces me to Pono, a miniature cow who is barely able to peek its head up over its pen's shoulder-high fence. Pono uses its long twisting tongue to grab carrots from my hand while mom, Kuipo, lazily eats grass on the far end of their enclosed pen. Next to the cows are the pigs, which Nis tells me have become a bit of a problem. Tassy and Penny, the farm's two miniature pot-bellied pigs, have started a family of their own, and now Nis is trying to find homes for eight piglets. A hard task considering Nis, the daughter of a butcher, wants to make sure they don't end up as bacon. So, for now, these piglets play in their muddy pens, staying cool in the warm Lahaina weather.
While I pet every animal I can, including the farm's Muscovy duck, Nis is rattling off facts about the farm denizens—did you know pigs don't have sweat glands?—like a walking-talking zoology textbook, reminding me that this tour is supposed to be as educational as it is fun. "A child asked me a question once, and I didn't know the answer," Nis tells me as we walk past the farm's gorgeous little barn, "and it was the worst feeling ever."
The next stop on the tour is my favorite. Nis leads me to a small, gated corner of this miniature animal paradise, just past the restrooms and hand-washing station, where I'm met by the largest, fluffiest rabbits I've ever seen. They're New Zealand rabbits, and males can grow up to 11 pounds with females a bit larger. On her normal morning tour, Nis will hide eggs in this area for the keiki to find. She got this idea from her two sons, ages 6 and 10, who pull their weight on the farm by playing with the animals and getting them used to interacting with children.
Before I go, Nis has one more not-so-fluffy friend for me to meet. His name is Tonka, and he's a 35-year-old Sulcata tortoise, the third-largest species of tortoise in the world. He also happens to be one of the farm's rowdiest characters, escaping from his gated community whenever he sees fit. Nis tells me they lost him for three weeks once during a brush fire near the farm, the family opened all of the pens and evacuated the animals. Everyone stayed on property except for Tonka, who was found miles down the road in bad condition. But Tonka's back and, just like the farm itself, he's looking better than ever.
Stepping out of Tonka's pen, I can't imagine why the turbulent tortoise would ever want to leave this tiny slice of paradise. The sun has begun to set on Lahaina, and the entire, albeit small, farm is blanketed in a warm, golden glow. Nis leads me back to my rental car and asks me to come again one day. Honestly, I'd love to experience the farm tour all over again, and maybe next time I'll bring a miniature version of myself as well.
Tours are from 9:30 to 11 a.m. Mondays through Saturdays. $25 per person, free for kids under 2. (833) 523-6284, lahainaanimalfarm.com.