I waited in line 5 hours for Austin's Franklin Barbecue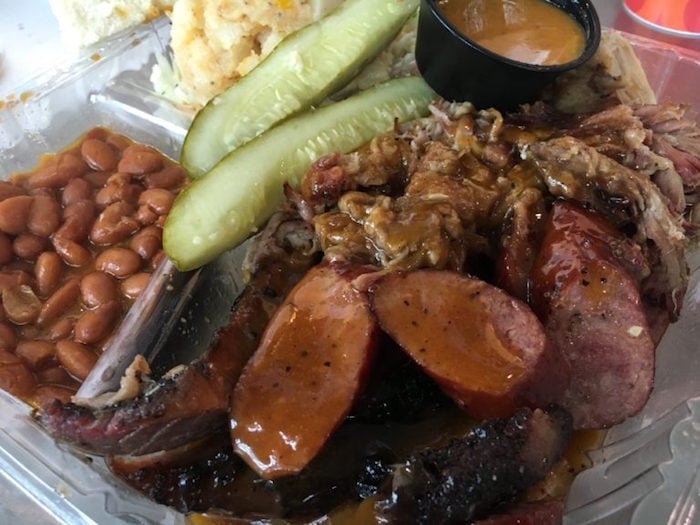 Texas and barbecue. So what's the big deal?
On my first trip to Austin, everyone insists that Texas barbecue is a must-have and Franklin Barbecue is THE place to try. So I Google it up.
Franklin Barbecue: as seen on multiple Food Network shows, President Obama loves it, doesn't take reservations, and people queue up for HOURS (emphasis on HOURS). Wait. What?
Who are we kidding. It's morning, I'm wide awake and my friends are all working. I'm game.
8:00: I grab my rucksack, a fresh copy of the new Harry Potter and a full canister of water, hail the local version of Uber and off we go.
8:20: Arrive to a quaint residential neighborhood. There is already a line going around the block. How is this possible? What time did everyone get here?
I meekly walk around the building and take my place at the end of the line. Next to the bathroom. Their neighbors must hate them.
Those who knew what they were doing came more prepared than I. We're talking lawn chairs, portable stereos, picnic blankets, coolers full of beer and snacks, even a beer pong setup. And I found this out much later: If you don't have a chair, there is a pile of them under the stairs by the front door that you can borrow. So thoughtful, Franklin.
Franklin doesn't open until 11 and stays open until they sell out, but the staff was already there working the crowd. A host comes down the line and greets every guest, explaining the process, patiently answering the same questions over and over, and taking real-time inventory of their BBQ. They will be sold out of turkey by the time I order, she kindly informs me. Everything else should be OK. Fine, I'll order a pound of everything else.
10:45: I have no view of the front door but I assume they've finally opened because the line moves about 50 feet. New acquaintances help relocate the ping pong table. I'm halfway through my book. A server comes down the line with a half-pan selling drinks & cozies. There's a Franklin's paraphernalia table by the bathroom for you to peruse. T-shirts, hats, cookbooks; God, they have us right where they want us.
12:00: Good news: I'm in the home stretch. I can kind of see the front door. Bad news: The legs are starting to cramp, I've finished my book, my water bottle is empty and now I'm going to have to start making small talk. There's only so much time you can spend standing next to someone and NOT talk to them. "Oh, what's that? You hate Hawaii? ALOHA."
1:15: We finally pass the threshold. Hallelujah. Once you're inside, the line moves pretty quickly. Room isn't too big. People are friendly, offering to share tables, eating efficiently and not dawdling about.
1:30: Get to the counter and order our food. Damn, that host was on her A-game. Only the turkey is sold out. We get a pound of pulled pork. A pound of brisket. Half fatty, half Lean. Four sausages. Four pork ribs. Coleslaw. Potato salad and a couple of Mexican Cokes. Food is trayed up right then and there. No more waiting! The mouth is salivating. The platter comes with a mound of sliced white bread that we don't bother touching. Side stations offer water, sliced raw onions and sliced dill pickles. Three types of housemade barbecue sauce are on the table. In we go.
1:50: We're full. I kid you not, we've finished eating. Five hours of waiting, 20 minutes of eating. The pulled pork is so perfectly seasoned and moist. Meat is falling off the pork ribs. We play around with the barbecue sauces. They're good, but nothing really stands out or is necessary in my opinion. Slaw is good but standard; the potato salad is a thumbs-up, pretty stellar. The sausage I would skip. And the brisket? GAH! Smokey, tender, fatty, salty and not a dry spot to be found. This is so good. Easily the highlight of the platter.
Would I go back? Sure. But I wouldn't bother queueing up so early. People who came around 12:30 didn't have a while to wait and were still able to get plenty to eat, although I'm sure this probably varies day to day so don't hate tweet me if this strategy fails you.
For a first-timer, the line is definitely an experience, waiting around with total strangers, kind of like a tailgate party. For a less fuss approach, Franklin's now has a pre-order and curbside pickup system, with just a 5-lb minimum. (They have a calendar available on their website and only offer this Tuesday – Saturday at 30-minute intervals. This also fills up fast.) Either way, it's going to be bloody delicious.
Side bar: Another super well-known barbecue establishment is Salt Lick. The main one is well off the beaten path and I wasn't able to venture out there, but they do have an airport version at Gate 10. Cheee! I liked their pulled pork and sausage better AND their BBQ sauce is delicious. (I hear you can pick it up locally at Whole Foods).
Franklin Barbecue
900 E. 11th
Austin, Texas 78702
franklinbarbecue.com