Hy's debuts new dinner series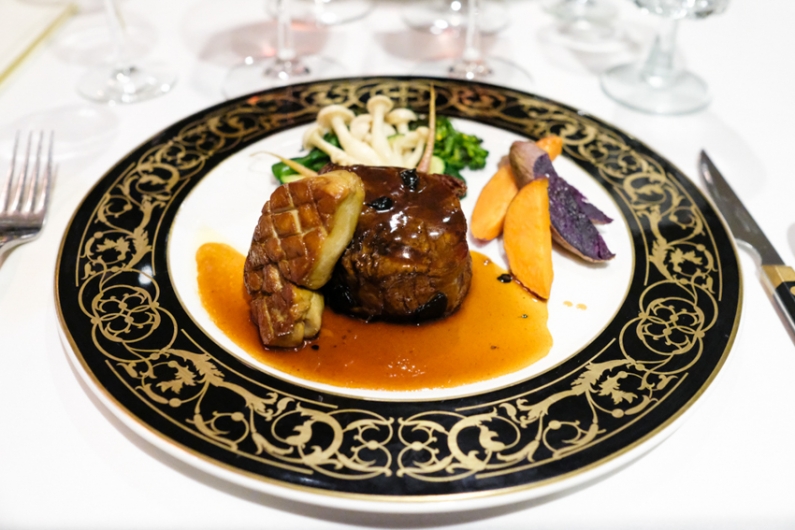 Hy's Steak House, a staple in Waikiki's fine dining scene, is celebrating 40 years of serving sumptuous kiawe wood grilled steaks and enticing local seafood with a calendar of monthly wine and chef's table dinners.
Starting April 12 and May 10, you'll be able to imbibe and indulge in a series of wine pairings and chef's table dinners respectively. The five-course pre fixe wine dinners ($150 per person) will be hosted in collaboration with several sommeliers, including Master Sommelier Patrick Okubo, and Executive Chef Justin Inagaki to feature wines from around the world. The five-course pre fixe chef's tables ($100 per person) will spotlight Hawaii's purveyors and farms by incorporating sustainable and underutilized ingredients – a step beyond being just "farm-to-table." For the chef's table dinners, wine and cocktail pairings will be available for purchase separately.
We were treated to a synergy of both dinner concepts, so here's a look at what you can expect when you book either one. Each month is a different theme, whether it be around vineyards with Hawaii ties or a seasonal change in produce, and will be completely different from the last.
As each course and pairing are served, the hosts will introduce their wine selection and inspiration for the dishes, making the experience much more meaningful. For instance, we learned that the ahi had just arrived from the auction that morning and would pair well with the fruity rose because the fish was still fairly mild to the taste.
I was lucky enough to sit between Billy Giampaolo, the sommelier at Stripsteak Waikiki, and Master Sommelier Patrick Okubo from Young's Market Company, so naturally, the conversation about the pairings was rather stimulating. We discovered that the crisp, appley Jordan chardonnay was very playful with the second course as you could noticeably alter its taste just by leaving out the slightly sweet crostini.
Speaking of sommeliers, you might be blown away to know that Hy's has seven registered sommeliers on staff who recommend and pair wines for their guests. Seven sommeliers!
Hy's regulars will almost always mention their infatuation with the restaurant's signature cheese toast, so when first timers like myself are given a taste of something new along the same lines, we're a little suspicious. However, in the case of these new cheesy biscuits, which are deceptively light yet just as cheesy, I'm sold. GIVE ME MORE!
The dragon fruit granita was fabulously sweet, to the point of being vaguely ripe lychee, with all the refreshing coolness of being made with ice.
If you're prone to gout flare-ups, look away. The main course of the evening was paired with dual pinot noirs, one new world and the other old world. The new world 2013 Lutum pinot noir, from their Gap's Crown Vineyard, was beautiful all on its own and perfectly paired with the roasted root vegetables and smoky broccolini. The old world Burgundy, a fruity and delicious 2014 Marsannay from Domaine Chanson, took the foie gras and filet covered in truffle demi-glace over the moon. Just bite, sip and sink deep into your chair.
Dessert wines are an acquired taste for me. I prefer drier, tannin-rich wines, but was pleasantly surprised with this Moscato d'Asti – it's definitely something my mom would love. I jokingly referred to the dessert plate as a clockwork lilikoi, because it was dotted with so many little scoops and samples of from the pastry team and oozed of fresh, tart lilikoi. My favorites were the Hawaiian Crown chocolate brownies with the dreamy coconut sorbet while the macadamia caramel crunch was a close second.
Hy's is now taking reservations for their wine dinners and chef's table series. As there are no tickets, just reserve your seats by mentioning the event to the host. The dinners will occupy Hy's private dining room so the hosting sommelier and chefs may address the group for each pairing.
Hy's Steak House
2440 Kuhio Ave
Waikiki
hyswaikiki.com
922-5555