HURT so good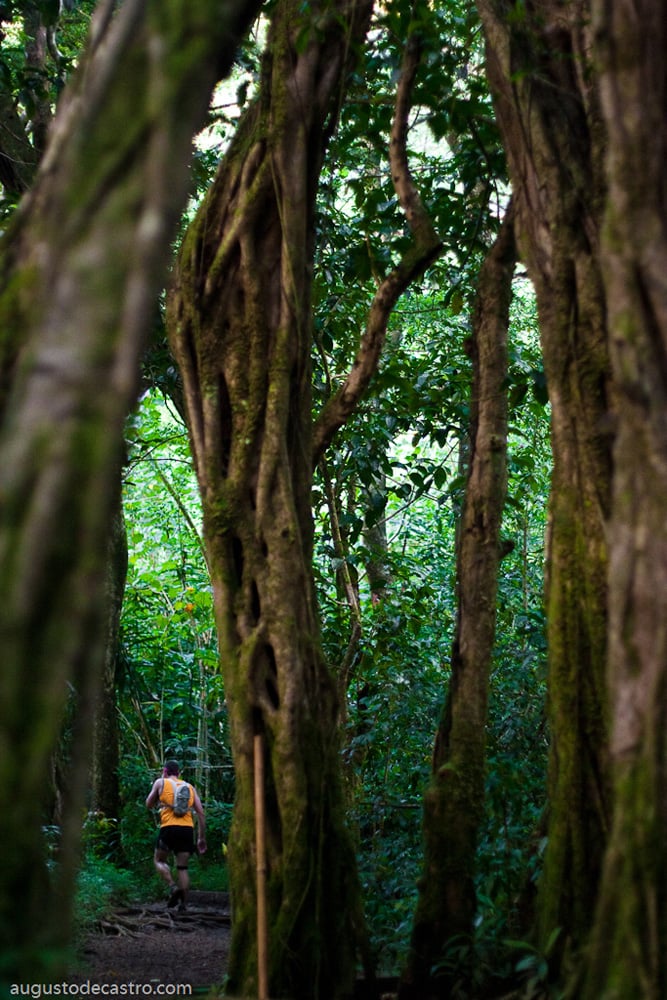 Did you know that one of the hardest ultramarathons in the country takes place right here on Oahu? Every January, the Hawaii Ultra Running Club (HURT) of Hawaii puts on the HURT 100, and athletes from all over the world try to gain entry. Since they limit the field to just 125 entries, hopeful runners can only get in through a lottery.
The course is five, 20-mile loops out in the wilderness of metro Honolulu — Manoa, Nuuanu, and Tantalus. The race starts at 6 a.m. on Saturday and ends at 6 p.m. on Sunday. Toward the end, there are time markers that the runners need to hit on Sunday in order to keep going: 80 miles by 11 a.m., 87 miles by 1:30 p.m., 92.5 miles by 3:30 p.m. If they don't make it to these markers by the alloted time, they're pulled out of the race. (At 6 p.m., when they closed and evacuated the finish line, there was still one runner out on the course. The "sweeper," who sweeps the course for stragglers and removes trail markers, found him and brought him in at 7:20 p.m.)
Some runners, as they rush to get in by the 36-hour deadline, make it in just under the clock. Here's a dramatic video of Mark Tanaka, the last official finisher for 2011, taken by @LARunr. After 100 miles, Tanaka probably couldn't feel the fall anyway.
Here are just a few photos from the event to give you a taste of my experience as a spectator. You can also check out Augusto Decastro's photos here:
HURT 100 2011
I've learned a few things about these ultramarathons while volunteering over the years, but probably not nearly as much as the people who run them. One very significant thing to know is that most ultra runners tend to be older (maybe 35+ years) because of the mental endurance required. One runner explained that when you're in your 20s, you haven't gone through enough adversity in life yet to mentally prepare you for such a grueling run, which is why older runners dominate the field.
On that note, I didn't realize until this year that many of these runners, old or not, have incredible stories. One guy is a cancer survivor. Another one was running with one arm (yes, I know you run with your legs). One girl out on the course, Frayed Laces, completed two Ironman races in the last year and had finished her PhD dissertation last week. On top of that, she has a super popular blog. I felt like a total underachiever! So of course I had to meet her:
If you want to get a better feel for what it's like out on the course, check out this blog entry by Gary Robbins, HURT 2010's winner. And remember, he's the winner … can you imagine what it feels like for the rest of the runners?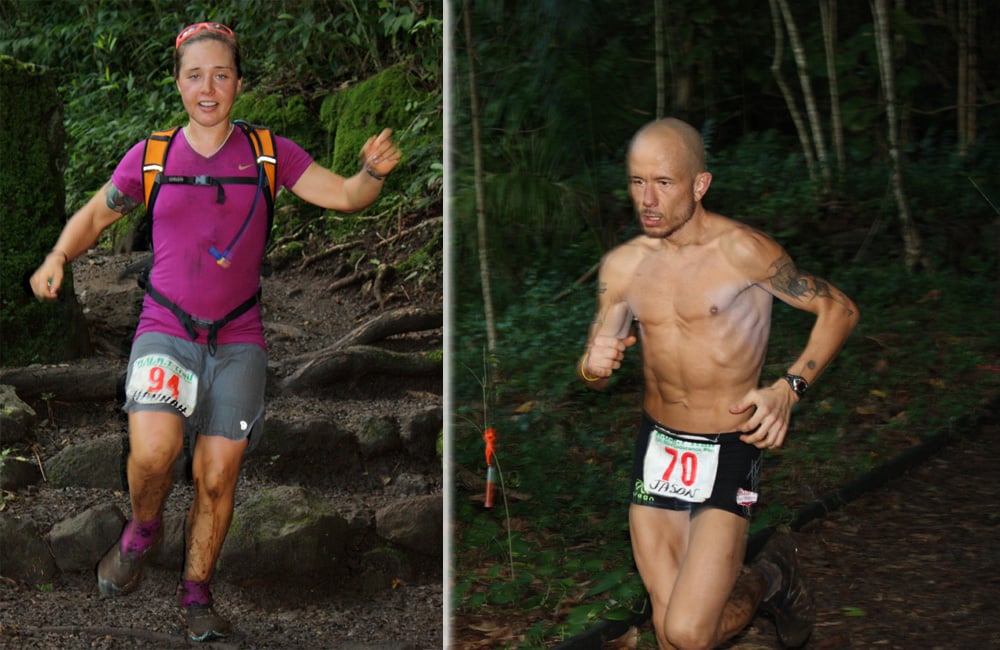 By the way, congratulations to the women's winner, Hannah Roberts (left) and the men's winner, Jason Loutitt, as captured on the trail by Andrea Stout. For the complete results, click here.
I had a great time tweeting with @LARunr, @Gary_Robbins, and @BobMcallaster — make sure you check out our #HURT100 tweets before they're archived. If you'd like to volunteer as a pacer or at an aid station next year, let me know!
========
You can read all of Melissa's blogs at www.nonstophonolulu.com/urbanmixplate. Follow Melissa on Twitter @Melissa808, on Foursquare as Melissa808, or email at Melissa@nonstophonolulu.com.
My recent blog posts:
Hawaii: In Real Life ~ Sake 101
Top things to do in Vegas
One last look at Vegas food
Hawaii: In Real Life ~ the Fremont St. zipline
Hawaii: In Real Life ~ Caked Las Vegas
A taste of Hawaii in Vegas
Dinner and dessert at Caesars Palace
New Year's Eve at Serendipity 3 in Las Vegas
Vegas: The day of the food coma
Vegas: Visiting the M Resort
Breakfast of champions: The Cracked Egg in Vegas
Vegas: A fun day on the Strip
Welcome to Vegas, baby
Where I'd tell the Obamas to eat
Hawaii: In Real Life ~ Midori-dori
Vegas lucky charms