HPU's AYCE cafe at Aloha Tower has Sam Choy dishes
$15 for a hearty buffet lunch and a view of Honolulu Harbor — and it's open to the public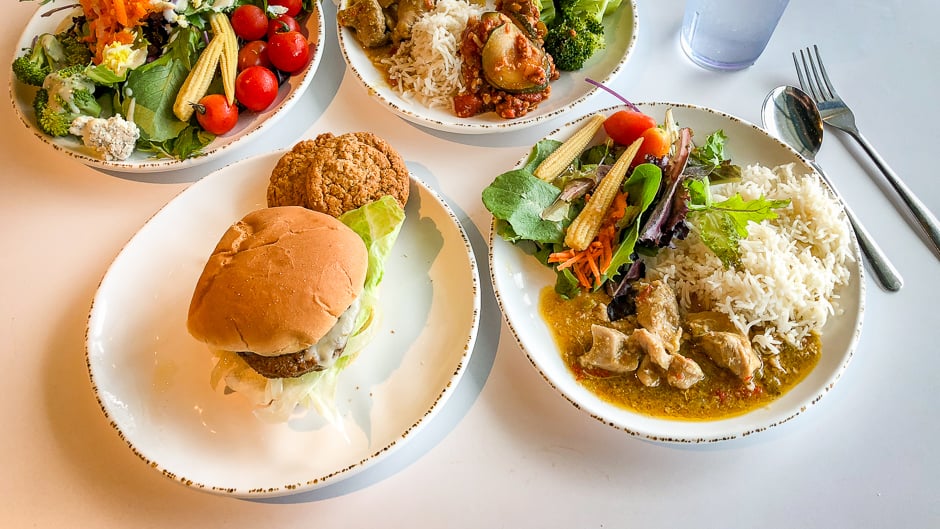 When I was a student at Hawaii Pacific University nearly 10 years ago, I didn't have any of this. I never had the luxury of dining with a waterfront view of Honolulu's bustling harbor – a fabulous spot to zone out for an hour. Now that HPU is breathing new life into Aloha Tower Marketplace, Pier 9 by Sam Choy, its new student cafeteria, is a compelling reason to cross Nimitz Highway for a business lunch or dinner.
The locale in the old Don Ho's Island Grill space across Gordon Biersch easily makes this Hawaii's swankiest university dining spot. Created for students with meal plans, this cafeteria-style all-you-can-eat buffet is open to the public with a pricing structure for round-the-clock dining:
Breakfast, 7 – 10 a.m. is $10
Lunch, 11 a.m. – 2:30 p.m. is $15
Weekend brunch, 11 a.m. – 2:30 p.m. is $15
Dinner, 5 – 8 p.m. is $18
Throughout my time at HPU, I wrote a column in the student-run Kalamalama newspaper called the Gastronomist that profiled student-friendly lunch spots in downtown. I felt it was my duty to get students out of the Fort Street Mall dining rut to experience gyros sandwiches, Thai garlic chicken and the other global offerings nearby. It's just as tough today as it was during the post-2008 downturn to find a decent lunch that hit all the notes of taste, budget and atmosphere. Pier 9 by Sam Choy comes pretty close.
The buffet features a salad bar, build-your-own burger and sandwich grill with dozens of toppings, fresh pizzas, custom paninis, several soup options, and daily chef-driven specials. Sam Choy's dishes will begin showing up on the rotating menu starting today, Oct. 25. You can browse menus up to a week in advance. Oh, and don't forget to snag a giant cookie before you leave – they're a hit with the students.
Cold cases up front will feature grab-and-go meals for students dashing between classes. But don't lose focus: The real value is in the buffet.
Pier 9 by Sam Choy
1 Aloha Tower Drive
Downtown
Daily 7 a.m. – 12 a.m. (see schedule above for mealtimes)
Validated parking at Aloha Tower is $2