How to Register to Vote in the Hawai'i General Election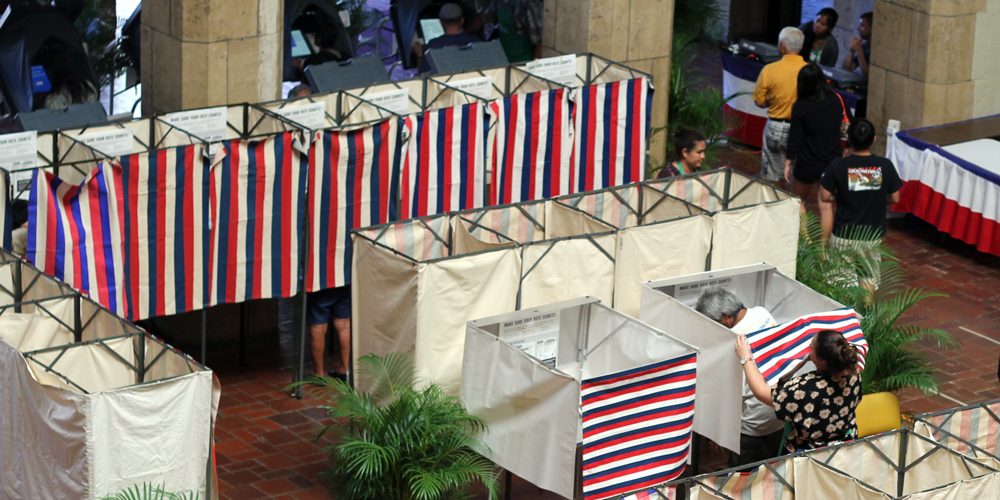 Important Voting Dates
Oct. 6
Voter registration due
Oct. 21–Nov. 1
Early walk-in voting
Oct. 28
Absentee application due
Nov. 4
General election
Voters must be citizens of the U.S., residents of the State of Hawai'i, and at least 18 years of age by Election Day.
Voters must re-register in the cases of legal name change, change of residence or change of mailing address since the last election.
To register, pick up an affidavit on application (the Wikiwiki Voter Registration & Permanent Absentee form) from the following:
City/County Clerk's Offices

Hawai'i State Libraries

Office of Elections website: hawaii.gov/elections

Satellite City Halls

State agencies

U.S. Post Offices

Phone directories
In order to vote in the general election Nov. 4, voters must turn in their completed registration forms by Oct. 6 to their City/County Clerk.
Source: Hawai'i state Office of Elections.
Quick Links
Polling Place Locator: https://elections2.hawaii.gov/ppl
Campaign Spending Commission: ags.hawaii.gov/campaign
National Institute on Money in State Politics: followthemoney.org
Center for Responsive Politics: opensecrets.org
Have questions or want to know more? Visit the Office of Elections website at hawaii.gov/elections, email elections@hawaii.gov or call 453-VOTE (8683) or toll-free for Neighbor Islands at (800) 442-VOTE (8683).