How to Have the Best Summer Ever for Honolulu Families
22 fun events, including some astronomical, that will get your keiki dancing, skygazing, exploring and ready for outdoor movie nights.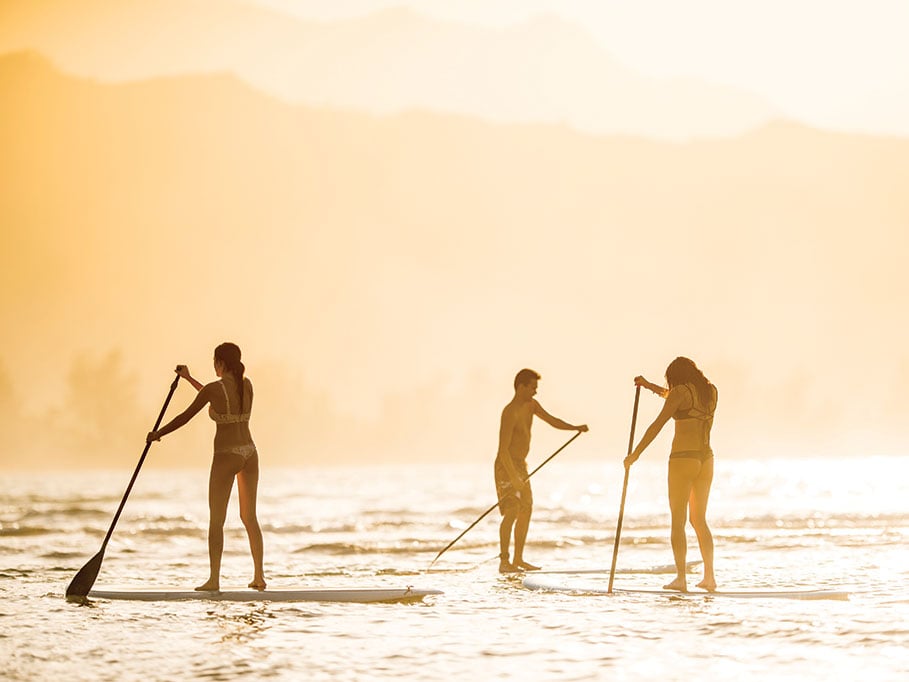 Photo: Getty Images
When the kids are out of school, we all feel like playing hooky too. And for good reason. Not only do homework battles abate for a bit, but days of more sunlight (on average, about two hours more than the winter) means we have more time after work to take some time to spend with our families. So don't waste a moment. Let us help. We rounded up a must-do list of family fun for the season so you can plan the best summer ever.
1. Spend the year's longest day at the beach.
The summer solstice falls on a Friday this year. On June 21, expect 13 hours and 26 minutes from sunrise to sunset. Pack a few of our "30 Great Hawai'i books for Kids" and extra reef-safe sunscreen (HONOLULU Magazine has a list at bit.ly/HNsunscreen).
2. Join a bon dance.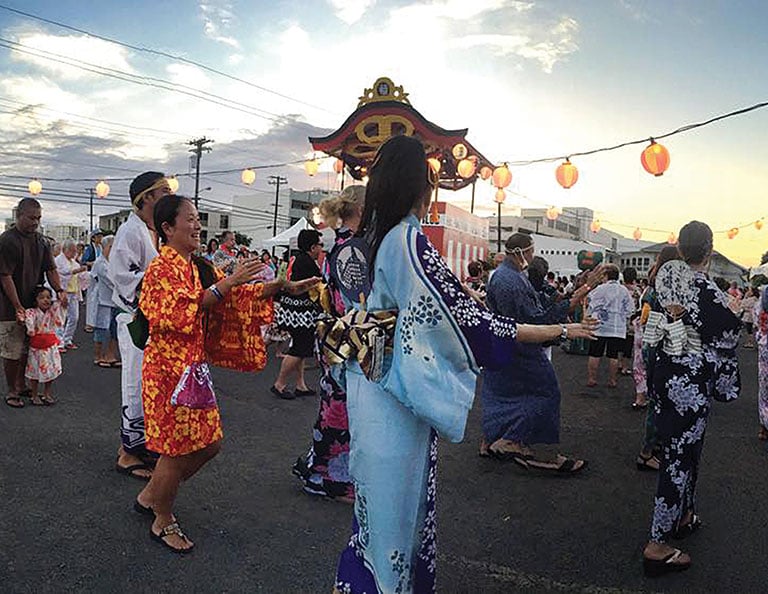 Here is a tip for young first-time dancers at this traditional Japanese summer event—follow everyone else and don't stop moving forward. And be ready to wait for your batch of fresh andagi. Read our other tips for newbies in "Our Guide: Obon Dances for Beginners." Bon Dances run June through September.
---
SEE ALSO: The Ultimate Guide to Hawai'i's Summer 2019 Bon Dance Schedule from HONOLULU Magazine.
---
3. Lose your shadow.
Teaching moment. Hawaiʻi is the only state located between the Tropic of Cancer and Tropic of Capricorn. Why does this matter? It's the only place in the U.S. where the sun shines directly above us. The phenomenon, locally called Lahaina Noon (a moniker from a Bishop Museum naming contest in 1990), creates a moment when shadows disappear. It only happens twice a year—once in May, once in July. Your last chance to experience the "cruel sun" this year will be July 14 at 12:38 p.m. in Haleʻiwa, July 16 at 12:38 p.m. in Honolulu and 12:37 p.m. in Kāneʻohe.
4. Watch 4th of July fireworks (and take Friday off).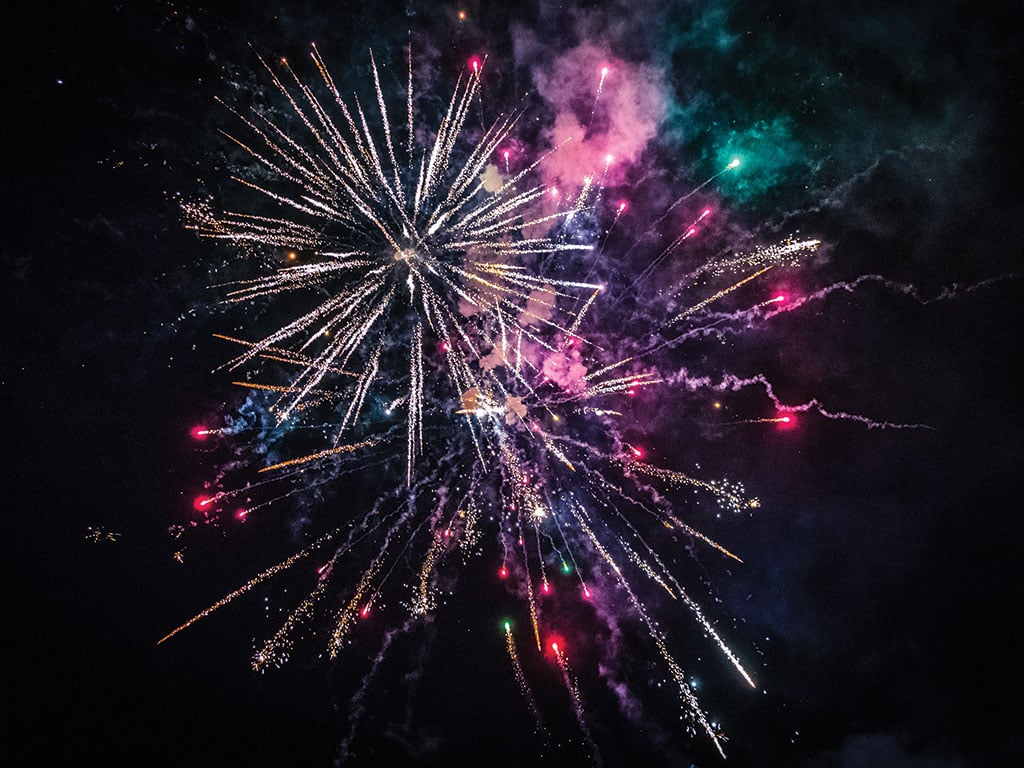 Photo: Getty Images
Shows will launch at Ala Moana Beach Park, in Kailua and near the USS Missouri. Since the national holiday is on Thursday this year, you can double up by sitting on the beach of the Hilton Hawaiian Village Lagoon the next day to catch the 8 p.m. Friday night fireworks in Waikīkī. Or just take the day off and turn it into a four-day weekend. Fireworks shows: alamoanacenter.com, kailuafireworks.net, ussmissouri.org.
---
SEE ALSO: Our Guide: Battleship Missouri Memorial
---
5. Eat, dance and explore at an ethnic festival.
Four more festivals will bring kim chee, kalbi, andagi and noodle booths to the parks. Mō'ili'ili Summer Festival, Saturday, July 6; Prince Lot Hula Festival, Saturday, July 20 and Sunday, July 21; Korean Festival, Saturday, Aug. 11; and the Okinawan Festival, Saturday, Aug. 31 and Sunday, Sept. 1. Sorry, gyro fans, this year's Greek Festival at Ala Moana Beach Park has been canceled because of park renovations.
6. Pick and pickle a mango.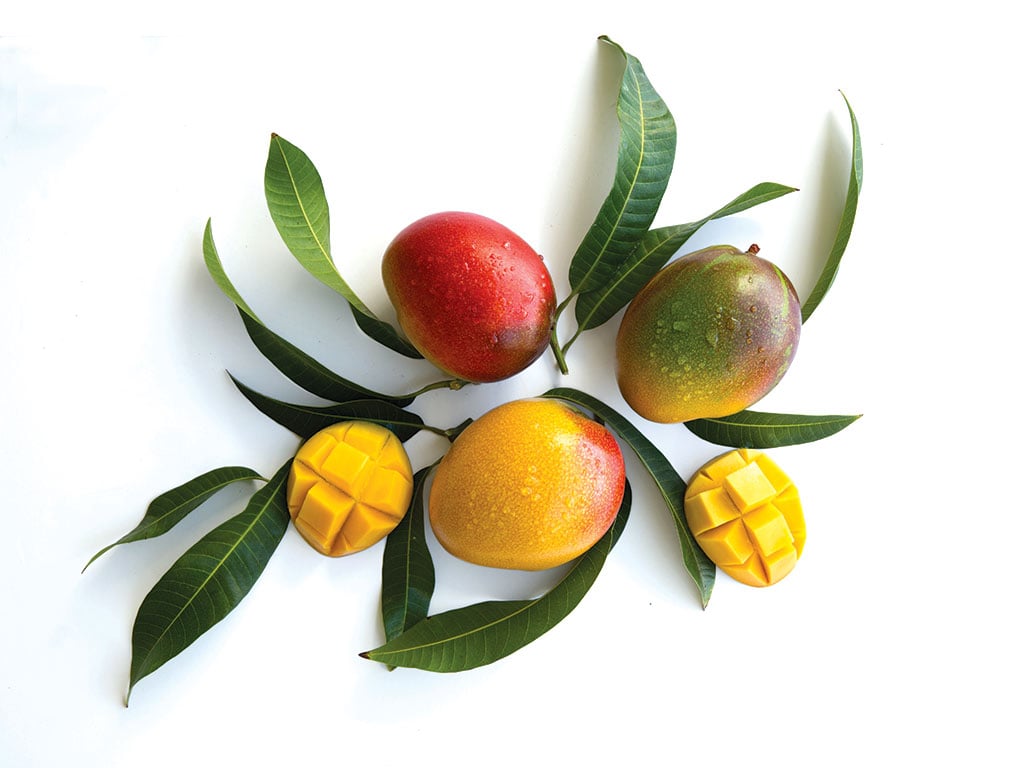 Photo: Olivier Koning
There are hundreds of types of mangoes, but the local favorites largely peak in June (Haden, Mapulehu) and July (Pirie, Rapoza). You know the rule: If it's over the fence it's fair game; reaching over a fence is not allowed. But if things are still green, it's time to pickle. The most basic recipes involve just one-part rice vinegar, two-parts sugar and ¼-part Hawaiian salt combined, boiled and poured over sliced green mango. Toss in some li hing if you like, then let sit for 24 hours.
Other local fruit in season during the summer include loquat, lime and liliko'i. HONOLULU Magazine has the ultimate guide at bit.ly/HNfruit.
7. Or just eat bunches of mango dishes.
Food is always a big part of the free Mango Jam festival, which is set for June 21 and 22 at Honolulu Hale. mangojamhonolulu.com.
---
SEE ALSO: Keiki in the Kitchen: 3 Unexpected and Delicious Star Fruit Recipes
---
8. Pick up an 'ukulele.
Free lessons and lots of live music will be part of the celebration for one of our favorite stringed instruments at ʻUkulele Festival Hawaiʻi. July 21, 10:30 a.m. to 5 p.m., Kapiʻolani Park Bandstand, ukulelefestivalhawaii.org.
Or, take advantage of the complimentary lessons offered at many hotels. Tuesdays, Thursdays and Fridays at noon newbies can pick up strumming tips at Royal Hawaiian Center. Note that these are among the most popular free classes there, so you need to sign up as early as 10 a.m. royalhawaiiancenter.com.
9. Go ziplining.
Because ziplining in the rain is nowhere near as fun.
---
SEE ALSO: We Tried It: Coral Crater Adventure Park
---
10. Pack popcorn for an outdoor movie.
Here are a few outdoor big screens that pop up during the summer. Wet 'n' Wild Hawai'i's Dive'n'Movie (two Saturdays in June and August, every Saturday in July, discounted admission after 5 p.m.); Waimea Valley's Screen on the Green (free every Thursday from June 7 to July 25, except for July 4, at 7:15 p.m.); Movie on the Beach at Duke's Oceanfest (free on Thursday, Aug. 22 at 7 p.m. at Queen's Beach); and Courtyard Cinema at Ward Village (free with RSVP on the second Thursday of every month, 6 p.m.).
---
SEE ALSO: Our Guide: Fun Family Summer Events 2019
---
11. Take a photo in front of the Hale'iwa wings mural.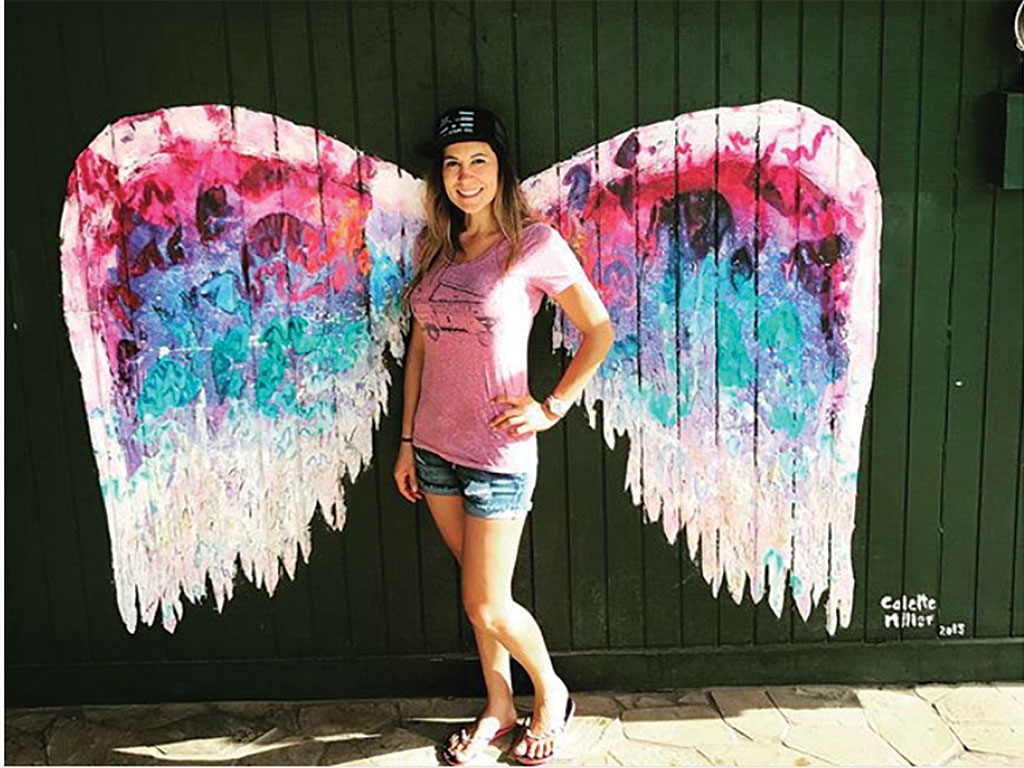 Photo: Courtesy of Anela Akana
We won't get into the whole North Shore shave ice debate (Aoki's vs. Matsumoto's has the potential to hit Montague/Capulet-esque status), but another shop has the Instagrammable set of wings adorning its wall. Los Angeles artist Colette Miller—who spent some of her childhood here—brushed the wings on Anahulu Shave Ice's wall in 2015, one of about 100 interactive paintings she completed across the world. Avoid the big surf gridlock of the winter and head north during small swell months to have someone snap your photo (selfies of the entire painting are impossible). While you're there, check out the keiki activities at the Hale'iwa Arts Festival on July 13 and 14. Wings: 62-620 Kamehameha Highway, Hale'iwa. Hale'iwa Arts Festival, Hale'iwa Beach Park, haleiwaartsfestival.org.
12. Tailgate at a polo game.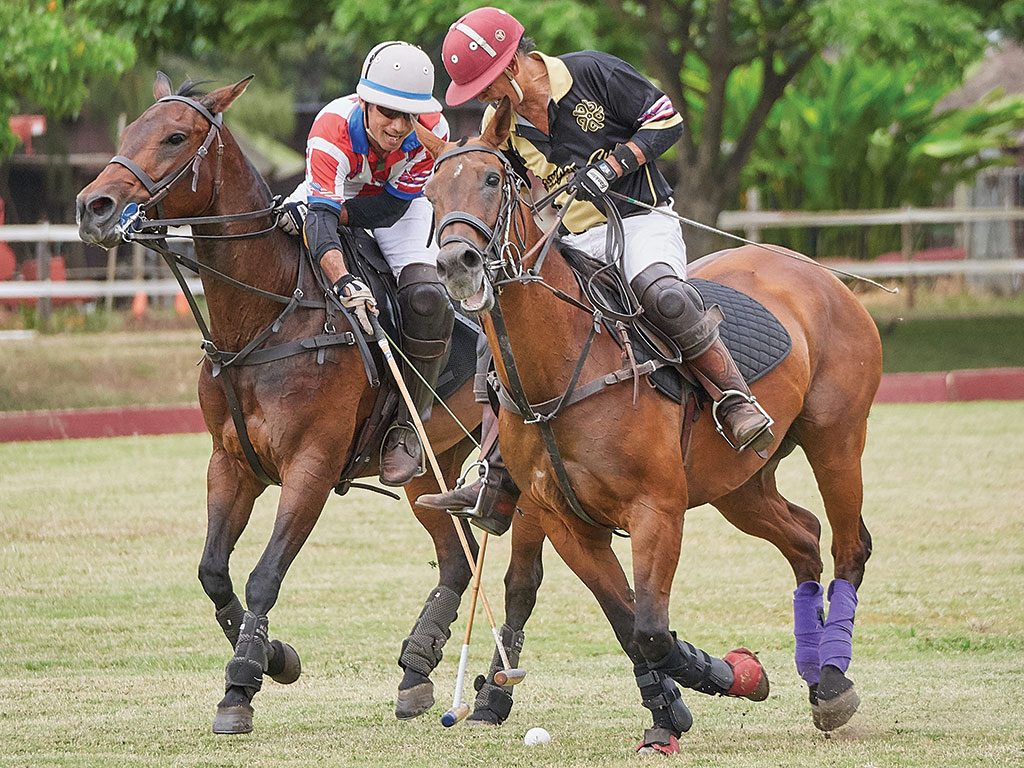 Photo: David Croxford
Even if you've never seen a single chukker, there's no shame in setting up a picnic (and having a glass of wine, if you like) on the sidelines at this game of kings. Tailgating is allowed at both the Honolulu Polo Club in Waimānalo and Hawai'i Polo Club in Mokulē'ia. On the North Shore, start early with a day pass to set up beachside and stick around for live music after the match. On the Windward Side, slide into the grandstand. With season passes going for just $250 and $100 per person respectively (and kids free), you won't go broke spending the summer in the country. Click here for our five tips for enjoying a day at the Hawai'i Polo Club games. Matches are weekends through Labor Day in Moklulē'ia, hawaii-polo.org; and through October in Waimānalo, honolulupolo.org.
13. Visit all botanical gardens.
From desertscapes to a family-friendly fishing spot with a Koʻolau backdrop, Honolulu's five botanical gardens offer vastly different landscapes to explore. All offer classes, ranging from shibori (indigo dyeing) to ti-leaf lei making. The best part: With the exception of Foster Botanical Garden, admission is free. Foster, Hoʻomaluhia, Koko Head, Liliʻuokalani and Wahiawā botanical gardens. honolulu.gov/parks/hbg/honolulu-botanical-gardens.html.
---
SEE ALSO: Our Guide: Foster Botanical Garden
---
14. See Foster Botanical Garden illuminated.
The gates off of Vineyard Boulevard usually close at 4 p.m. But one night a year, the garden glows after dark for Midsummer Night's Gleam. Wander among more than 2,000 luminaries set up among the greenery and make sure to bring the right gear for low-light photos. Be ready to wait at this popular free night. The lines form before the garden opens to get a jump-start on dozens of free keiki activities. Hit the arts and crafts and other stations early, then settle in to picnic in front of the stage. Don't forget flashlights and insect repellent. Saturday, July 20, 4 to 9 p.m. Foster Botanical Garden, 180 N. Vineyard Blvd., honolulu.gov/parks.
15. Watch Shakespeare in the park.
Little kids will likely not be interested. But if you have middle or high schoolers studying Shakespeare, this is a fun way to bring it to life. A virtuous woman wronged, a fiery woman, a proud man tricked into falling in love and a crew of inept watchmen take on misunderstandings, duels and, of course, a wedding in Shakespeare's Much Ado About Nothing. The comedy is one of three of the bard's plays performed for this year's Hawai'i Shakespeare Festival and the only one performed outside. Bring a picnic blanket and snacks (and an English major if iambic pentameter is not your thing) for the sunset performance at Hawaiian Mission Houses. Runs Thursday through Sunday from Aug. 1 to 17, 7:30 p.m., hawaiishakes.org.
---
SEE ALSO: 7 Tips for Planning the Best Summer From 7 Award-Winning Teachers
---
16. Watch the Warriors' season opener.
The UH Mānoa football team is on a Roll-ovich. The Warriors closed last season with their best record in eight years (8-5) and a bowl appearance, earning head coach Nick Rolovich a two-year contract extension. UH will open the season at home Aug. 24 with a big-time win against the Wildcats of Arizona. Before that, on Aug. 14 you can kick-start the season downtown when Don Murphy hosts the Pigskin Pigout, a drink-and-eat fest on Nuʻuanu Avenue to raise money for the program. UH vs. Arizona, Aug. 24, Aloha Stadium, hawaiiathletics.com.
17. And cheer on high school football.
UH isn't the only local team taking on some national heavyweights. Two of the top state prep football programs will face major Mainland powerhouses just six days later. The defending state champion Saint Louis Crusaders will kick off against Las Vegas' Bishop Gorman, Nevada's champs for the past 10 years, at Aloha Stadium. Meanwhile, the Mililani High School Trojans will host Henderson, Nevada's Liberty High School to their field. Saturday, Aug. 30, 7 p.m. Aloha Stadium, and Mililani High School.
18. Surf with your pet (or watch others do so) at Duke's Oceanfest.
Hang four at the Going to the Dogs surFUR comPETition, Aug. 20 at Kūhiō Beach in Waikīkī. You can also grab a seat in the sand Aug. 17 and 18 to watch keiki rip up the south swell in the Menehune competition, and Aug. 21 and 22 for the always acrobatic tandem contest. dukesoceanfest.com.
---
SEE ALSO: We Tried It: Nā Kama Kai's Free Ocean Clinics
---
19. Go shrimp truck hopping on the North Shore.
Bring hand wipes, breath mints, your water bottles and be ready to stop by for shave ice or for homemade banana bread and ice cream at Kahuku Farms after lunch.
20. Set your alarm to look up.
There's a reason the Perseid Meteor shower is one of the most popular. As many as 80 shooting stars streak across the sky every hour. It's all debris from a comet—the catchy-sounding 109 P/Swift-Tuttle, to be exact—but is still eye-catching. The Bishop Museum says the almost-full moon will make spotting the meteors tricky during the shower's peak on Aug. 12 and 13, so wake up after the moon sets at 4:30 a.m. on either day for the best view. Or join the Hawaiian Astronomical Society's free viewing party on Aug. 10 at Kāhala Community Park near Kāhala Elementary to get a good look (and some guidance) through telescopes. Remember, leave the flashlights at home. hawastsoc.org.
Other summer astronomical highlights:
June 10-Jupiter at Opposition. Jupiter is aligned perfectly with the sun and Earth. For skygazers this means it will be brighter than any other time and visible all night long. As a bonus, grab binoculars for an opportunity to spot Jupiter's four largest moons.
July 9-Saturn at Opposition. Just like Jupiter in June, the ringed planet will rise at sunset, stay up all night and set at dawn.