How to eat at Tsujita Ramen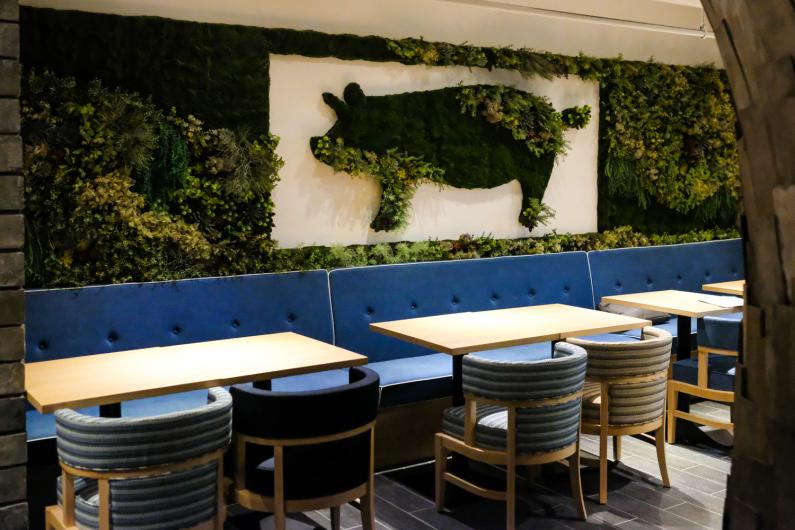 On the Los Angeles ramen scene, Tsujita is as much a household name as Daikokuya, Santouka and Shin-Sen-Gumi. Specializing in tsukemen dipping noodles with a glorious tonkotsu and seafood broth, the Tsujita empire has spidered out from four locations in Tokyo to four in LA and four more across Southeast Asia. It is now open at Waikiki Yokocho, the gourmet food alley in the basement of Waikiki Shopping Plaza.
Located in Waikiki Yokocho's Ramen Alley, Tsujita seats about 30 in a mix of bar, communal and bench seating.
In LA, chef-owner Takehiro Tsujita has three restaurants on the same block of Sawtelle Avenue serving sushi, tsukemen and shoyu ramen. I've been to the LA ramen bar many times to enjoy his signature tsukemen, which is why I'm so excited it's now in Hawaii. The only difference I've noticed is that the hour-long waits in LA haven't made the leap over the Pacific, making now the perfect time to go.
You'll come to appreciate, as I have, the robust, bouncy noodles served chilled with a bowl of rich seafood-scented pork broth. Soupy ramen is available too, but it's not why you go to Tsujita. Although thinner than the udon you'd find around the corner, tsukemen noodles have a serious chew all their own and deserve more than a quick dunk in broth. In fact, there's a specific protocol when it comes to eating dipping ramen here.
Your server will encourage you to eat the first third of your noodles by dunking and slurping them from the broth so you get a direct hit of umami from the saba flakes.
The second third should be enjoyed with Tsujita's five-spice pepper, which packs a medium spicy kick and draws out the savoriness of the broth.
For the last portion, you should spritz some lime on the noodles, which really highlights the porkiness of the labor-intensive broth. If you're confused by the whole process, illustrated instructions are posted in the menu and on the wall.
I am certain you won't find a more complex and viscous broth than Tsujita's – simmering pork bones for 60 hours yields a glistening stock with layers of flavor accented by the addition of seafood. Anchovy, which immediately hits your palate, is added first, then kombu (kelp), followed by saba flakes (rather than bonito) for a balanced fishy flavor, a technique mastered by Tsujita's chefs.
The finish is silky smooth and can be enhanced with more lime, which you may request. The chashu (hidden in the soup) is excellent and on the verge of disintegration – I would recommend the chashu tsukemen ($15.98) if you're down with roast pork.
And there's actually a fourth step. When you're done slurping noodles, have your server take your soup bowl and fill it up with a lighter broth to create a soup for you to end your meal with. It's like if you were to have soba water added to your tsuyu sauce cup – it creates a final layer of fullness. Service is quick and attentive. If they notice you're particularly thirsty, they will leave a bottle of water nearby so you may refill your cup as you please.
The question remains: Is Tsujita worth the battle for parking in Waikiki? With $7 flat-rate parking in the building after 6 p.m., several validated garages in the area or major luck on Ala Wai, there are plenty of options. If you flash your local ID, you get 10 percent off your ramen tab. Tsujita is cash-only and they tack on an automatic 15 percent service charge, so additional gratuity is optional.
Tsujita Waikiki
Waikiki Yokocho, Ramen Alley
2250 Kalakaua Ave.
Daily 11 a.m. – 11 p.m.
www.tsujita-hawaii.com