How a Honolulu Teen Fought to Raise Awareness about Seizures
Brennan Yamaguchi, who has spent five years raising awareness about epilepsy and co-wrote legislation, wins a local award for his advocacy. And he's never had a seizure.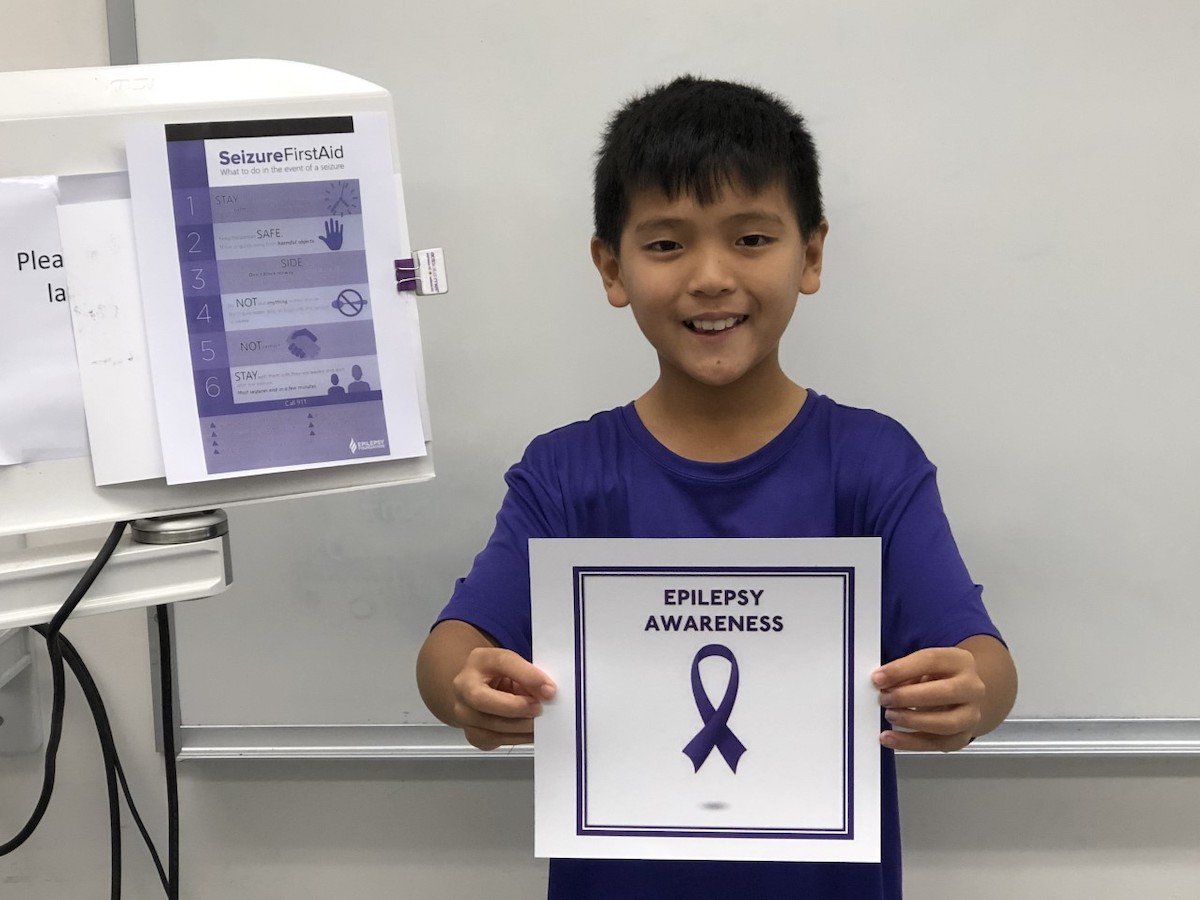 Brennan Yamaguchi knows the importance of being a team player.
The 13-year-old Maryknoll School student has been playing baseball since he was 3—and he still plays on at least two teams.
But that's not where his sportsmanship ends.
A few years ago, he found out one of his friends was diagnosed with epilepsy, a neurological condition that affects the nervous system, causing seizures. He didn't know what epilepsy was, so he, along with his mom, did some research.
That's when he found out more than 15,000 Hawaiʻi residents suffer from epilepsy and 1 in 26 people will develop epilepsy at some point during their lifetime. It can happen from car accidents, from falls, from sun exposure. It's the fourth-most common neurological problem—behind only migraine, stroke and Alzheimer's disease.
"I wanted to help her," Brennan says. "We're friends and a friend needed help. Not too many people know what epilepsy is."
He wanted to raise awareness about seizures, spreading the word by handing out Medikidz comic books explaining epilepsy to baseball teams, selling lemonade to raise money for the Epilepsy Foundation of Hawaiʻi and putting up posters about seizure first aid in school and parks. One of the teams he plays on wears purple—the color associated with epilepsy awareness—in November, during National Epilepsy Awareness Month.
"It's been really good awareness for his teammates and other teams," says his mom, Melissa Yamaguchi.
She remembers a player from an opposing team asked why Brennan's team was wearing purple, and when he found out it was for epilepsy awareness, he went to the library and looked it up. Another one of Brennan's friends, who attends a different school, did an art project on epilepsy. "To me, that was very rewarding," says Melissa Yamaguchi, "to see kids moved to do things."
Then, two years ago, Brennan worked with Sen. Glenn Wakai on a bill that would allow the state Department of Health to distribute information regarding seizure first aid. Brennan testified—both in person and virtually—and the bill was finally signed into law in July 2021.
All this has resulted in Brennan earning top honors in advocacy from the Hawaiʻi Children's Action Network as part of its Champions for Children, which awards community leaders whose exceptional service and dedication is making a significant difference for keiki and families. Brennan will be the first-ever kid to win an award. (The fundraiser will be held on April 6 at the Royal Hawaiian. Learn more here.)
"Twelve-year-olds are often focused on their own needs and desires. Brennan is a rare child who showed compassion for others and boldly stepped forward," Wakai says. "If our community listened to the hearts of our children, we would have a less troubled world. We need to empower them and invest in their dreams."
Brennan says his friend with epilepsy has been really grateful for everything he's done to raise awareness about a neurological condition he doesn't have. "I feel good that I did something for the community and for people who need help," he says.
"He just has such a good heart," says his mom. "He cares about other people and he wants to make a difference. He's not afraid to stand up for others."
So how can other parents teach their kids to be community-minded and compassionate?
"Just encourage them," Melissa Yamaguchi says. "It was something very simple—he said he wanted to help his friend. We thought of a lot of things together. We read about what other kids in other states were doing. Just always think out of the box and take it a step further."