House before Marriage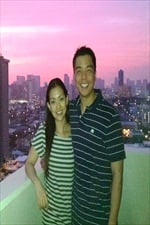 Times aren't what they used to be, that's for sure, as your aunties probably tell you. A new study released by Coldwell Banker Real Estate LLC last week indicates that 25 percent of married couples between the ages of 18 to 34 who now own a home purchased their first home together before the wedding.
Why the rush? For Ryan Lau and Leina Yokota of Honolulu, it came down to market availability and interest rates. Already having dated for years, and having already talked about marriage, they knew they wanted to move in together. After weighing the options of buying vs. renting, they decided it made more sense to purchase now (now being September of 2012), even though their wedding won't be until October of 2014.
Neither of them had owned before, and the process of finding a house together proved to be a great lesson in communication. Each had to define what was most important on their wish lists for a place, and be open and expressive with each other about their wants and needs. Ryan chuckled a little as he says, "We really learned a lot about each of our strengths in the process of finding the house. I'm definitely the numbers guy, and Leina has the eye for detail and aesthetics, so together, we make a great team."
They finally decided on an apartment in the McCully area, after narrowing down apartments based on the priority of their wants and their budget, a happy compromise between what each wanted in their home.
As was the case for Ryan and Leina, the Coldwell Banker study indicates that 17 percent of all married couples surveyed purchased a home together before their wedding day (as opposed to 25 percent of those in the 18-34 age group), and a full 80 percent of married homeowners say buying a home did more to strengthen their relationship than any other purchase they made together.
Khai Tran of Coldwell Banker Pacific Property was Ryan and Leina's real-estate agent, and says they had the qualities one would look for in a couple purchasing before marriage. "They were on the same page with what they wanted in terms of a future and were great at communicating." Tran says he is seeing more and more couples buying before marriage here in Hawaii, as the real estate market is so expensive and couples need to combine resources to afford something desirable.