We Tried It: Horseback Riding at North Shore Stables
Learn the ins and outs of horsemanship and animal care at this new keiki-friendly outfit in Waialua.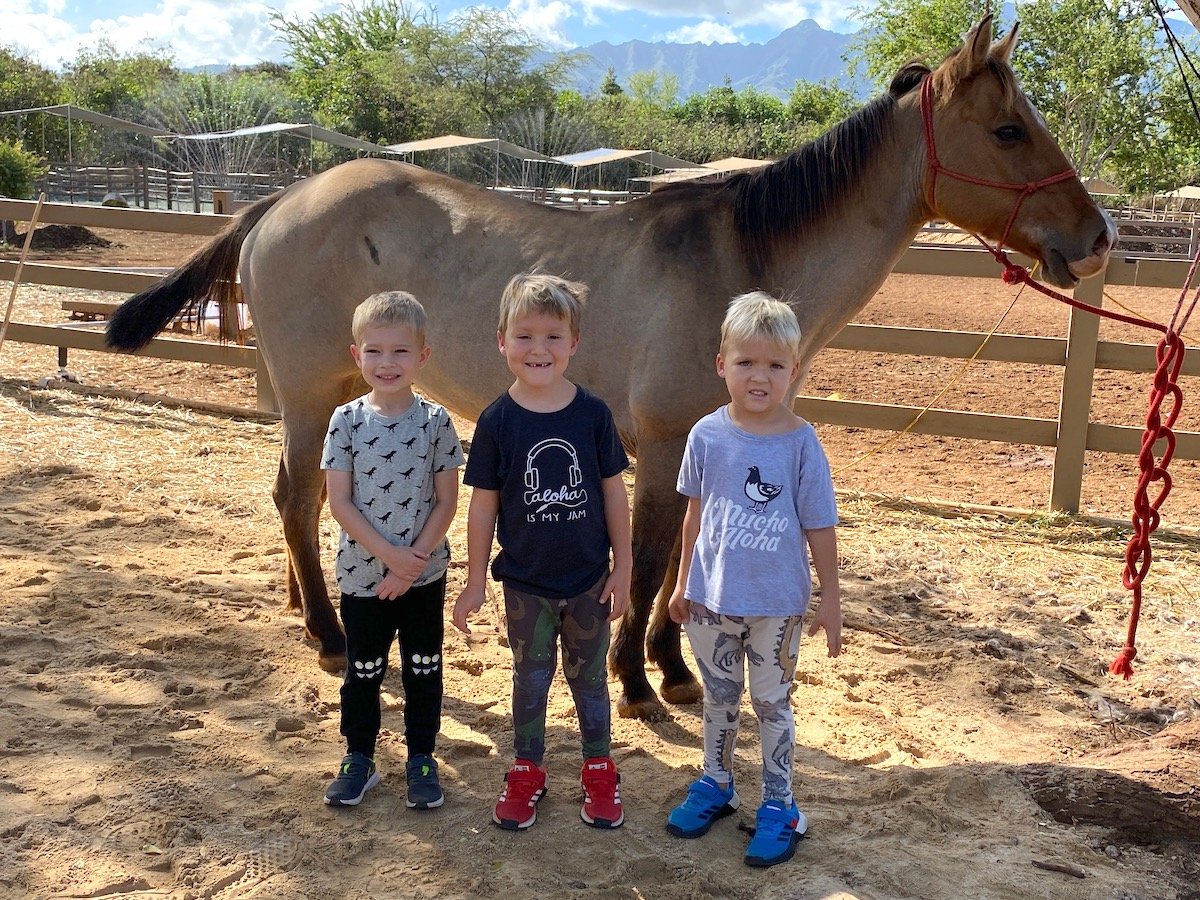 What: Pony rides, horseback rides and lessons for kids
Who: Two moms with their trio of 5 year-old paniolos
Where: North Shore Stables in Waialua
When: 10 a.m. Thursday
My son Duke and his best buddies, twins Jack and Luke, are the definition of city kids. Living in condos in Kaka'ako, they are accustomed to playing in premium indoor playgrounds, not dirt piles and tractors. So as moms, we take every opportunity we can to expose them to outings in the country. Each of the boys has tried out horseback riding once before and were eager to get back in the saddle.
We took advantage of a school holiday and drove to North Shore Stables in sunny Waialua on a Thursday morning. We signed the boys up for the Basic Horsemanship Lesson ($50 per child for a shared lesson, 45 minutes), which goes beyond a pony ride and teaches about caring for the horse, riding equipment and a short lesson.
---
SEE ALSO: 🧗 We Tried It: Indoor Rock Climbing at HiClimb in Kaka'ako
---
When we arrived, the boys spotted a swing set first and jumped on with glee. I think they were just thrilled to be out of their car seats after the long drive! The stables are tucked between the dramatic Waiʻanae Mountains and the ocean in Waialua. The large riding arena at the heart of the property is framed by the stunning silhouette of Mount Ka'ala, the highest peak on Oʻahu (at 4,026 feet, in case you were wondering). Having just opened in August 2021, I could tell the facilities are still a work-in-progress by the construction machinery on site and use of mobile sheds and tents to house the office, equipment and horses.
We were introduced to Sara, stable manager, and Symphony, a trainer, who walked us over to Nui, a buckskin-colored horse. Two of the boys were acting very timid and shy. I mean, Duke is even scared of dogs, so I wasn't sure how this would go. Sara had the boys warm up to the horse slowly, first by petting, then feeding treats, then brushing Nui. Luke, our brave animal lover, showed the other boys how it was done and coaxed them to try.
The next task was learning to pick Nui's hooves while avoiding the sensitive middle area, called "the frog." Symphony put the boys to work by traipsing over to the tack room to fetch the bridle, saddle and reigns. The kids couldn't stop pointing and laughing when Nui relieved herself. And the moms were just praying they wouldn't step in it afterwards!
Each boy took a turn walking Nui into the arena with a lead rope. Once in the arena, it was time to mount. Luke went first and demonstrated his calm confidence while riding in figure eights around orange cones. I was so proud of all the boys for getting on the horse and learning verbal commands like "Stop walking, woah!" It was impressive how calm and well-trained the horses were, and how effectively the staff worked with the boys at their level.
We thanked the trainers and horses, and the boys bee-lined back to the swing set. Honestly, I'm not sure which ride they enjoyed more, the horse or the swings! In any case, we made some great memories out in the country, learned about horsemanship, and came away with a great respect for animals. In a few years, we are looking forward to the oceanfront trail rides offered for ages 10 and up.
Our 5 Tips
Use friendly encouragement. Whether it be a long hike or a daunting horseback ride, I always find having friends in tow encourages Duke to try something new and face his fears.
OK with the Outhouse. Heads-up! The only restroom is a porta-potty with an exterior sink for washing hands.
Say howdy to the other animals. Beyond the 36 horses on the property, you can also visit with the miniature cow named Patty, tiny pygmy goats and sheep.
Host a Pony Party. You can book a birthday party package, which includes use of a cabana and pony rides for all. Packages start at $250 for 12 guests. Ask about upgrading to the oceanfront cabanas for awesome views and cool breezes.
Celebrate the holidays in the country. A light show hayride is in the works, and we got a preview of the tinsel-decorated trolley that will be pulled by a shiny new tractor. Follow on Instagram for information coming soon.
North Shore Stables offers rides and lessons daily for ages 2 and up. Prices range from $25 to $150. Reservations are required. 67-221 Waialua Beach Road, Waialua. (808) 270-5032, northshorestables.com, @north_shore_stables_hawaii