Horseback Rides at Gunstock Ranch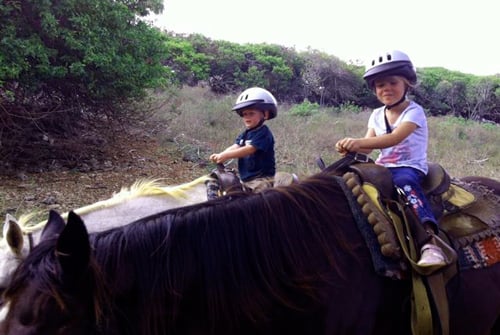 What do you do when a cowboy asks to put your crying child on a horse? That's the dilemma I faced last weekend.
We had driven all the way up to Gunstock Ranch in Laie for the "Keiki Experience" horseback ride. While my daughter was thrilled to start the equestrian adventure, my 2-year-old son wasn't exactly chomping at the bit.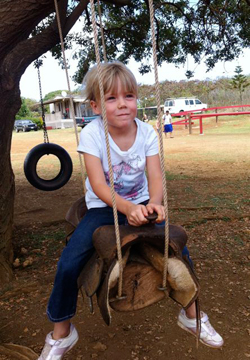 My poor boy was clinging to me and wailing, "I don't wanna ride a horse! I don't wanna ride a horse!" I almost wimped out on his behalf. But our guide assured me that nearly every scared child perks up within one minute of riding. I warily took his word for it, and felt awful as I handed my son over. Our experienced guide was absolutely right. Like magic, about 3 seconds later, my son was grinning and exclaiming from the top of his horse, "I like it now!" Just like that, my little cowboy and cowgirl were saddled up and headed off.
Geared especially for children ages 2 through 7, this 30-minute ride is an easy stroll through the trails, with the option to go up and down a few small hills if the kids are up for it. My kids rode on Lucky and Jack, two of the older horses, who were super mellow and sweet. I expected a group, but it was just us. Gunstock says they like to keep the keiki rides small, which I appreciated. Parents get to walk alongside of the ride and snap pictures.
After the ride, you can check out the goats and sheep, play on the saddle swing and perhaps get a sighting of Bullet the donkey, who got up close and personal at our car window, much to my kids' delight. Overall, it was a really fun family outing, and both of my kids have been begging to go back ever since.
If you go: Long pants and closed shoes are recommended, although not required. Helmets are provided. They ask that you arrive 20 minutes early. Beware of the horse droppings, or "road apples," as the guide called them. (The first thing my daughter did was stomp through a pile. "I thought they were rocks," she shrugged.) Happy trails to you!
Gunstock Ranch. 56-250 Kamehameha Highway, Laie. Keiki Experience, for ages 2 through 7, is $39 per child. A 15 percent kamaaina discount is available. For more info and to make reservations, call 341-3995 or visit gunstockranch.com.