Honolulu's Best Architecture
Does Honolulu have its own Empire State Building? Its own Fallingwater? We asked local architects to name our city's best buildings. Here's what they said.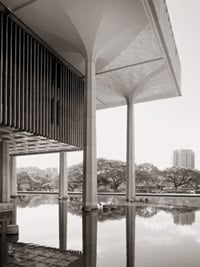 Buildings define the personality of a city, even in Honolulu, where the natural environment outshines our built one. Which buildings define Honolulu? We assembled a panel of 13 of Honolulu's most accomplished architects to decide. These structures could be from any era, but had to still exist (no fondly remembered, but long-lost landmarks!), and exemplify the best architectural design solutions for Honolulu. The list is not ranked. There is just one honoree for each major type of building; after all, a church, a home and an office building require completely different approaches. We started with a survey of all 13 architects, generated a short list of contenders, then got together with those panelists who could attend a talk-story session to break some ties and get further insight into why the buildings are important. As you'll see, nearly every building had its detractors, too, and their critiques are worth noting. Quotes may come from either the surveys or the meeting. Few contemporary buildings made the final list. Is that an indictment of contemporary design? Not necessarily. As one panelist noted, it takes time to realize that a given building has made a lasting contribution. Agree? Disagree? Love these buildings, or tired of them? Comment on our Facebook page, or at honolulumagazine.com. Also, watch our website for a video tour of two of these buildings.
Commercial High-Rise
First Hawaiian Center (1996)
999 Bishop St.
Kohn Pederson Fox Assoc., New York
Some people are still stinging from First Hawaiian Bank tearing down its historic, 1925 Damon Bank Building to make way for its new downtown headquarters. "But," says preservation architect Glenn Mason, "give credit where it's due." The panel praised this high-rise—at 429 feet, the tallest building in the state—for its sophisticated detailing and response to its setting. It has distinctive mauka and makai sides, for example, the former dominated by vertical limestone strips, the latter by strong horizontal lines in a sea of blue glass.
The building is set back from the street, which allows for a public plaza filled with art and "one of my favorite landscapes in Honolulu," notes landscape architect Loriann Gordon. The tropical landscaping, by Walters, Kimura & Motoda, plays well off the technological feel of the tower.
For some panelists, however, First Hawaiian succeeds only because so few high-rises in Honolulu truly excel. "All it does is take a vocabulary that's very international and do it very competently," says Francis Oda. "I would've liked them to have been more creative in the detailing to localize it even more."
The First Hawaiian Center is what it was meant to be—a physical expression of First Hawaiian's stature, now comprising 63 branches in Hawaii, Guam and Saipan and assets valued at more than $15 billion. Not bad for a bank Charles Reed Bishop founded in a basement in 1858 as Bishop & Co.
Commercial Low-Rise
Alexander & Baldwin Building (1929)
822 Bishop St.
C.W. Dickey and Hart Wood, Honolulu
Honolulu's best buildings tell stories about their founders or their missions. Alexander & Baldwin, for example, spent nearly four times the going rate for commercial buildings to develop its headquarters as a memorial to founders Samuel Thomas Alexander and Henry Perrine Baldwin. The two had gone into business together in 1869, growing their then-Maui-based sugar business into one of the "Big Five," incorporated in Honolulu in 1900. Both had passed away before this building was started.
In this building, A&B's history overlaps with another famous duo, the architects C.W. Dickey (who was Alexander's grandson) and Hart Wood. They'd been in an on-again, off-again business partnership since 1919, usually designing separate projects for the firm. For A&B, they collaborated. Dickey is credited with the form and massing (arrangement of a building's shapes), while Wood designed the countless Chinese details—from water buffalo heads to metal grilles—that memorialize the contributions of Chinese labor to A&B's success. In this project, they achieved the pinnacle of the 1920s and '30s Hawaiian Regionalism for which they strived. "There's never been a better building in Hawaii," says Mason.
Alas, it was their last project together. Dickey and Wood dissolved their partnership over differences of opinion as to how the A&B project was administered.
Interestingly, the bones of the A&B Building are no different than those of a modern Costco or Kapolei civic building, with steel framing, concrete walls. The difference is all in the exterior materials and craftsmanship, and the budget.
Civic Building
Editor's Note: "Civic" often denotes government, which we broke off into its own category. For this survey, "civic" referred to buildings for social functions, such as museums, civic clubs, etc.
Honolulu museum of art (1927)
900 S. Beretania St.
Bertram Grosvenor Goodhue and ​Hardie Phillips, New York
No panelist doubted the virtues of the Honolulu Museum of Art. It's such an obvious choice, architect Peter Vincent joked that readers would say, "It took a panel of architects to determine that?" The debate centered on how to choose just one out of a crowded field of social buildings, including the Pacific Club and the Outrigger Canoe Club, both designed by Vladimir Ossipoff. Ultimately, the Museum won out for being as open and public in function as it is in design. The other two, says Oda, "are elitist, private institutions," tucked away from even passers-by.
You know this building, you love it; we'll simply share a few of the panelists' comments after dispelling one common myth: It's well known that this site was the former home of Anna Rice Cooke, who donated it to create the then Academy of Arts out of her vast art collection, but the current structure is not, as we've overheard for years, her actual house. It replaces her house. We agree, though, that it would've been the coolest house ever if that had been true.
"The most graceful building in Hawaii," notes Robert Iopa. "Well scaled, beautifully arranged around interior courtyard settings."
"The transition between the indoor and outdoor spaces reflects our beautiful Hawaiian environment," writes Donald Goo. "The courtyards are exceptionally well proportioned and landscaped."
Hotel
Halekulani Hotel (1931)
2199 Kalia Road
C.W. Dickey, ​Honolulu
1983 additions by Killingsworth Strieker Lindgren & Wilson, Long Beach, Calif.
In a number of categories, we saw the panel's support split between 1920s and '30s buildings, with their Hawaii Regionalism, and the Tropical Modernism of statehood-era buildings. A case of warring nostalgia, perhaps, exemplified here in a near three-way tie in our survey between the 1931 Halekulani, the 1927 Royal Hawaiian and the 1964 Kahala Hotel. Both eras represent local building booms, and attempts to create a suitable Island architecture out of the building technology of the day.
Gordon and architect Lorraine Minatoishi-Palumbo singled out the Kahala's lobby as a terrific space, while Oda says, "I like the Kahala for its time, visually, but, as a hotel, it fundamentally misses the first thing, which is that 50 percent of the rooms don't have an ocean view."
In discussion, the Halekulani rose to the top for its years of smart choices that have kept it an oasis, on a small site, while Waikiki urbanized around it. "The Halekulani is a difficult problem, solved beautifully," says Oda.
The Halekulani opened in 1907 as the Hau Tree, the modest cottages of which were beloved and lamented when they were torn down to make way for the 1931 Dickey-designed hotel that we now treasure as a surviving remnant of "Old Hawaii." The hotel changed again with the '80s addition of modern wings, as much as 17 stories tall. Frank Haines praises the decision to keep the Dickey buildings, with their distinctive rooflines and low-rise feel.
"It's the epitome of casual elegance," says Vincent. "This building has become a model of Hawaiiana architecture."

Halekulani at sunset.
Condominium
Queen Emma Gardens (1964)
1511 to 1519 Nuuanu Ave.
Minoru Yamasaki & Associates, Detroit
You may remember Minoru Yamasaki as the architect of the World Trade Center's doomed Twin Towers, built in 1976. Yamasaki was an international legend, working in a style known as New Formalism, alongside such architects as Phillip Johnson and Edward Durrell Stone. It's hard to tell now that New Formalism was a reaction to the sterility of the International Style, as it hits the eye as unrelieved lines of stone and glass, a kind of visual monotony that people did not care for when, say, the World Trade Center first went up.
Many buildings (the A&B Building, for example) look as they do because they're meant to tell us stories about the company that built them. In New Formalism, a building tells no story but its own, yielding, in Yamasaki's high-rises, at least, a fairly stiff, uniform look. However, Yamasaki seems to have been more relaxed for this commission in Honolulu, Queen Emma Gardens, designed for people with moderate incomes. The lanai are sheltered by curved, concrete awnings, interiors host shoji screen doors, giving a casual, Hawaii feel. Its three towers— King, Queen and Prince—sit on a lavishly landscaped lot featuring koi ponds and Japanese tea houses.
Spencer Leineweber compliments the use of natural ventilation in the units, while Goo notes, "The development of the property as a garden environment provides a great environment for living."
Design buffs around town have observed that the aluminum railings on each Queen Emma lanai bear a striking resemblance to the façade Yamasaki would later design for the World Trade Center towers.
Home
Liljestrand Residence (1952)
Tantalus
Vladimir Ossipoff, Honolulu
theliljestrandhouse.com
In our survey, the Liljestrand house was the hands-down favorite. In our discussion, though, architects were wary of choosing a single home. Private homes are, well, private, and, one panelist noted, "There could be hundreds as good as this and we wouldn't know about them."
That said, this home is a masterwork from Honolulu's master of modernism, Vladimir Ossipoff, and has been nationally famous as such since it was featured on the July 1958 cover of House Beautiful magazine, with a lengthy article declaring it a "pace-setter house."
"It's modern architecture with reverence for its site," noted Gordon. And what a site—the Liljestrand house, from some angles, looks more like a tree house jutting from the rain forest nearly 1,000 feet up the steep slope of Tantalus. A tent would be terrific on this lot, and the home's peaked roof over its living room evokes that feeling, framing enormous picture windows with a sweeping view of the city. Bedrooms for Betty and Howard Liljestrand's children are strung along one wing, all lined with lanai, ending in a master bedroom canted at 45 degrees to preserve existing eucalyptus trees on the site. Details abound, from the way Ossipoff handled air flow through the house to countless built-ins he designed with input from the owners, to the furniture he designed, made from the wood of a tree from the Liljestrand's former Aiea home.
Bob Liljestrand, son of the owners, grew up in the home and restored it, and has made it the centerpiece of The Liljestrand Foundation, devoted to preservation and arts education. For tours, call 537-3116.

Take a tour of both the Liljestrand residence and the Alexander & Baldwin building here.
Education
East-West Center (1962)
1711 East-West Road, University of Hawaii at Manoa
I.M. Pei & Associates, New York, and Young and Henderson
Another example of an international modernist's work in Hawaii, the East-West Center, was designed by the Chinese-American architect, I.M. Pei, now 94. Pei designed such buildings as the pyramid-shaped extension of the Louvre in Paris (1993), the East Building at the National Gallery of Art in Washington, D.C. (1978), the John F. Kennedy Library and Museum in Massachusetts (1979), and the Rock and Roll Hall of Fame and Museum in Cleveland, Ohio (1995).
Pei's Honolulu work was among his earliest for his firm, which was established in 1955. The East-West Center was created by Congress in 1960 to specialize in public diplomacy throughout the Asia-Pacific region, and Pei's buildings on its 21-acre campus include Jefferson Hall, the Hale Manoa dorm, the Imim International Conference Center and, across East-West Road, Kennedy Theatre.
"Not only are the buildings and Japanese garden beautiful," says Minatoishi-Palumbo, "but so is the mission and what it has accomplished in its 50 years."
Other panelists think highly of the harmonious, monumental quality of the buildings and the way Jefferson Hall and Kennedy Theatre echo each other. The huge overhangs of concrete on both structures took "pre-cast, post-tension concrete to its limits at the time," says Oda, a feather in the cap for the local contractors who did the work.
Government
Hawaii State Capitol Building (1968)
415 S. Beretania St.
John Carl Warneke, San Francisco, and Belt Lemmon & Lo, Honolulu
Our panel found a lot to talk about in this category, naming such things as the defunct Kakaako Pumping Station for its small-scale grandeur, the Hanauma Bay visitor center for being a non-building that disappears into its natural landscape, the Hawaii Convention Center for retaining a Hawaii feeling of openness in a building type known for big boxes and the State Capitol Building for its modernist expression of civic ideals. We spent a lot of time discussing the USS Arizona Memorial structure as the honoree in this category, but ultimately decided it was too singular. "It's like comparing a haiku to novels," said Oda.
In the end, the State Capitol won out. Though it looks worlds apart from the A&B Building, it does something similar—it tells a story through architecture, at a time when the International Style had moved away from that role for buildings. Much of the symbolism in the State Capitol is familiar—reflecting pools represent the ocean, columns look like palm trees, the two houses of the legislature are contained in volcano forms. Crucial aspects of its symbolism are less obvious. According to Haines, our state capitol is "the only the one in the United States where the legislators can't get to their offices without going by the public. That was part of the design criteria, to create a more open political system than any other state."
Much laughter ensued over the gap between the building's ideals and the behavior of its occupants.
Church
Robert Thurston Memorial Chapel at Punahou School (1966)
1601 Punahou St.
Vladimir Ossipoff, Honolulu
Honolulu has a lot of great-looking churches, and we discussed about half a dozen before settling on Ossipoff's Thurston Memorial Chapel. This structure embraces two narratives at once, the religious story any church would convey and the creation story of Punahou School itself, built as it is over the natural spring that is the physical and spiritual heart of the campus. The pond from that spring comes in under the wall of the chapel, where stained-glass windows come down to meet it.
Ossipoff had talented help, too, as he himself said in his address to students when the chapel opened. "Contributing significantly to the total effect are Ruth-Adell Anderson's handsome woven screens, Erica Karawina's work in stained glass and Jean Charlot's designs for the 32 panels on the entrance doors. These will tell the story of the life of Christ and are being executed in copper bas-relief by Evelyn Beveridge."
Leineweber described the chapel's plan as "reverent, engaged," while Goo notes that, "its profile is evocative and is expressive of the interior space."
Our panel debated some aspects of the chapel. "The beauty of the outside is not translated into the beauty of the inside," said Oda. "For Ossipoff, that's surprising." Mason, defending the chapel's closed-off feel, suggests this was necessary to create the feeling of a sacred sanctuary on a busy campus.
Our Panel
A few books were invaluable to my research for the "Best Buildings in Honolulu" feature.
Architecture in Hawaii: A Chronological Survey, by Rob Sandler, Julie Mehta and Frank Haines, Mutual Publishing, Honolulu, revised edition 2008
Buildings of Hawaii, Don J. Hibbard editor, University of Virginia Press, 2011
Hawaiian Modern: The Architecture of Vladimir Ossipoff, by Marc Treib, Karla Britton, Dean Sakamoto (editor), Yale University Press, 2008