HONOLULU Magazine and Paradise of the Pacific 125 Years of Covers
We've got a new book coming out with covers spanning 125 years of our magazine's history. Here are some of our favorites.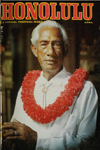 Paradise of the Pacific was born in January 1888, with the blessing of King Kalakaua. Though it changed its name in 1966 to HONOLULU Magazine, the magazine has been in continuous publication for 125 years.
That's quite an accomplishment. HONOLULU is one of the oldest magazines in the United States, rivaling such titles as Scientific American (1845), The Atlantic (1857), Cosmopolitan (1886) and National Geographic (1888).
We've been celebrating this milestone in print and online all through 2013. The capstone of that quasquicentennial celebration is a coffee table book, featuring covers from nearly every one of those 125 years.
The book comes out this month, and we thought we'd offer a preview by showing a few of our favorites here. Enjoy!

Buy online: honolulumagazine.com/125