Holiday Gift Guide: Oh, What Fun!
Joyful and whimsical finds that delight for $100 or less.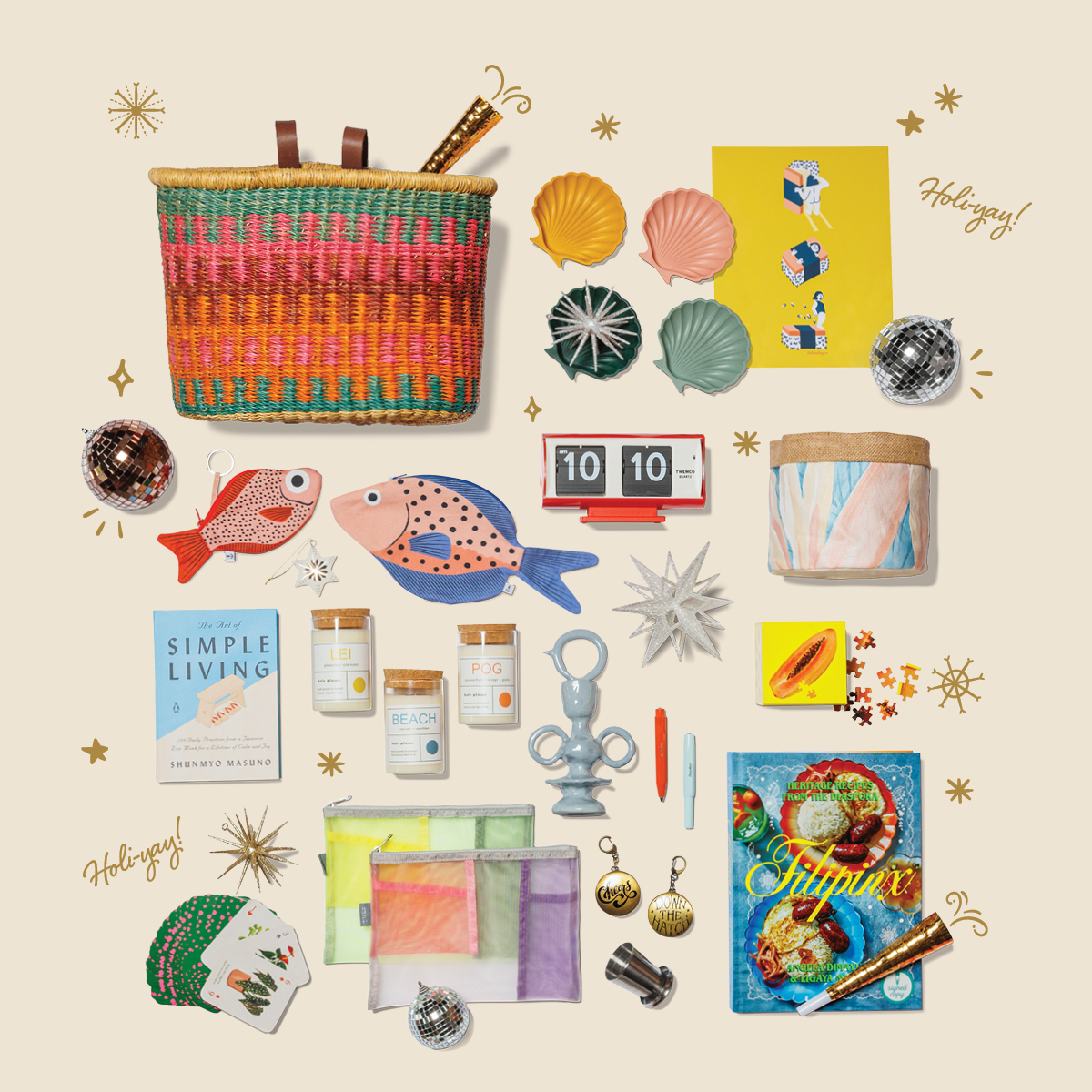 ---
Clockwise from top left: Bike basket, $85. Olive Boutique. Shell dishes, $16 each. Island-Boy. Kelsie Dayna musubi print, $34. Aloha Kira. Flip clock, $100. Mōno Hawai'i. Maluniu planter cover, $35. Lauren Roth Art. Papaya 70-piece puzzle, $16.50. Aloha Kira. Kaweco ballpoint pen, $23, fountain pen, $28. Mōno Hawai'i. Filipinx: Heritage Recipes from the Diaspora by Angela Dimayuga and Ligaya Mishan, $40. Da Shop: Books + Curiosities. Collapsible shot glass keychains, $22 each. Surf Camp. Ceramic candle holder, $60. Olive Boutique. Mesh pouches, $15 each. Mōno Hawai'i. Fancy Plants playing cards, $14.95. Aloha Kira. Hale Plume Lei, Beach, POG candles, $26 each. Nā Mea Hawai'i. The Art of Simple Living by Shunmyo Masuno, $20. Da Shop: Books + Curiosities. Don Fisher fish pouch, $45, coin purse, $37. Island-Boy. 
---
Shopping Directory:
Aloha Kira, 131 Hekili St., #104, Kailua, @alohakirashop
Da Shop: Books + Curiosities, 3565 Harding Ave., (808) 421-9460, dashophnl.com, @dashophnl
Island-Boy, 307c Kamani St., islandboy.shop, @islandboy.shop
Lauren Roth Art, 131 Hekili St., #105, Kailua, (808) 439-1993, laurenrothart.com, @laurenrothartboutique
Manuheali'i, various locations, manuhealii.com, @manuhealii
Mōno Hawai'i, 2013 S. King St., (808) 955-1595, monohawaii.com, @monohawaii
Nā Mea Hawai'i, Ward Centre, (808) 596-8885, nameahawaii.com, @na_mea_hawaii
Olive Boutique, 43 Kīhāpai St., Kailua, (808) 263-9919, oliveandoliverhawaii.com, @olive_boutique
---
Other Gift Ideas:
Petite presents with big personalities, style and charm
For hosts who make our spirits and kitchens bright
Have yourself a tropical little Christmas with island motifs and cheery, punchy hues
For those who like hiking, surfing and camping