Holiday Gift Guide: Oh, Coconut Tree!
Have yourself a tropical little Christmas with island motifs and cheery, punchy hues.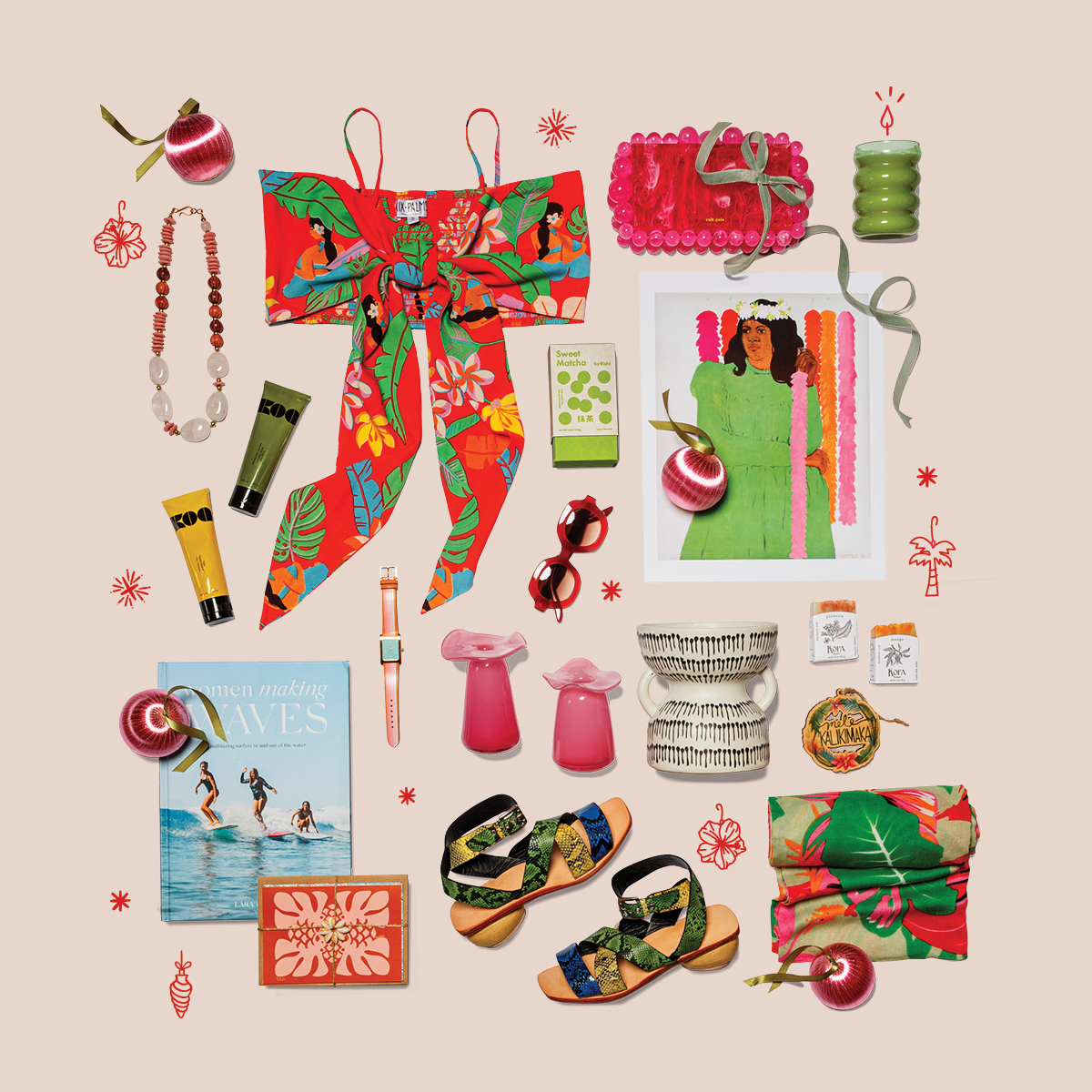 ---
Clockwise from top left: Rose quartz necklace, $95. Ginger13. Mauna Kea Tie top, $88. XIX Palms. Sweet Matcha latte mix, $15. Ginger13. Cult Gaia acrylic clutch, $328. Neiman Marcus. Ginger June Candle Co. Wiggle candle, $29. Aloha Kira. Pegge Hopper print, $45. Pua Hana. Lapima Catarina sunglasses, $505. We Are Iconic. Ceramic vase, $15. Ginger13. Kopa Kaua'i plumeria and mango soaps, $10 each. Roberta Oaks. Mele Kalikimaka wood ornament, $18. Lauren Roth Art. Tropical Gangster pareo, $40. LexBreezy Hawai'i. Rachel Comey sandals, $475. We Are Iconic. Glass vases, $52 each. Pua Hana. Card 5-piece set, $12. Manuheali'i. Women Making Waves by Lara Einzig, $35. Aloha Kira. La Californienne watch, $1,680. We Are Iconic. Koa yuzu facial cleanser, $25, and kukui facial hydrator, $26. Mori by Art + Flea.
---
Shopping Directory:
Aloha Kira, 131 Hekili St., #104, Kailua, @alohakirashop
Ginger13, 22 S. Pauahi St., (808) 531-5311, ginger13.com, @ginger13hawaii
Lauren Roth Art, 131 Hekili St., #105, Kailua, (808) 439-1993, laurenrothart.com, @laurenrothartboutique
LexBreezy Hawai'i, 16 Kainehe St., Kailua, lexbreezyhawaii.com, @lexbreezyhawaii
Manuheali'i, various locations, manuhealii.com, @manuhealii
Mori by Art + Flea, 1170 Auahi St., (808) 593-8958, morihawaii.com, @mori_hawaii
Neiman Marcus, Ala Moana Center, (808) 951-8887, neimanmarcus.com, @neimanmarcus
Pua Hana, 3434 Waiʻalae Ave., #2, (808) 739-5617, puahanahawaii.com, @puahanahawaii
Roberta Oaks, 1152 Nu'uanu Ave., (808) 526-111, robertaoaks.com, @robertaoakshawaii
We are Iconic, 1108 Auahi St., #155, (808) 462-4575, shopweareiconic.com, @weareiconic_honolulu
XIX Palms, xixpalms.com, @xixpalms
---
Other Gift Ideas:
Petite presents with big personalities, style and charm
For hosts who make our spirits and kitchens bright
Joyful and whimsical finds that delight for $100 or less
For those who like hiking, surfing and camping