Honolulu Jazz Music School Opens at the Hawai'i State Art Museum
Jazz extraordinaire Dae Han offers free lessons to help unlock your music potential.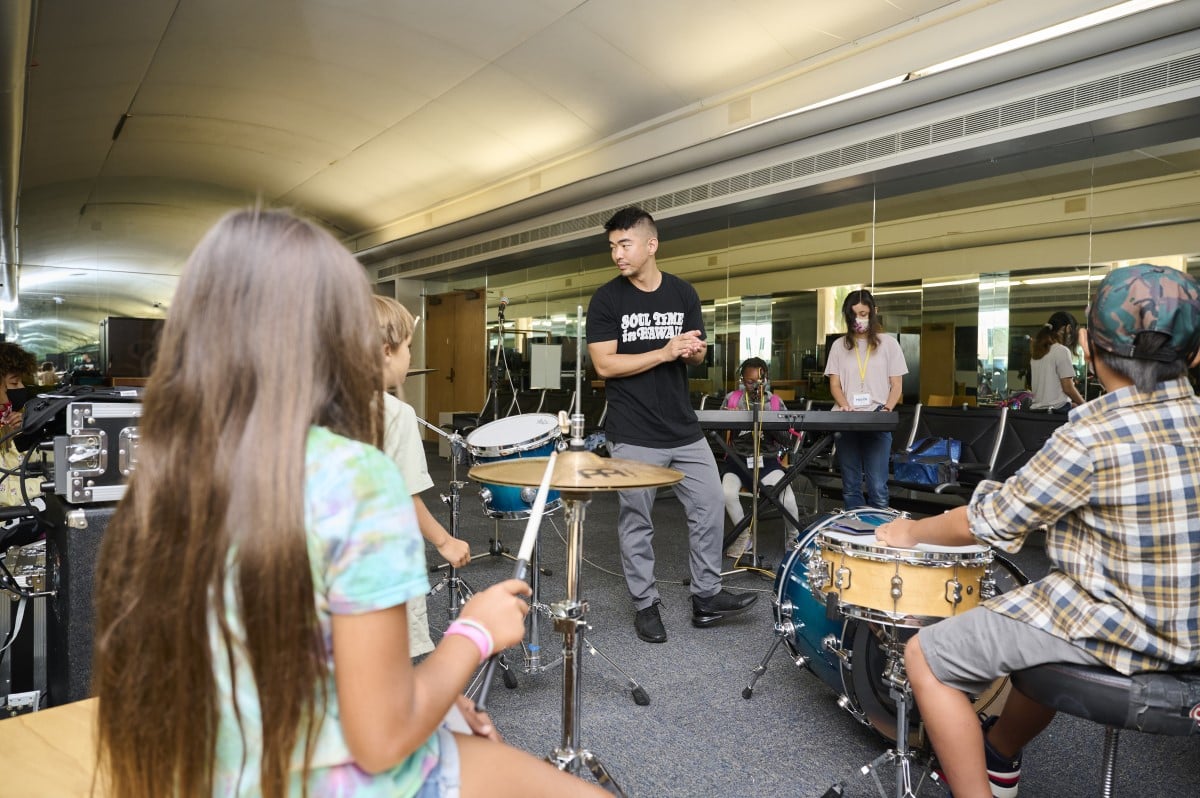 Dae Han has an unstoppable passion for music. He energetically leads The Vibe each month at the Hawai'i State Art Museum with his band, the Dae Han Ensemble, and now he's sharing his love of jazz through his Honolulu Jazz Music School at HiSAM, offering free one-on-one and group private music lessons.
Honolulu Jazz Music School began in December as an official partner of the museum, offering the community access to valuable music education at no cost. As a teacher, Han says he wants "to inspire students to achieve their goals through music."
"Music is a form of expression," he says, "but it's also a medium for self-discipline."
The private lessons are open to students ages 6 and up (including adults) and range from 30 minutes to an hour. They are held weekly in the Mirror Room on HiSAM's first floor. Right now, Han offers lessons in drum, voice, piano and music theory, all of which he has extensive background in. Instruments are provided.
Plans are in the works to expand the school by adding professional musicians to the teaching staff for guitar, bass and more. Students can expect to become more proficient in their instruments as well as gain a greater understanding of music theory. "It instills so much confidence when one can master just one song, one chord progression, or one beat," Han says. "This usually unlocks hidden potential, and that's a powerful event to happen at any point in your life."
---
SEE ALSO: More stories about what's going on at the Hawai'i State Art Museum
---
Students are encouraged to take part in recitals at the museum to show off their new musical skills alongside other participants. "I want my students to have fun with music and gain the skills to have even more fun," Han says. He says he can't wait to be a part of his students' musical journey and to leave a lasting positive influence. "Just like the philosophies as shared by Mr. Miyagi, much of what is learned in these music lessons can be applied to your life."
Lessons are currently held Tuesday, Wednesday and Thursday between 1 and 8 p.m. To sign up, click here or email info@honolulubandcamp.com.
---
Lisa Shiroma is a correspondent for HiSAM and is an artist and art educator. Lisa is the former owner of the HiSAM Museum Gallery Shop, which she ran with partners Aly Ishikuni-Sasaki and Travis Sasaki from Mori by Art + Flea from 2017 to June 2020.