HONOLULU Family Easter Craft: Kid-Friendly Char—CUTE—rie Boards
A sweet mix of leftover spring candies, healthy snacks and locally made goodies will have keiki (and parents) cheering hip, hop, hooray!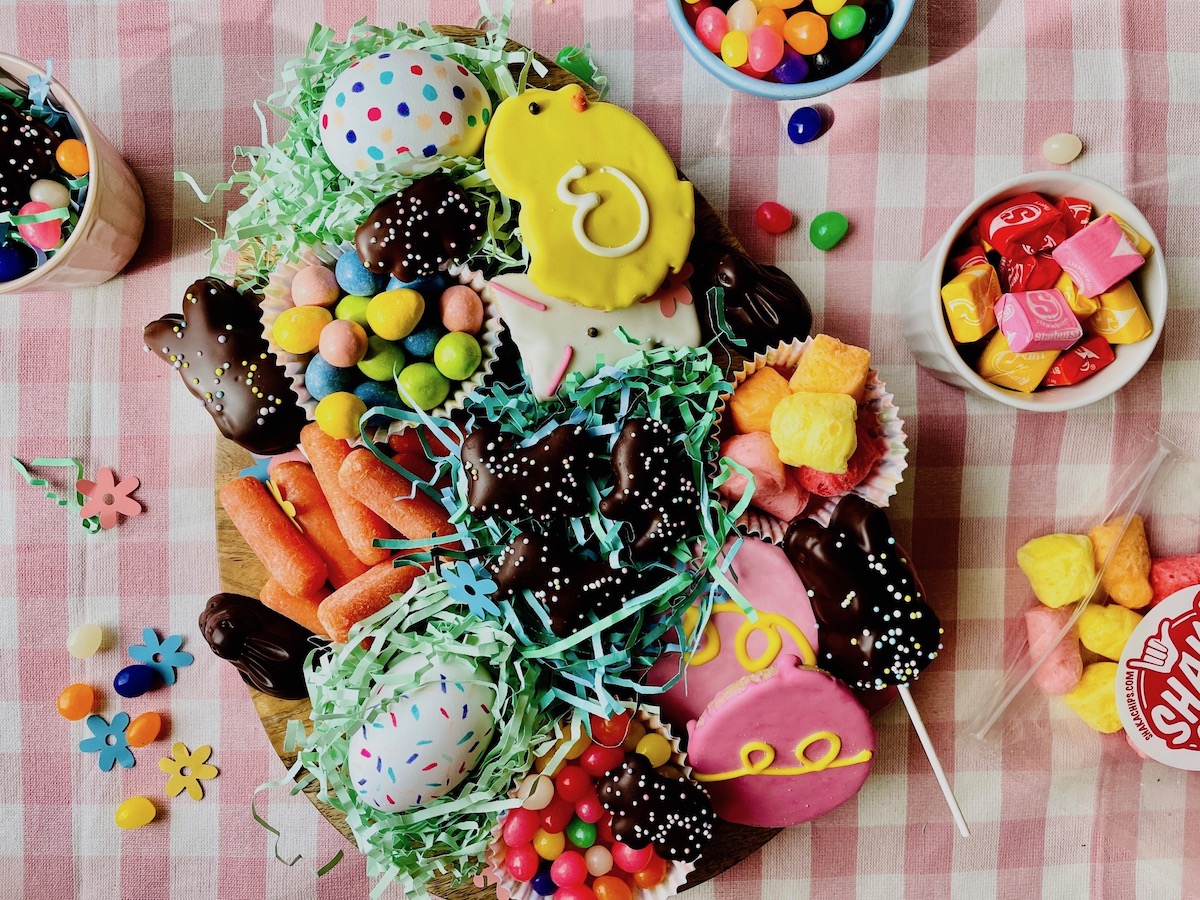 Listen up my parent peeps, want an easy pūpū platter that'll take minutes to make? And, that kids will love? And is cheep? Follow the tips below on how to whip up your own Easter-inspired charcuterie board.
Supplies
Cutting board: Target has egg-shaped options as well as mini boards in its dollar section.
Leftover Easter candies: After you've filled those bunny baskets, save some candy such as jelly beans, chocolate eggs and spring marshmallows.
Chocolea chocolates: Dark chocolate covered animal crackers, $5.99 for a bag of about eleven crackers, dark chocolate peanut butter bunny, $3.99 each, marshmallow bunny pop, $3.49 each. 2909 Lowrey Ave., (808) 371-2234, chocolea.com, @chocoleahawaii
Shaka Chips and freeze-dried Starburst from Carousel Candyland. Kāhala Mall, 4211 Waiʻalae Ave., (808) 734-7799, @carouselcandyland
Hard-boiled eggs
Colorful markers
Carrots
Cupcake holders
Easter grass
Instructions
Honestly, the board is a palate for you and your kids to decorate however you want. We put some of the smaller loose candies in cupcake holders and placed grass under carrots and marshmallows. We drew confetti lines on the eggs for a li'l egg-citement. And, we got a few sweets from local businesses, 'cause we love supporting and shopping local!
Looking for more Easter fun? Check our Easter Corner for a roundup of events and activities, at-home craft ideas and even virtual storytimes!