Honolulu Coffee Co.'s Pete Licata wins regional barista competition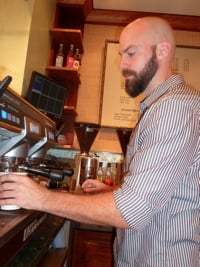 "It's morning. Here, this will fix you up," says Pete Licata, director of coffee quality at Honolulu Coffee Co., as he hands over the coffee latte he's just made me.
The coffee's rich and the steamed milk has the texture of satin. He doesn't mention it, but he's also drawn a leaf pattern in the foam (see below).
Licata knows what he's doing. He's just back from Hollywood, where he won the Southwest Regional Barista Competition against all comers from California, Arizona, New Mexico, Utah, Nevada and Colorado. It's his second win in two years.
Licata worked his presentation for the seven judges (one head, two technical, four sensory).
"Last year, I used Hawaii coffee but someone else's product," he says. "This year I went to the farms."
Licata traveled to two small family coffee farms, Waiono Meadows in Kona and Rusty's Obra's Hawaiian in Kau. He picked his own beans, cured, roasted and blended them.
To make sure the judges got the full flavor of the experience, he made a tea from the coffee cherries and parchment, a light roast of the Kona, a cappuccino with the Kau and a cup of the final espresso blend. "I wanted them to experience the whole process, all the components that went into that final cup of espresso."
He had 15 minutes to do all that, and while he was working, he had music playing and a digital picture frame that showed him on the farms, taking the coffee beans through all the steps. (That's a competition photo below.)
He blew the judges away, and is perhaps the favorite going into the national competition at the Specialty Coffee Expo in Houston at the end of April. If he wins that, it's on to Bogota, Columbia, for the world's.
Licata was not the only competitor to use Hawaii grown coffee. Two Mainland baristas with no Island ties had purchased Hawaii coffee for the competition.
"I was the only one to do the whole process, though," says Licata. "I could pick my own berries and take it from there."
To Licata, making a good cup of espresso takes two things, technical skill and quality coffee.
"Even a good barista can only do so much with inferior coffee beans," he says. "I was grateful Hawaii has great coffee and I was able to get to the farms."
Honolulu Coffee Co. has five Honolulu locations (Bishop Square, Ala Moana Center store and kiosk, Moana Surfrider, Princess Kaiulani) and one on Maui (Shops at Wailea).