Hong Kong stars Cheng Pei Pei and Simon Yam coming to HIFF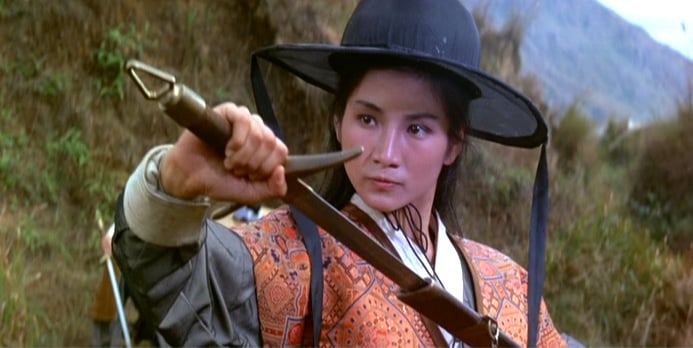 Sponsored
Not only does the Hawaii International Film Festival bring the best of global cinema to local audiences, it also brings in well-known filmmakers and stars. Film fans have have mingled with the likes of Oh Ji Ho, Daniel Henney and Tamlyn Tomita. This year is no different: Hong Kong acting legends Cheng Pei Pei and Simon Yam are coming to HIFF.
Cheng Pei Pei
If it was Friday night in the '80s, I was up late watching Black Belt Theater on KITV. That's where my love for Hong Kong cinema started. As I got older I sought out more Hong Kong films, and that's when I discovered Cheng Pei Pei.
Cheng may not be well-known to the casual martial arts fan, but she made her mark as one of the original female butt-kickers in cinema. Think Michelle Yeoh, but 30 years earlier. Speaking of Yeoh, Cheng Pei Pei made a comeback in 2000's "Crouching Tiger, Hidden Dragon" and her character Jade Fox was one of my favorites.
HIFF will honor Cheng by screening her classic "Come Drink With Me," followed by a master class with the queen of martial arts.
Sunday, Nov. 6, 3:00 p.m.
Simon Yam
As Hong Kong action cinema evolved from kung fu flicks to bullet ballets, Simon Yam was at the forefront. I discovered Yam as an over-the-top villain in the crazy action flick "Full Contact." He was one of the few actors who could overshadow star Chow Yun Fat, and that's saying a lot considering the Los Angeles Times dubbed Chow "the coolest actor in the world."
From there, the charismatic Yam went on to win acting awards. He continues to act today, appearing in high-profile films such as "Ip Man" and "The Thieves."
HIFF is screening Yam's 2008 film "Sparrow," for which he was nominated for Best Actor at the Hong Kong Film Awards, followed by "A Conversation with Simon Yam" honoring the actor's achievements in film.
Saturday, Nov. 12, 5:30 p.m.
Here's my lineup of 15 top picks for action films, awards contenders, romance flicks, made-in-Hawaii movies and cult choices.
And here's the full schedule of films and events for the Nov. 3-13 festival.