Home for the summer: Beach and Ai Love Nalo
A local girl's go-to grinds and activities when she's home on Oahu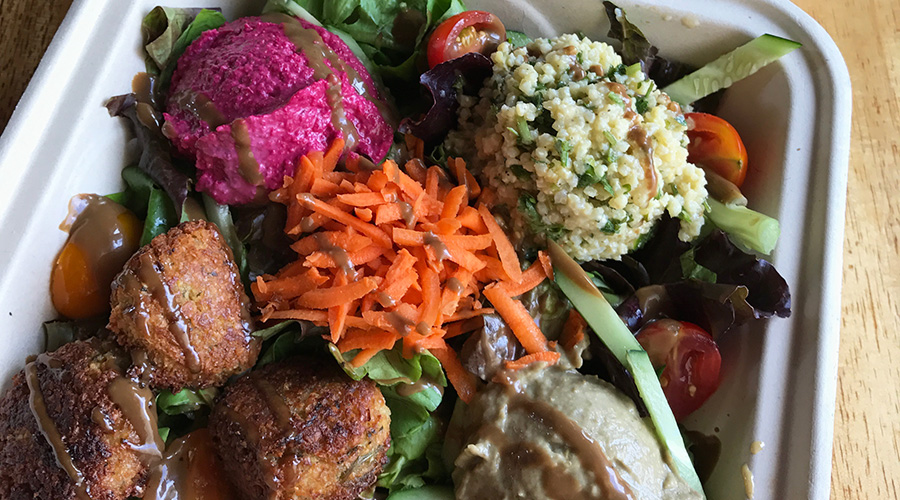 Local girl Lia Mausolf is a student at the University of San Diego. This summer's been jam-packed with a marketing internship at Frolic Hawaii during the week and hanging out with friends and adventuring around Oahu on the weekends. A foodie at heart, Mausolf loves to pair her favorite activities around the island with the foods she's missed while she's away.
One of my go-to spots is Waimanalo's Ai Love Nalo. In this episode, I follow up a day to Waimanalo Beach with healthy, flavorful dishes from this hidden gem. I always get the Medi bowl with kalo falafel, fire-roasted baba ganoush, beet hummus, and millet tabouleh over a bed of greens drizzled with creamy balsamic dressing. For dessert, I must have and the Poi-fect parfait which has layers of fresh papaya, banana, pineapple and uala, local poi, housemade granola, honey, toasted coconut and cacao flakes. The tasty, large pieces of falafel and the flavorful, creamy hummus are the highlights of the Medi Bowl, while the refreshing parfait is both easy on the eyes and the palate.
Ai Love Nalo
41-1025 Kalanianaole Hwy.
Waimanalo
888-9102
Open daily, 10:30 a.m.-5:30 p.m.
Part 1: Home for the summer: Volleyball and poke from Ahi Assassins