Holoholo Bar & Grill starts daily breakfast service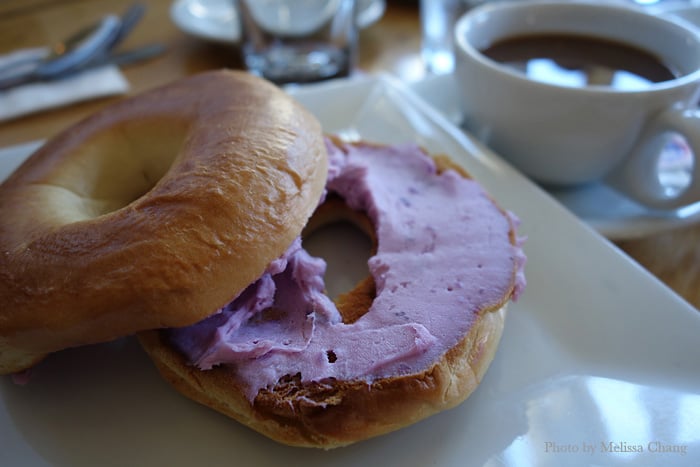 Several months ago, I blogged about Holoholo Bar & Grill, a neighborhood bar with ultimate local grinds. As of today, they have separated their lunch and dinner menus and have started a new breakfast menu — meaning they'll be open from 7 a.m. daily.
I'm a semi-regular at this bar because they're in town with ample free parking and serve food that features local flavors that I like. Owner Jill Owens is a Roosevelt girl, so you get an elevated taste of Papakolea in her dishes. (I'm from the next valley over, so I can totally appreciate that.) So far, everyone I know who has tried Holoholo for the first time is blown away by most of the menu, so if you are up early enough, you'll also like these breakfast offerings. Note that breakfast goes until 3 p.m. on Saturdays and Sundays.
Oddly enough, one of our favorite items of the morning was the bagel with Okinawan sweet potato cream cheese spread. It sounds so simple — and it is — but something that made everyone at our table perk up and take notice. It's not cloyingly sweet at all, but does have some of that purple potato flavor, just enough to make it interesting.
Also on the lighter, healthier side, the oatmeal bowl is a nice change from the normal bland stuff you make at home. This is topped with bananas and poached apples (with dried cranberries on the side), which gives it unique flavor and texture. It makes you wonder why no one has thought of this before! Oh, yeah. Because poaching apples is a pain in the butt.
No, these are not squid luau pancakes. These pancakes have green tea batter and a creamy matcha sauce so you get intense green tea flavor. It doesn't look so attractive, but if you like green tea, you will love it. (Pam Davis and I don't care for green tea, but everyone else on our table did, so this exuded squeals of delight from them.) Jill Owens of Holoholo said the recipe is based on the flavors of green tea ice cream, since her staff runs out to Bubbie's for green tea mochi ice cream all the time.
I can testify that Holoholo Bar & Grill has amazing smoked meat, since I order it on kale salad every time I go there. They took that meat and sautéed it with potatoes and onions, and put it on rice with eggs. It's not quite a smoke meat moco since there's no gravy. Smoke meat don? Smoke meat hash? Whatever you call it, it's a winna. And kind of filling. Ladies, make sure you have friends to share this with.
Here's a twist on a classic, one that I wrote about before: It's more than a Benedict, it's more than a sandwich. Instead of an English muffin, you get a grilled ham, turkey and cheese sandwich topped with an egg and hollandaise sauce. This is really heavy, though, so be sure you are hungry!
To end our tasting, they brought out miniature versions of their new lilikoi butter cake. It's not on the breakfast menu, but if it's in the pastry case when you are there, you can order it. The cake is nice, but the light lilikoi sauce is what really makes it — tart, sweet, and refreshing. It's perfect with a little scoop of ice cream. (I had it again that night.)
Okay, I'm saving the most unique thing for last: a Papakolea favorite, "coco 'n' crackahs." If you work in the food industry, you don't normally eat at work, and this is something that Jill takes comfort in after a long day. Basically, it's a bowl of hot cocoa and soda crackers. You crumble the crackers into it (not all at once) and eat it, like soup. It is like eating cereal and milk, actually, except the flavor is in the liquid and the crunchy crackers simply support it. I crumbled a few in and ate some, then added more crackers as I went along to get a consistency that was half crunchy, half soggy — your style may be different, depending on what texture you like.
I liked it, but I think I would recommend you have this to share with someone since the bowl is quite big. And if you've never had it before, here's a lesson from Jill on how to eat it:
For more photos, click here.
Holoholo Bar & Grill
2494 S. Beretania St.
808-369-7297