H&M: VIP preview & review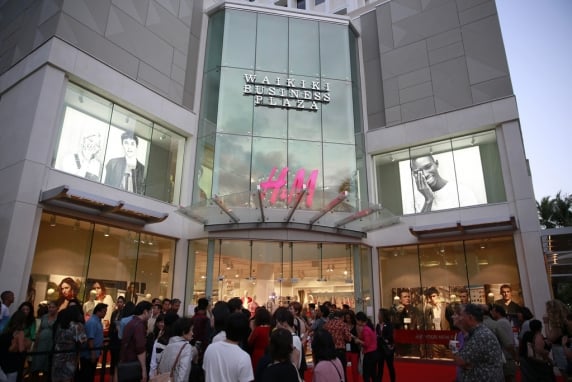 More than 800 people attended Wednesday's VIP preview for H&M, which officially opens its doors in Waikiki today at noon.
The high-energy party was a fashionable affair, with everyone from media to fashion insiders gathered to shop, browse, mingle, eat, drink and enjoy a performance by indie band Best Coast. H&M also showcased a installation with artworks of local surf photographers Mike Coots, Sarah Lee and Zak Noyle. Here are scenes from the soiree:
Stylist Tyson Joines and I also had a chance to see the men's and women's spring collections on the racks. Here's our take:
Amanda on the women's fashion
Many people know, or now know, that H&M is an affordable shopping option but have no doubt, the fashion inspirations are current and even forward thinking. For instance, the Divided Black section of the store captures the edgy coolness of subcultures from punk, rockabilly and a mix of '90s rap. The trend is a reaction to the minimalist collections that have dominated the runway for the past few seasons. It lends for an interesting voice in young adult fashion. On the other side of the scene are H&M's runway inspired looks. What you'll be seeing from H&M is a toxic garden vibe of unexpected darker floral themes as recently seen on the runways of Hermes, Marni and Comme des Garcons. H&M is bringing fashion geeks like me, more options to play with.
Tyson on the men's fashion
My overall thoughts about the store can be summed up in one word: AMAZING! Bringing an H&M to Hawaii has been a lifelong dream of so many people myself included, and I'm ecstatic that day is finally upon us. More so, I'm glad the often overlooked men's section is getting a fair shake, and has the entire second floor dedicated to it! Long gone are the days of heavy over sized, over stuffed suitcases from our mainland H&M purchases. Now we can just buy at home.
Photos by Lyle Amine