High tea and a merry un-birthday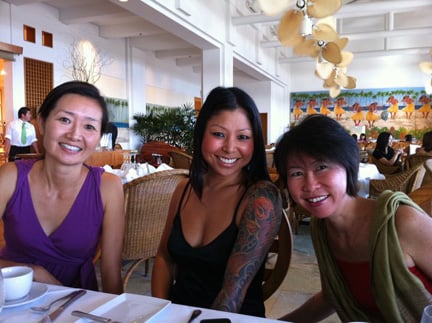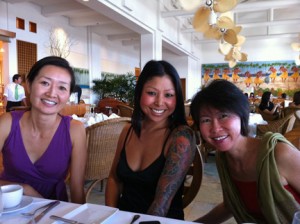 I got a message from Mari Taketa that she had a friend blowing through town for a very short time but wanted to make time to have coffee with us to talk about South Africa, since she'd be traveling there soon. I'm always game to talk to fellow travelers on where I've been, since so many others have been kind enough to share their notes with me. So, we made plans for yesterday afternoon.
A couple hours before, Mari texted me to remind me about our appointment, then said her friend was taking us to tea at Mariposa. What? That seemed kind of swanky to exchange for our travel notes! Oh, well. Meanwhile, I worked up a sweat tearing up my apartment looking for my guidebooks. I keep the books on one of two shelves, but the South Africa books are suddenly gone. Did I lend them to someone? I couldn't remember. Stress!
Well, we get to Mariposa and as the elevator doors open, I see Diane Seo's face. What? And she's sitting next to Lena Hanson. What?! Then Amy Hennessey's face. It starts to sink in. Then Val Ogi turns around. Oh, my God. My sneaky girlfriends are having a surprise birthday celebration for me. (!!!) We're at the girliest of events, high tea.
We're about a month away from my birthday, which is what makes it a surprise. Everyone knows that I don't celebrate it; I am always out of town to escape. So Jennifer Lieu — who celebrates hers in a big way every year — planned a little surprise event to make me face my fears.
It was sweet. It was fun. And it really was nice to see my friends all together in a low key but pretty setting, where we could all hear each other talk and enjoy each other. So yes, girls, I did enjoy my un-birthday, and I'm so grateful that you helped me celebrate. Thanks to all of you for the fab tea party and for all the great gifts! Big thanks to Jennifer Lieu for planning it, even though she couldn't make it.
High tea at Mariposa
========
You can read all of Melissa's blogs at www.nonstophonolulu.com/urbanmixplate. Follow Melissa on Twitter@Melissa808, on Foursquare as Melissa808, or email at Melissa@nonstophonolulu.com.
My recent blog posts:
Autumn Harvest Dinner at Roy's
Dinner at Ming's
Teilor-made for Hawaii Five-0
My weekend of unusual structures
The social side of social media
Not your typical school lunch
The Willows' Anniversary Party
Dinner at Azul
Fia Fia at the Ihilani
Tairyo's grand opening party
Chinee like me: Dining at Lobster King