High Surf Closes Kamehameha Highway on O'ahu's North Shore
State limits access to local traffic, TheBus and emergency vehicles.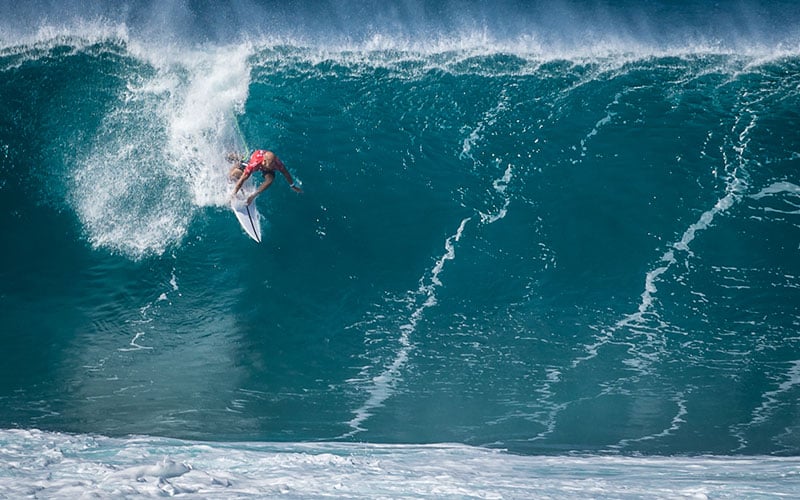 Photo: Ross D. Hamamura/Sony
UPDATE 2/22, 6:58 p.m.: The Hawai'i Department of Transportation has reopened Kamehameha Highway since the surf subsided.
Beginning at 2 p.m. Monday, the Hawai'i Department of Transportation closed Kamehameha Highway in both directions from Hale'iwa to Turtle Bay because big waves were washing onto the roadway.
The limited access was coordinated with the city Department of Emergency Management, Ocean Safety and the Honolulu Police Department with roadblocks on both ends. Honolulu police officers will monitor the highway and only allow emergency vehicles, public transportation including TheBus and local traffic through.
The state is placing electronic message boards on both ends to notify motorists of the closure. The area includes Waimea Bay and Waimea Valley and witnesses some of the largest waves in the state when the surf is up.
The highway will remain closed until ocean conditions improve. The state will notify the public when the roadway reopoens through its website, news media and social media.
State maintenance crews are monitoring state roadways in areas commonly known to be inundated by high surf conditions. Officials are reminding motorists to use caution on coastal roads and to plan for increased travel times, especially during high tide. The National Weather Service forecasts high surf conditions to possibly continue through 6 a.m. Tuesday.
The high surf has the organizers of The Eddie considering whether the long-awaited big wave competition could run Thursday.