Hifi Connects and Gov's Fashion Award 2014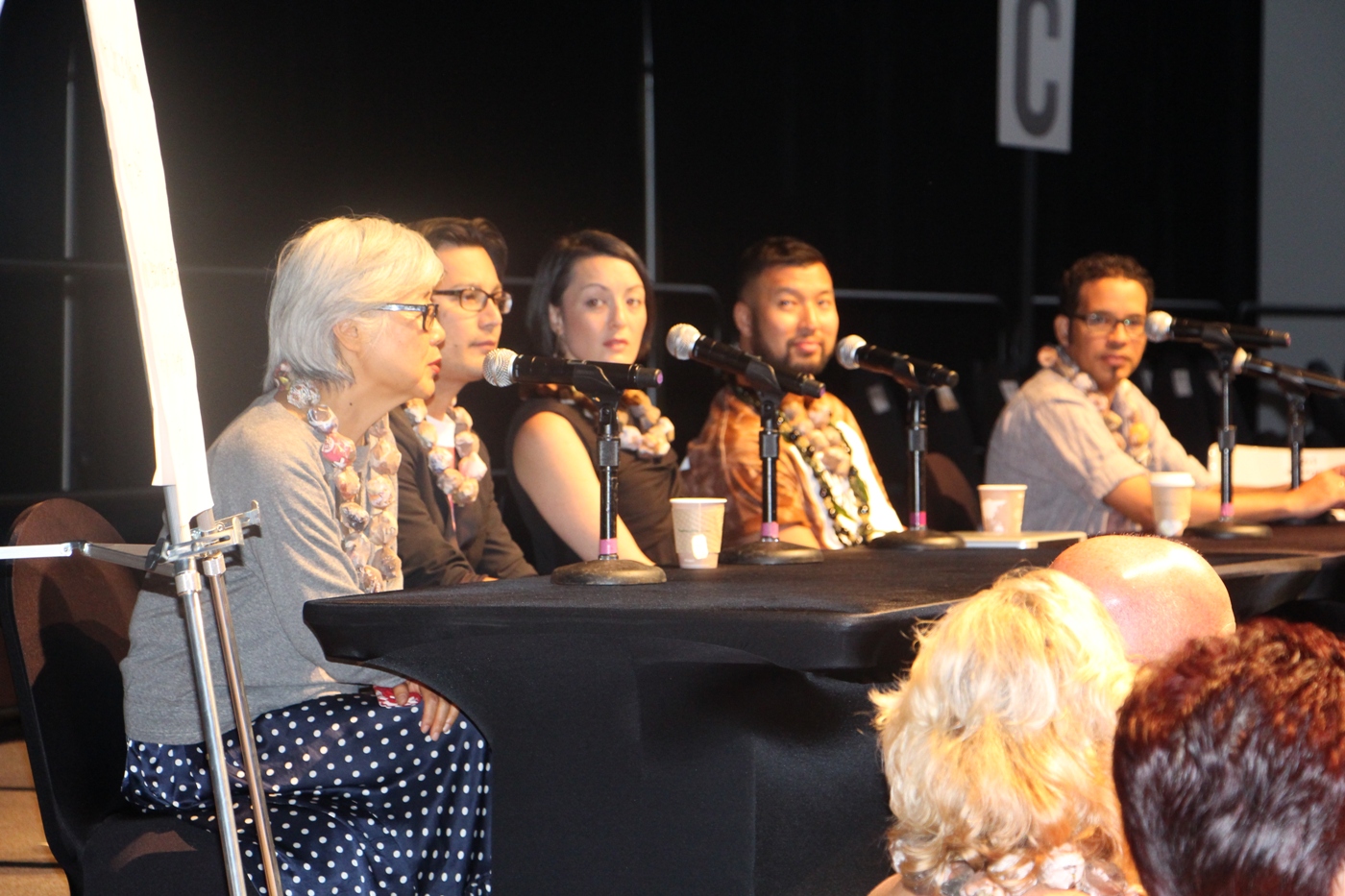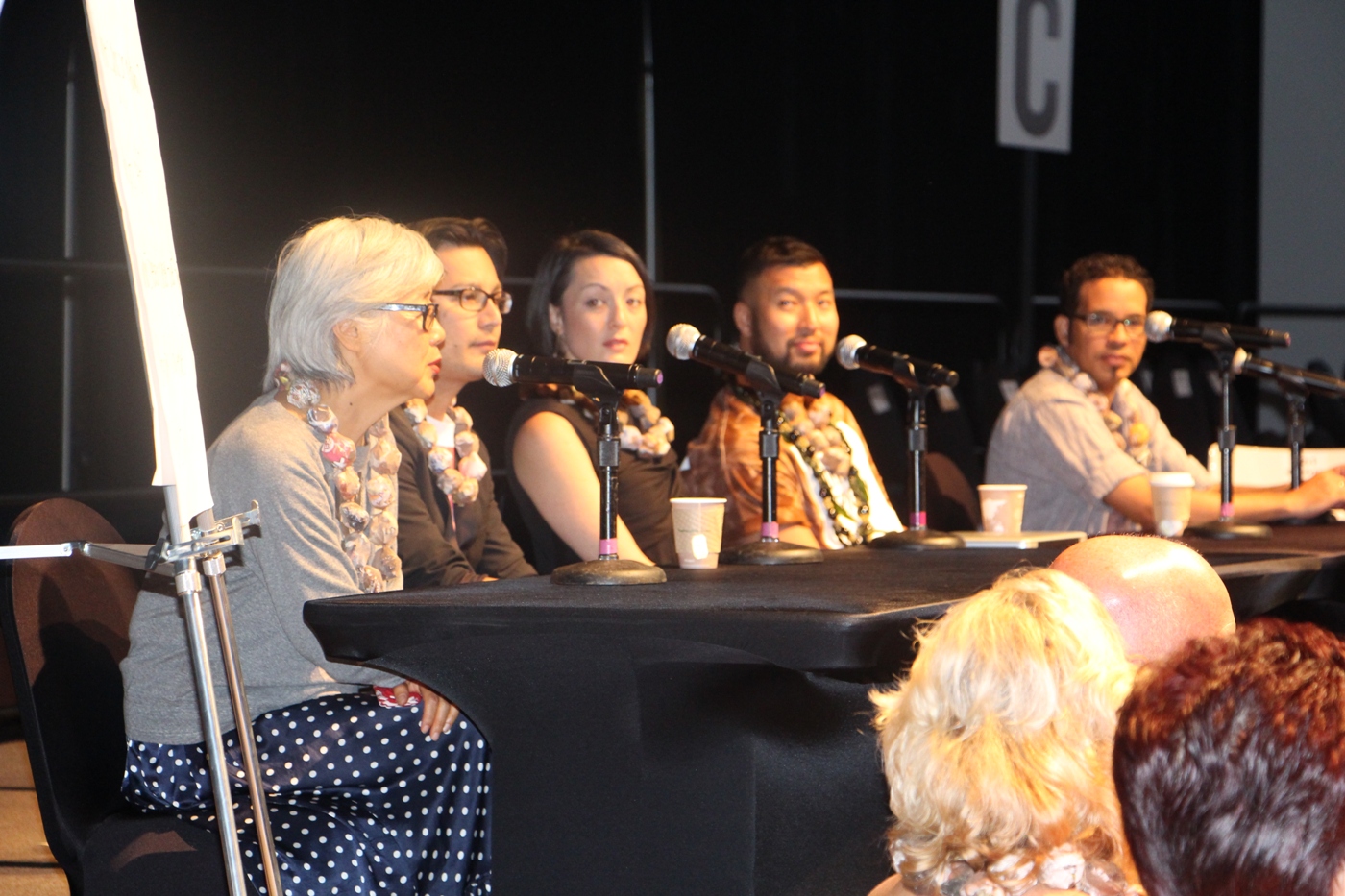 "Fall down seven times, get up eight." This summed up the spirit of the 2014 Governor's Fashion Award presentation and the panel discussion of the HIFI Connects: The Business of Fashion, Coffee + Dialogue, on Sunday at the Hawaii Convention Center Exhibition Hall, the last event following the epic HONOLULU Fashion Week runway shows.
It was a packed audience ranging from high school students to retirees, all excited to hear the different perspectives on the business of fashion from within and outside of Hawaii. The panel was comprised of internationally recognized fashion industry professionals, who shared their journey from hometown dreams to success in the Big Apple and beyond.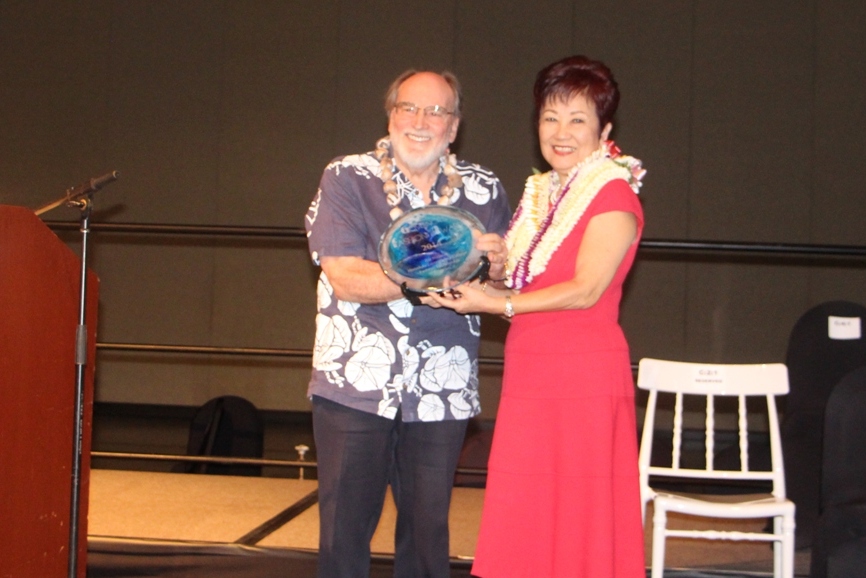 But before I get to the panelists, I must talk about the presentation of the 2014 Governor's Fashion Award. Designer and Hawaii fashion notable, Amos Kotomori shared his heartfelt stories about Joy Nagaue or shall I say, "Miss Joy." Kotomori spoke to her 35 years of dedication and service to Honolulu Community College fashion technology students. After Gov. Abercrombie presented the award to Nagaue, she spoke to the audience in the same tone and grace of an educator. She talked about her mother's advice, "Fall down seven times, get up eight." Nagaue explained that this work ethic kept her going through challenges and she teaches her students to do the same.
Panelists:
The lack of financial support, family support, resources or guidance did not stop any of the panelists in their quest to realize their dream and solidify their brand. Drawing upon many combined years of expertise, and being very candid about the challenges they've faced, they shared valuable insights into the current status of the local industry and the future of Hawaii fashion. Here's a little about the panelists:
Lynne O'Neill: A fashion show producer with more than 30 years of experience producing New York Fashion Week runway shows for such designers as Tommy Hilfiger, Herve Leger, Catherine Malandrino, Vivienne Tam and Rebecca Minkoff.
Roman Young: A graduate of 'Iolani School, Young is the Director of Talent for Wilhelmina Models in New York, and has appeared on MTV, MSNBC, E! Entertainment, CNN, and as a judge on America's Next Top Model.
Bliss Lau: Designer of a successful accessories brand that is carried in boutiques worldwide, Lau is also an associate professor at Parsons The New School For Design where she teaches how to build a strong brand vision.
Jacky Tang: Vice president of branding & retail development for popular brand Opening Ceremony, Tang specializes in brand and merchandise development.
Henry Navarro: An artist specializing in fashion as public art, Navarro is a faculty member in the fashion program at Ryerson University in Toronto. He will introduce "Aloha Na'au," a collaborative project for summer 2015.
Featured speakers in the Hawaii industry panel included:
Mark Tsuda of Jams World
Ed D'Ascoli of Xcel
Joy Nagaue of Honolulu Community College
Georja Skinner of the Creative Industries Division of the State Department of Business, Economic Development, and Tourism.
HIFI Connects: The Business of Fashion
Photos by Amanda Stevens