HIFF review: 'Jiro Dreams of Sushi'
I had the privilege of attending Thursday night's Yelp screening of the fantastic documentary, "Jiro Dreams of Sushi," one of the films at this year's Hawaii International Film Festival.
The film tells the story of 85-year-old sushi master Jiro Ono, who is recognized in Japan as a living national treasure and a recipient of the coveted Michelin Guide three-star rating. Working with his oldest son and a team of dedicated apprentices, Ono creates his magic in his basement, 10-seat Tokyo sushi bar, Sukiyabashi Jiro, which is regarded as having the best sushi in the world by the likes of celebrity chefs Joel Robuchon and Anthony Bourdain.
In the film, a restaurant reviewer explains that a Michelin three-star restaurant is good enough to warrant traveling to that country just to eat there. Bold words, but with people willing to pay upwards of $300 a head and making reservations a month in advance, Ono appears deserving of the honor. Despite the praise, he still strives to improve. In the opening of the film, he shares his thoughts on his work ethic and how loving what you do is important. He describes how he loves making sushi so much that he dreams of it, and how every day, he strives for his ultimate goal of making the perfect sushi.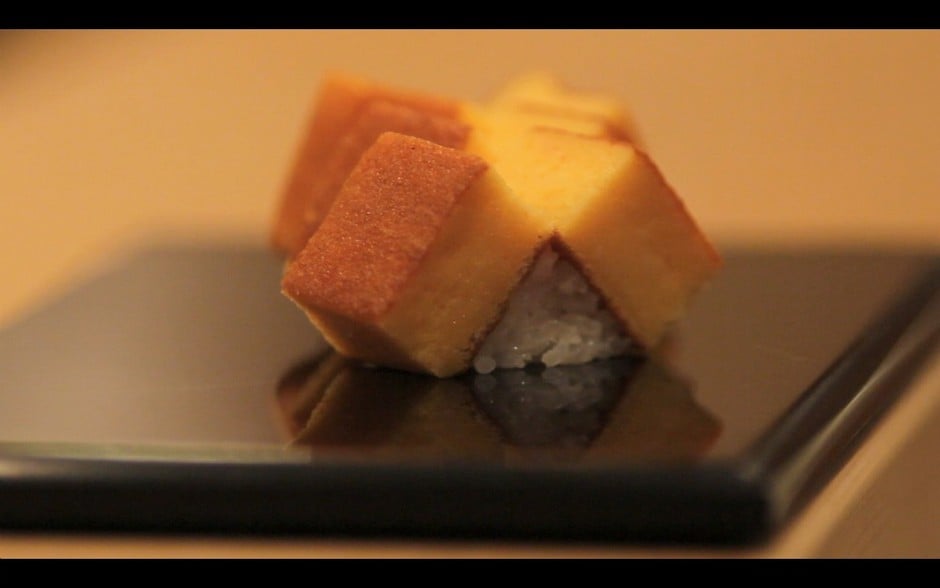 Passion is one of the film's main themes, and director David Gelb does a phenomenal job of depicting how infectious Ono's work ethic to be the best is to others. If you think sushi is just sushi, you'll be in for a surprise in Ono's kitchen, where apprentices work for 10 years before he even lets them cook the tamagoyaki (egg sushi). Ono demands the best from everyone, yet he's not a harsh taskmaster, giving praise when he thinks it's due.
I couldn't help getting misty-eyed as an apprentice tells the story about how after over 200 tries, he cried the first time he made a tamagoyaki that met the approval of his master. This was one of many examples depicting how Ono instills passion in his students. I couldn't help but remember back to my own apprenticeship when I was most afraid of disappointing or making my chef look bad through my failures. My success was a reflection on the man who was teaching me, so I did everything to try to bring honor to him. One of my proudest moments was when the chef I apprenticed under was so impressed with a recipe I developed that he asked if I would share it with him, which I gladly did.
The film also leaves the kitchen to go to the Tsukiji Fish Market, which Ono's son, Yoshikazu, visits daily to buy the freshest fish. One reason Sukiyabashi Jiro is so revered is because of the high standards Jiro and Yoshikazu place on fish sellers. They only buy from top vendors who take pride in the quality of their products. One of my favorite scenes featured a tuna vendor who would rather leave the fish auction empty-handed than buy anything he deemed substandard.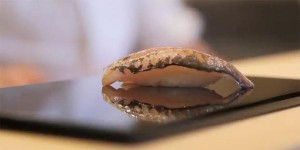 Overall, the film has a dreamlike feel, with lots of slow-motion food porn, showing things like the intricacies of forming a nigiri sushi, brushing fish with tare or dashi-soy and carefully placing it on a customer's plate. Jiro insists that all his sushi be eaten right away, so he only makes one piece at a time. Accompanying the unbelievable cinematography is a score of classical music that turns every cut with a knife into an orchestral movement. This all comes together in an awe-inspiring scene of Yoshikazu searing a side of fish over a fire.
While watching the film, I couldn't help but fear that Jiro was going to suddenly pass away, leaving the world without his genius. Fortunately, he doesn't die, and it's clear his legacy will live on. Although it was Jiro's reputation that drew the Michelin reviewers, it was Yoshikazu who served them and earned the stars. It's already clear that Yoshikazu will take over Sukiyabashi Jiro when his father retires. Meanwhile, Jiro's youngest son, Takashi, has a sushi restaurant of his own.
Something that all of my favorite food movies have in common is that they've stirred a visceral reaction in me. "Jiro Dreams of Sushi" makes me think about the road not taken. Early in my culinary career, I had an opportunity to apprentice at a sushi restaurant. After watching "Jiro Dreams of Sushi," I wondered what would have happened if I had taken that job. Even without a culinary background, however, Jiro's philosophies of passion, hard work, striving for perfection and loving what you do are messages that everyone can relate to. This is a fantastic film that's sure to inspire. It's definitely worth checking out. However, there is only one show left on Oct. 22 at 9:15 p.m. The Oct. 23 show at 3 p.m. is already sold out, but if you want to take your chances, you can try to get into a rush line that day.
Trailer