HIFF review: '18 Meals'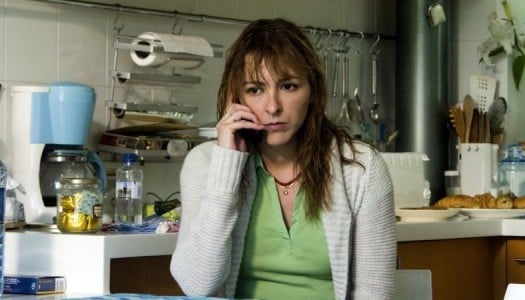 A father collapses and dies after a dinner of Chinese takeout. Two old friends tentatively, fearfully try to rekindle an affair that never was. An actor pours his soul into preparing breakfast, lunch and dinner for an alluring love interest who never shows up.
"18 Meals" isn't about food. It's about the stories that unfold when people come together over it. "Around a table, your appetite opens up, as does your soul," the narrator tells us. "Life takes an unexpected turn and the world changes its flavor. Sour. Sweet. Or both, which is what usually happens."
The movie opens on a discordant note in the small Spanish city of Santiago de Compostela, with two buffoons sidestepping angry undercurrents over a breakfast of booze, shrimp and jokes. It's not what you expect, and the same can be said about many of the story lines — and I mean many. Over the course of breakfast, lunch and dinner, we're asked to follow at least nine stories (I lost count), some developing throughout the day, others popping up chiefly to magnify the impact of the main narratives.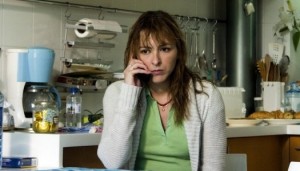 That asks a lot of the actors, screenwriters and first-time director Jorge Coira, who have to make you care about characters you only see in snatches as they march toward, play out and absorb life's turning points at the same time eight (?) other dramas are weaving in and out. Despite some flaws, "18 Meals" works because you do end up caring — although not necessarily for the main plot line, in which a street musician gets a surprise invitation to lunch from the woman he loved a decade ago, but who never loved him back and has since moved on with a marriage and a child. She's been dreaming about him, she tells him. She seems less happy these days, he tells her. At that point, the symbolism with the dead crabs she's cooked for him (her emotions) and the child's drawing of a graveyard in the background become overwrought, and that story, whose unspoken, doubt-filled yearning is powerful, loses out to self-consciousness.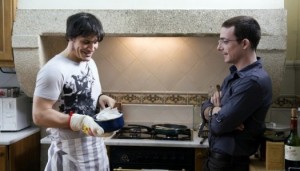 So who do you care about? The judgmental married man who shows up at his brother's house with a spur-of-the-moment date, discovers his brother is a gay man living with a lover, and rages at him while his brother pleads for honesty. The father and son whose heated argument is put on hold by the arrival of a woman who nervously begins a singing audition for their modest band. The son's shock and pain when his father collapses and stops breathing while the woman is singing are wrenching.
It's interesting that throughout "18 Meals," food never looks good. The lunch of crabs, vichyssoise and salad that the unhappy woman prepares for the street musician looks as gray as her life. The meal the father and son eat when the singer arrives is the most lackluster Chinese takeout. The only time food looks delectable is when the actor prepares it for his absent seductress. The tomatoes he meticulously slices and salts are bold and glistening, the ham as thin and pliant as bedsheets. When she stands him up for lunch, the plancha is all ready for the steaks; he throws them on anyway and sits bitterly alone at a table set for two. Despite his disappointment, the ardor he put into the food is evident in his first bite. He stops chewing, nods in appreciative surprise, continues.
Thank goodness for the ancient couple who totter through all three meals in their immutable kitchen in satisfied silence, stoking a wood-burning fire, cooking a simple potato soup, cutting, spearing and eating meat with no other utensil than a knife, handing each other unfrosted cake at the end of the last meal. That symbolism is evident: This is what, at essence, eating with others is about, a sharing of sustenance for belly and soul.
"18 Meals" won't make you hungry. It'll leave your emotions full.
"18 Meals"
Spain, 107 minutes
Playing at the Hawaii International Film Festival
Tuesday, Oct. 18, 3:45 p.m.
Sunday, Oct. 23, 5:30 p.m.
Trailer