HIFF Q&A: Ty Sanga, 'The Life of Pinky Thompson'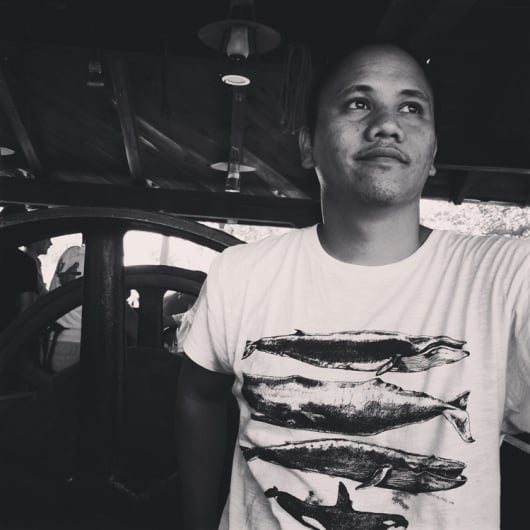 Ty Sanga wants to tell you a story.
It starts in Kalihi where he grew up. His mother was first-generation Filipino and his father was Hawaiian-Chinese. They worked hard, so Ty did too. He worked room service at the Ihilani and studied ethnic studies at the University of Hawaii, where local documentaries like Victoria Keith's "The Sand Island Story" deeply affected him. Sanga decided he wanted to make films about local and Hawaiian stories, and he wanted to tell them right.
During graduate school at Chapman University he wrote and directed the short film, "Stones," based loosely on a Hawaiian legend. In 2011, the film was chosen from 6,500 entries for the 2011 Sundance Film Festival Indigenous Shorts Showcase. Sanga followed up that success by directing the 2013 food-travel show, "Family Ingredients," hosted by Chef Ed Kenney (Town Restaurant) and featuring Chef Alan Wong (read Diane Seo's review here). In 2014, "Family Ingredients" won a regional Emmy for lifestyle-program special.
But Sanga's story doesn't end there. His latest film, "Visions in the Dark: The Life of Pinky Thompson," was selected as the closing night film of the 2014 Hawaii International Film Festival. The incredible story of Thompson, father of Nainoa Thompson, president of the Polynesian Voyaging Society, is about how one man can make a difference. I talked with Sanga about the documentary, winning an Emmy and Bruno Mars.
Why is giving Hawaiians and local culture a voice so important in your work?
It's just the types of stories I'm attracted to. No matter what I do, I'll always have this perspective as a storyteller. It grounds me.
What was it like being selected to the Sundance Film Festival?
When I received the call, I was on Maui and I didn't have good reception. When they said we were accepted, I couldn't hear him clearly. I had to run out of the car to find a good signal. I still can't believe we got in. After completing a movie your next goal is to find an audience, and the Sundance Film Festival is the biggest stage for up-and-coming filmmakers. It was a dream to be able to share my short film there. Plus, I got to play in the snow.
Tell us about your HIFF film, "Visions in the Dark: The Life of Pinky Thompson."
Pinky Thompson was one of Hawaii's greatest leaders. It's crazy when you realize what the Hawaiian community was like in the 1920s and how much it has changed today. For the longest time our kupuna had to hide our Hawaiian culture.
Today, the culture is as vibrant as ever. In many ways it was Pinky who helped push us in that direction. He was a great visionary. He understood the value of early education and brought change in the state and national level. To him, nothing was impossible.
How did you get the idea for the film?
I'm blessed to be able to work with Randie and Jamie Fong from Kamehameha Schools. They understand the value of film not only as a medium to archive and entertain, but also to incite change. When they told Keala Lucero (producer) and I that they wanted to do a documentary on the late Pinky Thompson, we agreed that it was long overdue.
Did you discover anything that took your story into a direction you didn't anticipate?
The amount of accomplishments Pinky achieved in one lifetime is astonishing. The difficult part was narrowing it down for a feature documentary. It was a long process. Once Seong Kyu-Whang, our editor, and I discovered the narrative through-line, it became our gauge to measure what stayed in the film and what went.
What's the status on "Family Ingredients"?
We are currently filming new episodes, which will premiere nationally in 2015. I can't share too many details, but the stories we have lined up are amazing. We'll be visiting seven new locations and we have a lot of fun stuff planned for Ed (Kenney).
Did you like the raw egg rice (tamago-kake gohan) featured on the show?
Yes, it's delicious, especially if you have ono side dishes. In editing the pilot, we had to take a tamago gohan break. We busted out the rice cooker and Peterson eggs and whipped up a snack. It's difficult working on a food show because you're always hungry.
What was it like winning an Emmy for "Family Ingredients?"
It was a total surprise. We were just thrilled to be nominated. We didn't expect anything else, so no one from the team was at the ceremony. I found out through Facebook.
What's the hardest part about being a director?
Getting sleep. I'm a crazy workaholic, but sometimes my body is like, "denied. System will be in sleep mode. Try again later."
What's on your Netflix queue?
"Luther," "Frances Ha," "The Kid with a Bike," "The Imposter."
What filmmakers or films inspire or influence you?
Hitchcock, Scorsese, Kubrick, "Sansho the Bailiff," "Ikuru," "City of God," "Jerry Maguire," "There Will Be Blood."
If someone was making a movie of your life story, who would play you?
Bruno Mars?
Top 3 guilty pleasure movies.
"Back to the Future III," "Saved by the Bell (TV)," anything Jackie Chan.
What are you working on next?
Along with "Family Ingredients," I also developed a feature film through the Sundance Native Lab called "After Mele." The film wrestles with the expectations of Native Hawaiian males in today's society. We have a fantastic cast attached, and we're hoping to go into production soon.
Any advice to local filmmakers who are just starting out?
Have goals. Work hard. Watch movies. Be humble.
"Visions in the Dark: The Life of Pinky Thompson" premieres Sunday, Nov. 9 at 7 p.m. at Hawaii Theatre and is the closing night film of the Hawaii International Film Festival 2014. It also screens on Sunday, Nov. 9 at 8 p.m. at Consolidated Theatres Koko Marina 8. HIFF runs Oct. 30-Nov. 9 on Oahu; Nov. 13-16 on Kauai and Hawaii Island. See film and event schedules at hiff.org, and Frolic movie guy Myong Choi's personal must-see lineup.
"Visions in the Dark: The Life of Pinky Thompson" trailer: