Hidden gem: Thai Lao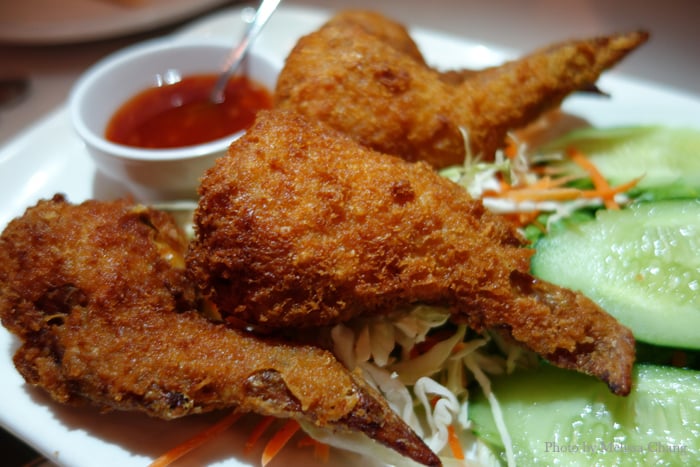 For those of you in the know, my "discovery" of this West side Thai restaurant is old news. But if you know me, you know I never drive out to Kapolei (or Mililani, or Ewa Beach) unless I have to. I'm glad my Pearlridge client said I had to brave the traffic to have a group dinner, because even though I'm late to the Thai Lao party, at least I found it … and can tell other townies about it.
When I posted a photo on Instagram, so many people — including my Thai friend, Chany Kumalae — started raving about how good this restaurant is and how it's their go-to spot for Thai food in Kapolei. Our own Jerome Koehler said he drives out here just to eat. What?! Where have I been? Oh yeah, in town. Okay, well, here's what we had, and now I know where to go for legit Thai food (at pretty reasonable prices, to boot).
We started with the stuffed chicken wings. I asked Nikki, "What are they stuffed with?" She replied, "Stuffed with awesomeness!" They're actually stuffed with ground chicken, vegetables, and some noodles, battered and fried into meaty lollipops and served with sweet chili sauce.
I don't think restaurants veer off the summer roll formula, so I can't say anything different about them. The peanut sauce, however, is thicker than most, which I liked more than the usual runny sauce.
And of course, you can't go wrong with deep-fried spring rolls. To make it seem healthier, put your spring roll in the lettuce leaf with some mint and cucumber, and roll it up like a taco.
We got an order of chicken (shown above) and pork satay, and both were very good, and very tender — which is not only good for eating, but for sliding off the stick. The peanut sauce served with these is slightly thinner and spicer than the one for the summer rolls, strangely enough, but it was tasty.
One of my and Lurline's favorites of the night was the eggplant with tofu, but I think part of it was because it was salty. I can be kind of a sodium fiend, so you may not like it as we did. Aside from the salt, it was a good vegetarian dish. It's definitely something to put over rice.
You can't go to a Thai restaurant without having curry! We ordered the signature panang curry, cooked with kaffir lime leaves, red and green bell peppers, fresh basil, long beans, peas and carrots. This was spicy, but offset by the creamy coconut milk. (Note to people like me who don't prefer bell peppers: the chunks are huge.)
Instead of the usual pad thai, I asked the group to try something new. We ordered the pad ki-mao (drunken noodles), which is chow fun noodles stir fried with broccoli, basil, chilies, garlic, and your choice of protein. We all loved it, but note that this one is pretty spicy!
And, to balance it out with something healthy, we had ong choi stir fried with garlic chili sauce. Despite the use of chilies, this dish wasn't very spicy. I liked that the greens were tender, so they were easy to eat.
It seems that just about everything on the menu is good, so my two recommendations would be 1) go early, as the crowd does grow as you hit peak dinner hours — and they don't take reservations; and 2) go in a big group so you can try more things. Oh, my third recommendation would be to pick me up, so I don't have to drive. Heh heh.
Thai Lao
563 Farrington Highway
808-674-2262