Hidden gem: Teishoku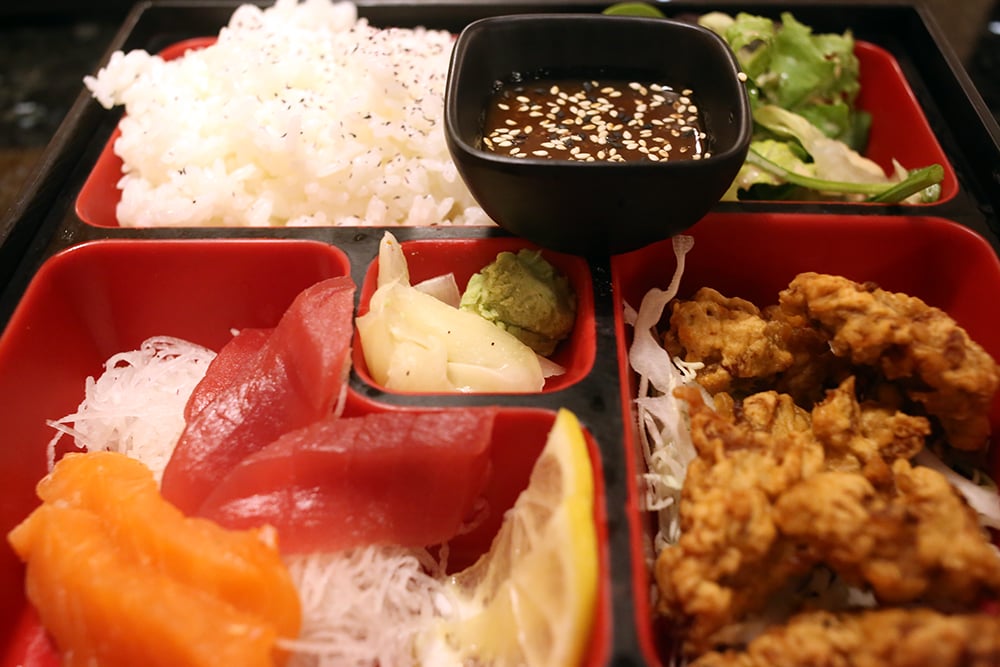 I haven't felt this young in a while. That was my first thought the first time I ate at Teishoku, a Japanese restaurant that opened in July at the Kamehameha Shopping Center in Kalihi. With all the new izakayas and ramen shops lately, it's nice to see a more down-to-earth entrant on the Japanese food scene. And the fact that a lot of the diners were older? A good sign that the food was going to hit a lot of comfort notes.
For my fellow non-Japanese speakers, teishoku basically means a meal with a main dish, small side dishes, some rice and miso soup. Which works for me.
I ended up at Teishoku because babes wanted Japanese food and I wanted to take her somewhere new. Kam Shopping Center usually doesn't make my top 10 for dinner choices, but I was curious to check out the new Japanese joint. I have to admit, though, it was a bit like coming home, considering my alma mater is down the street. There's that vibe of old school Hawaii when walking around Kam Shopping Center, a feeling of timelessness from the vibrant community that surrounds it.
That sense of timelessness is what I felt at Teishoku. Classic dishes that stand the test of time, that are expected and sought after when one goes to a Japanese restaurant. We were a bit overwhelmed by the choices. When you're hungry and looking at a menu with sushi, tempura and ramen, everything looks delicious.
So I opted for their titular teishoku and babes did the same. The experience of eating these teishoku moved us enough that we came back three more times. Comfort food, Japanese style.
On our most recent visit, I opted for the sashimi and mochiko chicken teishoku with sushi rice ($17.95). The better half got the kalbi and spicy tuna teishoku ($16.95). Standard teishoku go for $15.95. You get a lot for your money, as I've been pretty stuffed every time I've eaten here. And that's before I have to finish babes' leftovers.
Complimentary appetizers of sprouts, edamame and shrimp come to the table first. I'll be honest and say I hate sprouts. Whatever Teishoku does to these sprouts has helped me get past my prejudice. They're light, refreshing and crunchy. Then again, maybe sprouts always taste like that and I'm just finding out now. In any case, I like the sprouts.
Babes ate the edamame fast enough to lend credence to it being tasty. The shrimp came drenched in a mildly spicy sauce. It was a bit on the chewy side and gone in one bite, but it's complimentary so no complaints from me.
My teishoku came with a salad of fresh greens drizzled with housemade sesame sauce. The miso soup had generous amounts of wakame and bits of tofu. The sushi rice was pleasant and plentiful. The rice can also be ordered as plain white or brown.
My sashimi of ahi and salmon was standard fare, but still delicious. The mochiko chicken was more exciting. It had a light crunch with minimal oil and a mild flavor which was enhanced by their sauce of ketchup, shoyu, salt and bit of sake. It was delicious too.
As expected, babes couldn't finish her teishoku. Which meant more for me. The kalbi was typical and tasty. The spicy tuna was only mildly spicy. The better half showed me a trick of eating it with the wasabi. I was skeptical, but discovered that the mayo in the tuna softened the spice of the wasabi, which cleared my sinuses without the sting. It tasted good too.
Remember what I said about feeling young when I walked in? I saw elderly couples eating their meals together, comfortable and satisfied. And that's not a bad thing. Having a place to eat on the regular, with someone to grow old with.
I may have found something like that at Teishoku. I've told babes that we've become an old couple and this is our weekly routine. She just rolls her eyes. But maybe someday, her and I will be eating together at some restaurant, old and comfortable, and an unbelievably handsome and beautiful young couple will see us and hope to be in our shoes one day.
Teishoku
Mon-Thu 10:30 a.m. – 9:30 p.m.
Fri-Sat 10:30 a.m. – 10 p.m.
Sun 10:30 a.m. – 9 p.m.
Kam Shopping Center
1620 N School St #C-2
843-8886