Hidden gem: Pali Momi Medical Center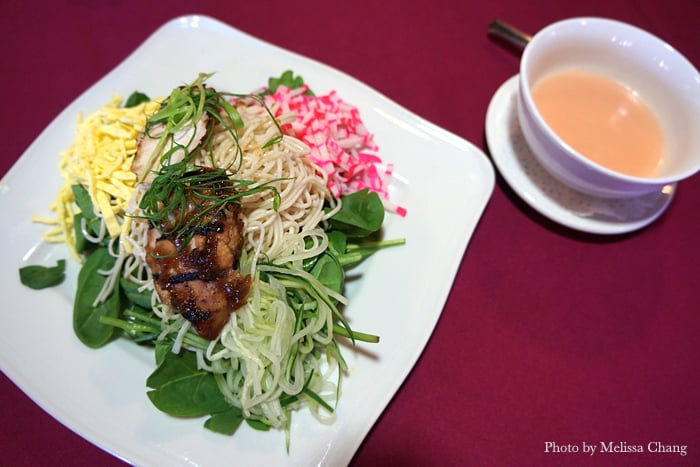 Most people think of hospital food — even the items served in the public cafeteria — as bland and unexciting. But what if the hospital has a chef and a fully trained culinary team?
I was skeptical when the public relations team at Pali Momi Medical Center invited me to try some of their cafeteria food, but Nikkirae Padilla — who works at the adjacent Pearlridge Center — said that not only is the food good, she grew up eating there with her family. So we herded the rest of the Pearlridge marketing department together to try lunch there.
Pali Momi's Director of Food and Nutrition Services, Miriam Tcheng, oversees the nutritional content and value of the dishes created by chef Kyle Kanemura to ensure the items are lower in sodium and fat than any other plate lunches. It's not hard for him to come up with items that will appeal to the masses, though, as he worked at Nick's Fishmarket for many years until they closed — at which point he moved to Pali Momi. He doesn't have problems with consistency, either, since his team members come from other popular restaurants (mostly Sam Choy's). Most of the menu is fairly routine at this point, but Kyle practices his culinary creativity when they take on catering jobs.
Just some disclosures: The Pali Momi team bought us lunch, and the items shown are not usually served on ceramic plates as artfully as you see them. However, even when served unphotogenically in styrofoam containers, the food is no less tasty — I later tried it myself on my own, and although my baked spaghetti was a messy blob, it was even better than mom's. And I like my mom's baked spaghetti.
Also, the items you will see are not always on the menu, as chef Kyle Kanemura rotates the entrees constantly. Since the hospital has volunteers that work on the same day each week, he wants to be sure they have something different to eat every time they come in.
I'll start with the biggest hit of the day, the somen salad. You usually think of this as the same old noodles with same old topping and same old shoyu dressing at your aunty's house party, right? Kyle puts his on a bed of spinach and tops it with grilled chicken (marinated in a light, shoyu style sauce), making a low-fat, low-sodium plate that can be ordered for room service by hospital patients when available. You know the pink pickled ginger that is served at sushi bars? He took that and created a vinaigrette that is lightly sweet and tart, but low sodium. We couldn't get enough of this dressing, especially because it classed up the somen. Kyle, you need to bottle this.
Another dish that was a surprise for hospital food: blackened salmon salad. You'll see things that are grilled, boiled, maybe sautéed, but there's no fryer in the kitchen. I liked the combination of the smoky salmon with the fresh lettuce and berries, coupled with the pungent gorgonzola cheese. But the passion-orange-guava dressing was another fabulous surprise that took the salad to a whole new level. Kyle said the kitchen accidentally ended up with too much POG one day, so they started experimenting with it to use it up. Isn't that how a lot of great things are invented? Kyle, you need to bottle this, too!
If you're familiar with Waldorf salad, their chicken salad — which I believe used yogurt instead of mayonnaise — was a nice, light lunch that was easy to eat. These might all be good starts for your New Year's resolutions!
Who said salads have to be the same old, same old? They brought out grilled rosemary chicken on couscous with cranberries, and a vinaigrette dressing … although, to be honest, the salad was already moist and flavorful, so the dressing wasn't really needed. It did give the salad a little more oomph, but we didn't miss the dressing when we tried it without.
And, finally, the club sandwich. Again, since it's done by a chef, it's not going to be any old club … Kyle uses a low-fat garlic aioli instead of mayonnaise to give it extra flavor. Funny how just one little element can make a whole sandwich taste amazing.
It's good all around: all the entrees are about $8, so with a drink, you can get a full and nutritious meal for under $10. On the hospital side, Pali Momi patients can now order off a restaurant-style menu, control what they eat, and decide when they want to eat — and not cringe at the thought of bland hospital food.
Miriam explained that studies show that patients who are able to eat what they want and when they are hungry tend to eat more and be more satisfied, which can aid in the recovery process. The personalized service also results in a decrease in food waste and an increase in order accuracy. Food is no longer prepared in bulk, which has reduced floor stock and overproduction for the hospital, which in turn reduces cost.
The weekly menu is not yet available online, but you can get on an email list serve to have it emailed to you directly. Or, you can follow Pearlridge (my client) to see it posted regularly.
Pali Momi Medical Center Hau'oli Court Dining Room
98-1079 Moanalua Rd.
808-486-6000 or info@palimomi.org to get on the list serve
Breakfast: 6 a.m.– 10 a.m.
Lunch/Dinner: 11 a.m. – 11:30 p.m.