Hidden gem: Napili Kai Resort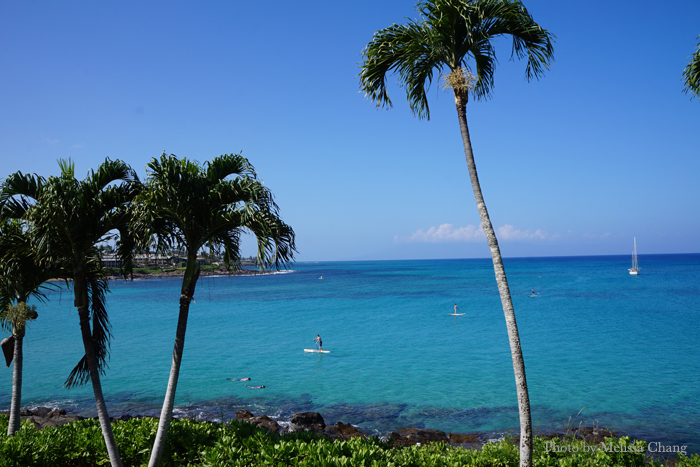 On my recent trip to Maui for the annual Ag Fest, the Maui Visitor's Bureau put me up in the Napili Kai Resort out in Kapalua. I didn't think anything of it until my friend, Maui writer Shannon Wianecki found out and gushed about how great it was. It doesn't get a lot of play in the media since it's an older resort and not as splashy as other properties, but travel industry people and Maui residents know it as a hidden gem.
It's about 10 minutes past the main Kaanapali resort area, down a winding road and just before Kapalua Resort (technically still Lahaina). Since these are condo-style units, the buildings look like townhouses situated around the cove. Check in at the front desk, figure out where your unit is, and head over.
My unit was a studio, which comes with a full-sized fridge, microwave, oven, flat top stove, coffee maker, sink and all the utensils you need for making it your home away from home. There's also a lot of electrical outlets and free wifi, for you bloggers who need it!
This studio had two twin beds, although I understand there are various beds in the different units. You also get a mini living room set up.
Although the unit itself is nice, the big selling point is the view. The lanais have transparent rail guards so you can lounge on the chairs and look straight out to your own personal infinity pool. No, this is not a photoshopped shot, this is actually what it looked like at random times of the day.
Just behind the front desk building, you'll find their signature Sea House restaurant, headed by chef Alex Stanislaw. He's one of the OGs in Maui's culinary scene, a longtime chef at some of the resort restaurants on the west side. My friend Julie Yoneyama, in fact, credits him with helping her salvage one of her not-so-ideal Valentine's Day dinners!
Alex is in the process of changing the Sea House menu a bit, especially breakfast; instead of having a specific breakfast and lunch menu, it's going to merge into one and allow continuous service. He understands the resort customer's habits, and explained, "It's to eliminate that ugly period between 10 and 11:30 a.m., when you might wake up late and want breakfast food, but we've stopped serving it — or you are ready for a burger, but we're not making lunch yet. We want you to have what you want, when you want it."
We started with their home made macadamia cinnamon roll with creamed cheese icing, which I think is a must-try (but share it so you don't get full). It definitely has a homey touch to its taste and texture, like waking up to something mom just made. The macadamia nuts are finely chopped, which really adds to the whole thing with a little bit of crunchiness.
Chef Lyndon Honda recommended we try the Crater Pancake, and that was the bomb! For those of you who have had a Dutch Baby at the Pancake House here on Oahu, this is a slightly smaller version. If you've never had it, this is also known as a popover pancake — it's eggy and light, and is amazing with lemon squeezed over it (trust me) and more butter and powdered sugar if you like that.
You can also order the Haleakala Pancake ($12), which comes with caramelized cinnamon sugar, pineapples and bananas, but in my opinion, it's best eaten like this without any fussy toppings.
Another signature dish is the Honolua, which is three crispy corn tortillas with black bean corn relish, roasted vegetable sauce, shredded cheese, two eggs and smoked pepper aioli. You can have it with roasted veggies or kalua pork, so we ordered the pork, of course! This was really filling, so it's good to share. I liked the mix of flavors, with the egg, spicy aioli, the smoky beans and veggies, and all the saltiness of the kalua pork. This will definitely cause a kanack attack, so plan to take a long walk around the cove after this.
Mahalo to Charlene Kauhane and Alex Stanislaw for hosting us!
Napili Kai Resort
5900 Lower Honoapiilani Rd.
808-669-6271