Hidden gem: Maui's Poi by the Pound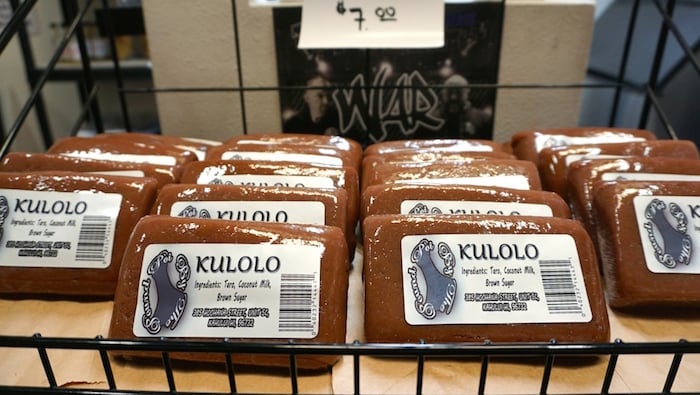 Hawaiian food can be surprisingly hard to find. On Maui? Even more difficult. But I had a mad craving for squid luau, and it needed to be taken care of, pronto. Enter Poi by the Pound, a hole-in-the-wall that Maui locals rave about.
Owner C.J. Hookano got started by selling poi door to door with his daughter. Now, they've expanded to cooking up old-school Hawaiian plates and local favorites in a tiny Kahului strip mall. It's a small, no-frills operation, with just a few tables for eating in and racks of homemade kulolo, ulu chips and hot sauce for sale. Everything on the menu is made from scratch. Taro is sourced from Keanae in East Maui and from Kauai.
Poi by the Pound's signature Hawaiian Plate ($19.40) is massive and comes with kalua pork, lau lau, white rice and mac salad. I could feel a nap coming on, in a good way. And this is only part one.
The Hawaiian Plate is so large, the order is actually split into two plates. Part two has poi, ahi poke, lomi salmon and chicken long rice. The poi tastes fresh and has a smooth, not too thick texture. We order the squid luau as a side, and immediately gorge.
Aside from the Hawaiian Plate, the most popular item is the boneless kalbi ribs ($15.70). They're juicy, sweet, charred to perfection and massive. They don't skimp on food here.
For dessert, the taro sundae ($6.40) is a delightful surprise. You can't tell by the photo, but haupia ice cream is topped with chunks of taro, then buried under whip cream, poi, chocolate and caramel sauce.
Kulolo ($7), a sweet, chewy taro dessert, is available to take home. The restaurant makes their own.
Ulu chips ($8) are another take-home treat. I rarely get to eat kulolo and ulu chips, so this is exciting.
Next time, I look forward to trying dishes like chopped steak with mushrooms, kalua moco, smoked meat and teriyaki BBQ chicken. The food is so comforting, you can't help but smile.
Poi by the Pound
385 Hoohana St., Unit 5C
Kahului, HI 96732
808-283-9391
www.poibythepound.com
Hours: 10 a.m.-8 p.m. (closed Thursdays and Sundays)