Hidden gem: HiBlend Health Bar & Cafe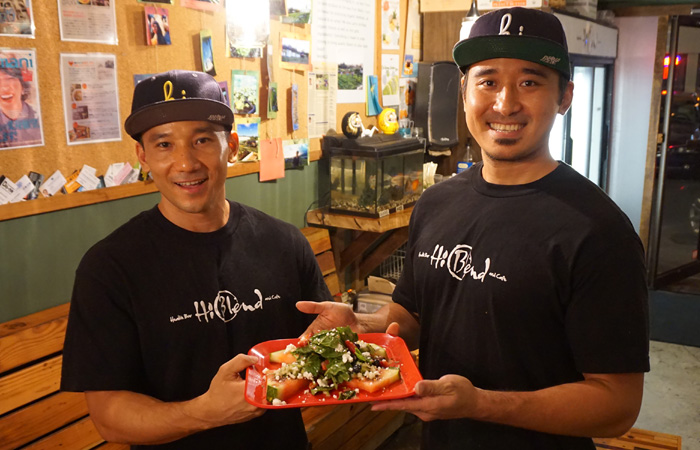 I really should walk around my neighborhood more often. There are so many eateries in the two-mile radius near Ala Moana, it's easy to miss little gems, and by the time I "discover" them, they've already been open two years. One was the Little Oven (three minutes and 35 seconds door to door walking, including the elevator ride). In my defense, their signage is white on white, so most people still miss it despite its popularity.
The latest in my so-called discoveries is HiBlend Health Bar & Cafe (eight minutes and 10 seconds door to door) in the Samsung Plaza, which opened in October 2013. I was invited to a tasting last week and after posting a couple of photos, it seems that half the town already knew they made good bowls and sandwiches.
The venue was created by brothers (and Kaiser grads) Joey and Miles Sugahara. Joey said he "grew up" at Roy's Restaurant in Hawaii Kai, which is how he's able to create elevated menu items. He was inspired to be more healthy since he was (and is) working out a lot to improve his physique. He actually tries to stay away from processed foods and lost about 40 pounds just by taking a more natural, healthy route. Miles, who still loves his spam musubi and Liliha Bakery hamburger steak, is almost as healthy. He was working at Prada until just a few months ago and now works at HiBlend full time.
Here are some of the things I've tried so far, at the tasting and on my own:
I'll start with the Dragon Bowl, since Olena Heu named it number one in her search for top five pitaya bowls. I know she explained it, but I was just as surprised as she was when I dug into this. Since every pitaya bowl I've had has been too sour, I was skeptical, but she was right — this has the right balance of sweet and tart. I love that it's full of fruit, plus the coconut milk makes it creamy, too. On top of that, in their effort to be more environmentally conscious, the honey is from local "rescue hives" — ask them for a better explanation.
The new Aloha Bowl is a twist on the usual acai bowl, with acai, dragon fruit, strawberry, banana, coconut milk, papaya, coconut flakes, pineapple, granola, honey and mint. What makes it extra unique is the chia and bee pollen topping, and the fact that they blend Taro Brand poi into the mix. You can't even taste the poi, but reap the health benefits from it.
You can't go to a juice bar and not get juice. One of my favorites was the candy greens, left, which blends apple, pear, spinach and kale for a green drink that tastes … well, like candy. I think it's a good one for people to start with. If you're in the dragon fruit craze, the red dragon smoothie is a nice blend of orange, grapes, lilikoi and dragon fruit.
Although they don't have a juice cleanse program, Joey mentioned that their power house cleanse juice is popular for people looking for a quick energy jump and cleanse. I'll be honest, I loved the taste and bought a second one to go, but it didn't give me the jolt of energy that coffee would (or this blog would have been done on time!), nor did it clean me out (although foodie friend Sean Morris said it did for him). Since it got different results, I can't guarantee any magic powers, but I can guarantee it tastes good.
Note that I also took a sip of the "detoxinator" smoothie ($7.95) and although I wasn't into the taste, Lena Morris loved it.
Perfect for summer, the watermelon pizza salad is light, cool and refreshing. You get slices of local watermelon topped with spinach, goat cheese, pears, blueberries, strawberries, kiwi, mint, honey, chia seeds, bee pollen and raspberry vinaigrette. It's light but tasty, and as you can see from the ingredients, full of nutrients. Sean also had us eat the white rind part closest to the green, as he said that is the most nutritional part of the watermelon.
Another salad I'd have again is the tomato caprese trio. Everyone else in town tops their tomatoes with buffalo mozzarella and basil, which HiBlend does, but they add more layers of flavor with feta cheese, red onions, capers, and mixed greens. Two dressings cover this dish: garlic citrus aioli and pesto and balsamic vinaigrette. Super tasty. And it's the same price as other caprese salads in town. Winna.
There are four fish items on the temporary menu. One is the ahi tartare salad, which features a mix of fresh ahi, capers and red onion in an avocado half on a bed of spinach. It's topped with parmesan cheese, chives, pesto and a house made caesar dressing. Needless to say, I loved this. You may want to double check on it, though: the next day, Sean went back for it and found it too spicy, and mentioned it to the staff. They had accidentally put too much chili in it. So no shame — if it seems unbalanced, mention it.
The other salad is a poke tartare, which has fresh ahi, cucumbers, sweet onions, green onions and chili pepper flakes in an avocado half over mixed greens and dressed with a sesame ginger shoyu. I liked this a lot, but I should mention that I do like sweetness in these kinds of dishes. (Sean thought it was too sweet.)
The third of four dishes (sorry, I didn't try the ahi wrap) is the oven baked ahi mixed with organic aioli dressing. It's served on a croissant with kale (instead of lettuce), avocado and tomato, and topped with pepper jack cheese. It's a pretty straightforward tuna melt, but a lot fresher and with more flavor.
I was about to reject the signature smoked salmon and bacon sandwich, as the sourdough bread looked crusty. You know how I don't like crust! But to my surprise, the bread was nice and soft, as was the crust. It's kind of like a BLT but with smoked salmon, avocado, red onions and cream cheese; instead of lettuce — since you get mixed greens with the order — they use spinach. I think the bacon overwhelms the salmon flavor, but otherwise is a good sandwich. Someone later told me they eat this sandwich regularly, and dream of it. That's a good sign.
Don't be afraid of the greens. This is another twist on the usual BLT, but instead of lettuce, they use kale. You also get avocado, pepper jack cheese, and house dressing, with a mixed green salad on the side. Normally you'd expect bitterness from the kale, but there was none of that in this sandwich — I think the buttery croissant, the avocado and the bacon mask it. It's delicious, and a good way to get your greens in.
In a way I was glad that I didn't like the Farm Gone Wild salad at HiBlend, because I'd be suspicious if I liked everything. (Although it was kind of a bummer since that's the most expensive salad!) You get mixed greens, smoked turkey breast, bacon, apple, celery, cucumber, orange, strawberries, sesame seeds, chili flakes, cilantro, honey, and raspberry vinaigrette. Sean felt there was too much going on; I didn't mind that, but I wanted something to pull all the flavors together. Lena, however, liked the salad a lot (just the fruits and veggies, not with the meat). It's interesting to see how different people react to the same dish, isn't it?
Shots! Shots! Shots! If you want a digestif at the end of your meal, you can choose from three different shots: Ginger, with apple and ginger, which Mari Taketa loves; the Zestor, with apple, ginger and lemon, which I really liked; and Pineapple Express, with pineapple, ginger, and mint, which I didn't try. Due to the ginger, they've all got a kick, but they're great for digestion.
To all my friends who already love this place, I'm sorry I'm late to the party. But at least I made it! If you haven't been here, just know that they validate parking in Samsung Plaza for an hour. Try to avoid peak lunch hours as service can get slow due to the crowd.
HiBlend Health Bar & Cafe
661 Keeaumoku St.
808-721-7303
Open daily from 8 a.m. to 9 p.m.